Tour Yrjö Kukkapuro's studio – a temple to the art of sitting down
Join us on a studio visit of Finnish interior architect and furniture designer Yrjö Kukkapuro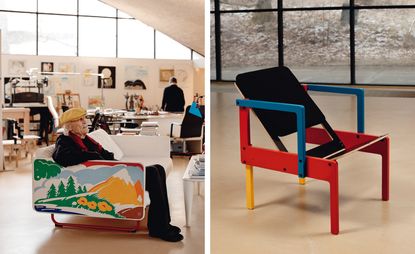 (Image credit: Felicia Honkasalo)
Dense rows of fir trees punctured by frozen lakes and oxblood red cabins; children in snow boots navigating icy pavements; crystal-tipped grass that crunches underfoot. The journey to the studio of Yrjö Kukkapuro on the outskirts of Helsinki is fittingly Finnish. But once inside, all Nordic clichés end. Rows of chairs with colourful legs and graffti-splattered backs are stacked in seemingly random groups; books, paintbrushes, sketches and models occupy every surface; sunlit walls are crowded with images and cuttings, and in the middle of it all sits 86-year-old Kukkapuro in his canary yellow cap.

If anyone has a design back catalogue that sums up the artistic movements and global economic shifts of the past century, it is Kukkapuro. He qualified as an industrial designer in the 1950s, a golden age in Finnish design thanks to Alvar Aalto, Kaj Franck and the like; he witnessed the plastic revolution of the 1960s, the postmodern rebellion of the 1980s, and the ascent of CNC-cutting technology in the 1990s – and embraced them all. In the 1990s, he saw his production shift to China, and found fame there from the 2000s onwards, reaping the benefits of the digital revolution and the onset of globalisation. Every new decade serves to further his reputation and cement his legacy as one of the grand masters of modern design
Almost every school, doctor's surgery, museum and airport in Finland, at one time or another, has featured Kukkapuro's chairs. Some still do. Helsinki's Central Library Oodi, completed by ALA architects in 2018, has his 'CNC' chairs and 'A500' rocking chairs in its second-floor reading lounge; his 'Karuselli' and 'Moderno' chairs fill the city's Kaisa Library. That these live on, decades after they were first designed, is a source of great pride to Kukkapuro. 'To create a bestseller, it's the dream,' he says.

His daughter Isa sits next to him and guides us through the interview. His only child, she is tasked with documenting all her father's work and assembling his archive – currently a pile of papers over owing from box files behind his desk. His wife Irmeli, a graphic artist, plucks at her mood board on the other side of the studio, too sick to paint anymore. Her decline has been devastating. After an hour of conversation, the colour has drained from his face, and Kukkapuro apologises. He needs a rest. He signals Irmeli and they shuffle off, holding hands, to the house next door where they now live. 'It is a very difficult moment,' says Isa.

Yrjö and Irmeli met when they were both students at Helsinki's Ateneum art school and married in 1956. Kukkapuro was studying furniture design and was the only one on the course who knew how to make prototypes. This was thanks to a childhood in eastern Finland, building boats and bicycles with his father (a builder and a painter), and sewing with his mother (a tailor). On graduation, he set up a workshop, called it Moderno, and created range after range of settees, beds and sofas with a typically Nordic look. A commission from an architect to create a chair and footstool for a new shoe shop in Helsinki led to the Moderno series. Over the years, this stretched to six pieces and became Kukkapuro's breakthrough collection. It is still produced today by Lepo Product in Finland and Avarte in China.
'Sitting in a Kukkapuro chair is like therapy,' says Juhani Lemmetti, Kukkapuro collector and founder of gallery Lemmetti in Helsinki. 'He designs with the lower back in mind.' Kukkapuro recalls that it was a lecture on ergonomics that influenced his approach. 'It made me see that making furniture had a physiological and scientific dimension and that has been part of everything I've done ever since.' This obsession with posture, comfort and the body means that a chair can take years to fine-tune.

While researching his 'Karuselli' chair, Kukkapuro wrapped himself in chicken wire, made a plaster cast of his body in a lounging posture, sculpted around it until he was satisfied with its form, and then built a prototype in glass fibre. The result of four years of experimentation, the 'Karuselli' chair went into production in 1964 and was an instant success. Terence Conran hailed it the most comfortable chair he had ever sat in, and it is still in production with the Finnish manufacturer Artek.
Irmeli, too, has always been 'a good testing model. She is smaller than me so we can compare how a chair feels,' says Kukkapuro. 'But it has always been important for me to be close to her, to see colour the way she does.' The pair built the studio, with its concrete wave-like roof, in 1968, on a plot of land given to them by Irmeli's father, and have worked together, side by side, for 52 years.

Nowhere was Irmeli's input more valuable than with the 1980s Experiment collection, a series of birch plywood and steel chairs, tables and sofas with armrests and legs in bold colours. Kukkapuro saw it as an exploration into 'decorative functionalism' and welcomed postmodernism as a joyous break from the functional, workspace trends of the 1970s.
Since 2015, Kukkapuro has collaborated with Lemmetti to create limited editions of two chairs and a table for the new Color Experiment series. Lemmetti has been collecting Kukkapuro chairs for 30 years and has amassed more than 40 prototypes, experimental and production pieces. 'Yrjö thinks about everything – form, function, ergonomics, colour. He's imaginative, but practical, too. For me, he is one of the most important designers in the world,' he says. A fourth Color Experiment chair launches this spring at the gallery, and with such a wealth of prototypes in stock, it's not hard to imagine future collaborations. Almost every school, museum and airport in Finland has featured Kukkapuro's chairs.
In the middle of the studio is a unique three-seater sofa painted with a mountain scene. It is the result of a chaotic visit in 1972 from Pino Milas, a graphic design pal, in need of some R&R, who was tasked by Kukkapuro to decorate it. Life in the atelier was unconventional. Friends, assistants and collaborators came and went with frequency. Isa's bedroom was a small annexe off the tiny kitchen; Kukkapuro and Irmeli slept in a bed partitioned off behind a bookcase and the bathrooms were two fibreglass pods with showerheads. Kukkapuro won many prizes, and trips abroad for lectures and exhibitions were also common; the three of them once piled into their Mini Clubman, packed a tent in the boot, and hit the road for four months.

A prototype called the 'Simple' chair is wheeled in (we are its first audience). It has been shipped from China and is the first version of what Kukkapuro hopes will be 'the simplest chair in the world'. It has a black leather seat, a black plywood back and a steel frame and looks suitably straightforward. Kukkapuro walks around it, shaking his head. It's a bit too high, and, he thinks, the steel arms might be nicer in ash. It will go back to Avarte, which has produced his pieces for 20 years, to be tweaked.
Kukkapuro first went to China in 1997, at the invitation of architect and scholar Fang Hai, to give lectures on contemporary design in universities. It was the start of a new chapter. There, he worked with master carpenter Yin Hongqian to create the East West Collection, a series of chairs that combine clean lines with lacquered bamboo and Chinese joinery. These, along with historical pieces manufactured by Avarte, flooded the Chinese market and Kukkapuro's fortunes were transformed.

At the same time, Finland was recovering from the recession of the late 1980s and the focus at home had shifted to eco-design. Kukkapuro created a solid wood collection in unpopular, overlooked elder. It bombed. When he took it to a fair in Berlin, a visitor congratulated him on having such a strong Finnish style. 'I was crushed. There I was, thinking I was an international designer!'

Thus, when Helsinki's design museum invited him to create a series of 'visually exciting' chairs in 1993, Kukkapuro called on a friend, the late Finnish graphic designer Tapani Aartomaa, and together they created Tattooed, a collection of plywood chairs decorated with bold slogans and eye-popping motifs of trees, dragons and tigers.

Colour also made it onto his 'CNC' chairs, designed in 2008 for his retrospective at the museum, to celebrate the potential of computer-controlled machinery. 'The idea was to show how efficiently technology can be used on materials.' How many chairs has Kukkapuro made in his lifetime? 'I don't know,' he says. 'Around 100? One day I shall have to count them.'
As originally featured in the April 2020 issue of Wallpaper* (W*253) — on newsstands now
INFORMATION
yrjokukkapuro.com (opens in new tab)
Emma O'Kelly is a contributing editor at Wallpaper*. She joined the magazine on issue 4 as news editor and since since then has worked in full and part time roles across many editorial departments. She is a freelance journalist based in London and works for a range of titles from Condé Nast Traveller to The Telegraph. She is currently working on a book about Scandinavian sauna culture and is renovating a mid century house in the Italian Lakes.