These papier-mâché lamps combine craft with sustainability
Sustainability and fine art are the driving inspirations behind 'resolutely maximalist' London lighting designer Rowena Morgan-Cox of Palefire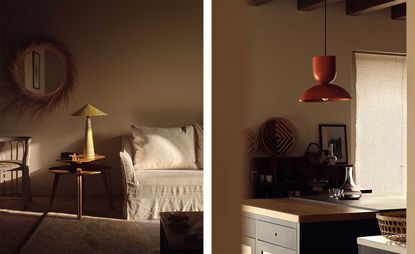 (Image credit: Courtesy Palefire)
Morgan-Cox has built Palefire with sustainability in mind from the ground up. But it's fine art that really inspires the look of her designs – she says her approach is 'resolutely maximalist', and draws on her art history training (she holds an MA from the Courtauld Institute of Art) to inform her designs: Nineteenth-century European painting and sculpture, the Arts & Crafts movement, and the refinement of European Modernism all are of particular interest to her.
Having spent over a decade as a specialist dealer in European sculpture, painting and decorative art, she went on to help interior designer Tobias Vernon open 8 Holland Street in 2018, before becoming Managing Director of The Fine Art Society in London and designing the interiors of its new home. The name Palefire itself comes from a Vladimir Nabokov novel and Williams Shakespeare poem: 'The moon's an arrant thief, And her pale fire she snatches from the sun'.
Palefire: sustainable design meets craft
'The idea from conception was to produce designs that were thoughtful about sustainability without compromising the aesthetic,' she says, explaining her two-pronged approach. 'First is a considered approach to materials and what impact they have. The second factor is the modularity of the design and our production model which produces less waste.
The entire collection of fourteen designs is made using only five simple, cone and dome shapes.' Indeed, she has named the collection "U/V" after these distinct shapes, as well as being a play on light. 'The smallest cone, for instance, is simultaneously used as the shade of our "Diabolo" lights or the ceiling rose for our pendant lights,' she points out. Twin-cone wall sconces, dish-like table lamps, a bell-shaped pendant and flush mount illustrate the 'myriad of possibilities' created by working in this modular system.
The papier-mâché process
Morgan-Cox searched far and wide for a producer working with paper pulp that could deliver designs to her level of refinement and finish. She eventually discovered a small, family run workshop that has been manufacturing paper pulp products since the 1890s, just outside Barcelona. Here, paper waste is processed, injection moulded – allowing them to make more complex structures – and air dried. Metal and electric components are made in another family-run factory in Birmingham, where waste filings are collected and put back into the system: 'Collecting and recycling waste has always been an essential part of their business as it is too valuable to waste,' she points out.
Hand-painted colours
All orders are hand-painted by the team in the Camberwell studio using low VOC paint which is 'manufactured using mainly geothermal, hydropower and wind in their plants in Iceland and Sweden,' she says. Executing the painting in her studio also allows flexibility for custom orders. Neutral colours such as Celadon (off white), and Clove (a warm brownish black) are complimented with Brick and Citrine, while free-hand painted patterns such as the swirling Serpent and cross-hatched Axis have been surprising best sellers.
A bright future
Looking ahead, Morgan-Fox plans to add a restoration and renewal service, helping the longevity of her lamps. This could include touching up surface scuffs, or completely repainting a shade if a customer redecorates a space. 'We do not want anything going in the bin!' she says.
palefirestudio.com (opens in new tab)
Tilly is a British writer, editor and digital consultant based in New York, covering luxury fashion, jewellery, design, culture, art, travel, wellness and more. An alumna of Central Saint Martins, she is Contributing Editor for Wallpaper* and has interviewed a cross section of design legends including Sir David Adjaye, Samuel Ross, Pamela Shamshiri and Piet Oudolf for the magazine.