John Pawson gives us a tour of his countryside retreat in the Cotswolds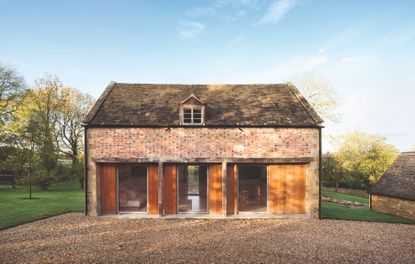 (Image credit: Gilbert McCarragher)
Home Farm, in a small village in the Cotswolds, is the second home that John Pawson always resisted having. He was happy with his home base of London, and the idea of an additional abode didn't sit well with his reductionist sensibilities and minimalist approach. But the temptation to build something for himself, free of client demands, proved difficult to resist. 'I saw a chance for myself to carry out a few things that I wanted to do architecturally,' he says.

The project sits on a 22-acre 'super site' in the 'golden triangle' of Stowe, Morton and Chipping Norton: on an escarpment, looking down a valley, a long way from a main road, and no pylons. When Pawson's wife, Catherine found it in late 2012, it was a 'dilapidated farmyard with lots of clearing up to do'. She handed John the particulars and said, 'this is what we don't want'. He countered, 'this is perfect'. So they bought it.

Home Farm was originally built in 1610 as the farm cottage and working farm for a Grade-I listed Jacobean house on the other side of the road. It came with a pond full of carp that predates the house, and an orchard of crab apple trees. Pawson's only external intervention was adding what he calls 'the link', joining the barn and the cottage. It's set back slightly from the two, with a lower roof line, and constructed in layers of cement, in contrast to the Cotswold stone of the existing property. It's the handiwork of Paul Wolf, a Belgian, who had previously produced Pawson's cement benches for the twelfth century Cistercian Abbey of Le Thoronet.

The barn had large double doors on both sides. Pawson closed off the pair facing the road, but left it visible from the outside, as the planners did not want passers-by to see a domestic scene. 'They wanted to keep it as a barn. So apart from this little piece of concrete, you can't tell what goes on here.'
Inside, the barn is made up of two large volumes, with a main kitchen and dining area that leads down two steps to a seating area. The west side looks over the pond, and Pawson has fitted a full-height sash window, operated by a motor due to its weight. 'I can't really be in there without opening it a bit, because I love sounds and things.'

The built-in kitchen, made up of an island unit and a wall of cupboards at one end, is fashioned in elm, to align with the original floorboards and beams. The new elements are made from two 80-foot high trees, harvested in Germany, the last of their kind that Pawson's suppliers could find.

A trio of Pawson's Sleeve lamps for Wonderglass is suspended from the beams, under which a 3.6m long table of Pawson's design, the same width as the sash window, is flanked with Hans Wegner's Wishbone chairs. The table is, naturally, set with his tableware, stemware and flatware for When Objects Work. Adjacent, three Donald Judd chairs sit in the shallow alcove that hints at the closed-off roadside doors.

The seating area occupies what was once the threshing room, now furnished with a large 1979 Library bed from Donald Judd, and is carpeted underfoot with jute matting. The TV has been banished upstairs, accessible only via a little ladder.

From here you are led through 'the link', to the cottage, whose volumes Pawson's has left pretty much as they were. The road-facing east side retains its original metal-paned glass, while the west side has been given modern glazing to better let in the view. There is another sitting room, complete with an original inglenook and a bread oven with a dome-like roof; then a second dining area; and then another kitchen, plus a pantry that was once a cider press. There's a symmetry to the order of spaces: 'kitchen, dining, living; living, dining, kitchen,' says Pawson.
Aside from the elm floorboards upstairs, the rest of the floor is poured concrete with chips (deliberate cracking), a kind of 'un-busy' terrazzo. Walls are finished in traditional lime plaster, while shelves, tabletops and bathroom counters are all made of white Lasa marble from the Stelvio National Park, above Meran in South Tyrol (where Pawson did a house for Michael Maharam and Sabine Steinmair). It's an illusion of sorts, a very thick piece of marble with a soft bevelled slither of an edge, set in elm, as Pawson did not want to see too much of the marble.

Also on the ground floor is Catherine's study, a library, and a reading room. Furnishing is understandably minimal; there are pieces from Poul Kjærholm, Donald Judd, and Pawson himself, plus an 18th century Swedish Gustavian sofa and lamps from the Castiglioni brothers and Issey Miyake.

Upstairs are three bedrooms. The master and its bathroom both have double-height ceilings, as the attic floor was taken out. Every bedroom has its own amazing bathroom, to make sure that no guest would feel they got the bad room.

In an unexpected touch, there are actually curtains on the original east-facing windows – in un-dyed boiled wool, almost the colour of the lime plaster walls. Pawson describes them as 'sort of monk-like, but a very rich monk'. You can tell he's still not 100 per cent comfortable with the soft furnishings when he says, 'it's my fault for not coming up with some sort of privacy'.

Across the gravelled courtyard from the main building, the former stables have been made into a self-contained guesthouse, its interior lined entirely in elm. Downstairs is a sitting room, kitchen and dining space, with its own wood burning-stove, and upstairs under a pitch roof is a double bedroom and bathroom.

Pawson first thought of making this a studio space for him to work. But the project 'took so long that when I get down there, the last thing I feel like doing is working.' It's a new sensation for the designer, who says he's always worked everywhere he's gone. Home Farm, says Pawson, has 'an immediate calming effect'.
INFORMATION
Home Farm is one of 10 new projects featured in John Pawson: Anatomy of Minimum, £49.95 (Phaidon), available from 9 October johnpawson.com