Blanket solution: Tekla Fabrics collaborates with John Pawson
The new line of blankets is inspired by the architect's Cotswolds home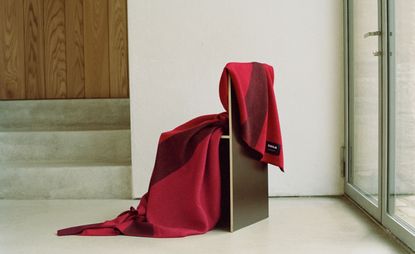 (Image credit: press)
Tekla Fabrics, the new-ish Copenhagen homeware label, has collaborated with architect John Pawson. The result? Four jacquard blankets made in warm, neutral colours that feel as considered as they look.

For established Pawson, agreeing to the collaboration with a younger, smaller brand was an easy decision. 'Engaging with talented young individuals is always a great pleasure. It also helps keep the thinking fresh,' he says.

With a background in luxury fashion, Tekla founder Charlie Hedin shifted gears towards homeware and founded the textile studio in 2017. 'Today we can clearly see an evolution in how people spend their time and money,' he says. 'The home is our most sacred place and gives us the possibility to express ourselves on a level other than fashion.'
Functionality, sustainability, accessibility and innovation are at the core of Tekla's products – fundamentals that resonated with Pawson. Although the architect is relatively unseasoned with soft furnishings, he says, 'I've always been interested in the idea of developing pared back inventories of equipment for the spaces I make. Textiles are part of this essential kit. Because something is functional, does not mean it can't also be sensuous and beautiful. Sustainability has — rightly — become an integral part of the way we design and this need for responsible thinking is often what drives the innovative aspects of a project.'

The two creatives worked closely to develop the very best blankets, with a weave that felt right for use at home; a lighter, warm soft blanket in Pawson's signature minimalist style. 'I've always said that, for me, whether I'm designing a monastery, a boat or a blanket, it's all architecture and therefore all a product of the same thinking,' he explains.
The design of the four blankets was inspired by Pawson's private family residence in the Cotswolds, Home House, previously a working farm which he has been renovating since 2013. 'The graphic motifs draw on shapes and patterns in the landscape and in the interventions I have made there. The colours reference conditions of light within the house itself, particularly the red evening sky that reflects around the warm white interior surfaces of the barn,' Pawson explains.

Despite their prestigious creators, the blankets — produced in limited quantities — are intended as just that: not precious pieces to be hung or arranged on the arm of a sofa, but generous rectangles of merino wool to envelope yourself in. 'There is almost something religious about stepping into Johns' world,' Hedin says. 'I knew that we would be able to create a product that also gives you that feeling of calmness.'
INFORMATION
Tekla Fabrics, available from WallpaperSTORE*. For more information, visit the Tekla Fabrics website
Tilly is a British writer, editor and digital consultant based in New York, covering luxury fashion, jewellery, design, culture, art, travel, wellness and more. An alumna of Central Saint Martins, she is Contributing Editor for Wallpaper* and has interviewed a cross section of design legends including Sir David Adjaye, Samuel Ross, Pamela Shamshiri and Piet Oudolf for the magazine.