The Vinson View: design luminaries switch Picky Nicky on to his bulb blunders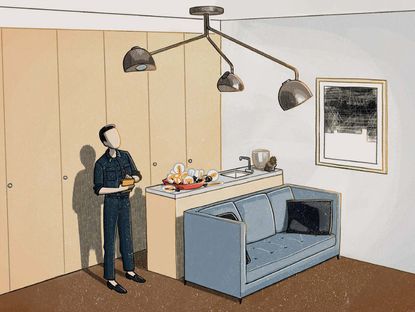 (Image credit: press)
On a recent visit to the London townhouse of interior designer Jonathan Reed and fashion designer Graeme Black, the subject turned to lighting. Over an aperitif in the kitchen, Reed despaired over a tiny pair of recessed LED spotlights above the hob. His outstretched arm beneath them, he said, appeared 'dead, with no sign of blood'. During dinner, in a room lit by exquisite architectural lighting and numerous decorative lamps, I quizzed him further. It turns out that for all his projects, Reed makes a decorative lighting schedule that lists the location and description of each lamp, and the name, manufacturer and stockist of each bulb, to ensure enduring perfection and make life easy for his clients.

I realised I was being far from picky enough when it came to domestic lighting. The next weekend, at the Florence home I share with my husband, I started to lay out my own lighting manual, room by room. Despite having architectural lighting designed by Patrick McInerney (the architect who designed the Trufig range of flush-mounted technology solutions), plus a Lutron management system to set scenes and a good selection of vintage lamps, our light-bulb situation was seriously lacking. Basically, we used whatever bulb fitted.
In London, Vincenzo De Cotiis (opens in new tab) made us a custom silver-plated brass DC606 to hang in the living room. It came with its own four-page manual

I felt my age. Not long ago it was a simple matter of choosing an Edison screw, small Edison screw or bayonet, and a candle, classic, golf ball or globe shape. Now there are spiral bulbs and LEDs, CFLs (compact fluorescent lights, which you can't dim) and the orange filament lamps seen in every other hipster bar.

Later that week I took tea with John Pawson, who provided me with a 1,200-word essay he'd written, entitled 'Light'. I learnt that his go-to lighting man is Arnold Chan of Isometrix, who also supplied our recessed lamps. John told me that his wife, Catherine, was in charge of bulbs at home, but then they have just the one freestanding lamp, by Serge Mouille, and their only real challenge is replacing the fluorescents in a Dan Flavin piece – very first-world housekeeping problems. Like me, Pawson has issues with cables and sockets, so most of his lighting is the built-in kind, which rarely requires bulb changes.

I thought I had everything sorted, until I dined with Martin Brudnizki at a Georg Jensen launch for Zaha Hadid's jewellery collection (verdict, the bracelets make nice napkin rings). Yes, the designer makes lighting schedules, but he also records how every object in his home is arranged on a surface. Cataloguing Nick's Nacks, as McInerney likes to call them, would be another project entirely. Somehow, I don't see the Pawsons needing to do the same.

I'm obsessed with these horsehair sconces from Apparatus Studio (opens in new tab). Coarse horsehair meets brass and a light source shrouded in etched glass. $5,200

Newly informed Nicky's top lighting tips
Lighting should support the architecture of a space, so design it at the same time, never afterwards
Both quality and quantity of light should be considered
Never underestimate the variety of white light – just like white paint, there is a range of shades
When lighting your spaces, don't forget the layout of your furniture and the intensity required for different activities
Natural light will move around a space during the day, so control it if necessary with special screening
Create scenes or moods with the help of light management systems, such as Lutron
We are hard-wired for warm light in the evening and cool light during the day, so create options accordingly
Not all bulbs are created equal, so be afraid, very afraid, of cheap LEDs

As originally featured in the April 2017 issue of Wallpaper* (W*217)