Recycled glass tiles by Studio Plastique, Snøhetta and Fornace Brioni launch in Milan
The 'Forite' tile collection, which upcycles glass components from discarded fridges, ovens and microwaves, launches with an exhibition at Alcova during Milan Design Week 2022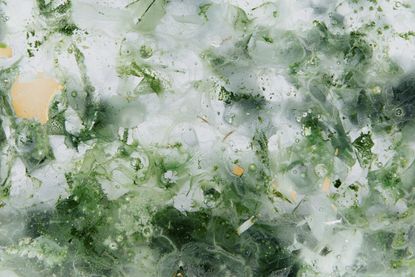 (Image credit: © Snøhetta/Studio Plastique/Fornace Brioni)
Glass is often lauded as an infinitely recyclable material, capable of being melted down and reformed over and over without a loss of quality. There's a lot of it in discarded electronic products – fridges, ovens, microwaves, computers, and so on. And yet, a combination of varying glass compositions, logistical hurdles and bureaucratic red tape have meant that when these products reach the end of their lives, most of the constituent glass simply ends up in landfill.
This is a challenge that Studio Plastique, a research-based design studio in Brussels, first took on in 'Common Sands', an investigation into the 'extraction, transformation, application and end-of-life of sand and sand-based products'. At a 2019 exhibition, Studio Plastique met the international architecture and design studio Snøhetta, and decided to join forces to bring their research into an architectural context.
Their collaboration resulted in a collection of glass tiles, called 'Forite', with a dappled, terrazzo-like appearance that suggests its diverse material origins and elevates its appeal.
'Glass is treated in a wide range of coatings and laminates, so if you mix recycled glass, you end up not with a transparent material but rather a muddy, greenish-brown colour. But this quality that makes glass difficult to recycle is also what makes our tiles interesting,' explains Snøhetta's Henry Stephens.
Stephens adds that a circular economy demands that we reassess our relationship with aesthetics. 'Modern materials are all driven by modernisation and standardisation, whereas if you're designing with waste, there's always going to be a bit of variability.'
Meanwhile, Studio Plastique's Archibald Godts acknowledges that it was simple to design and create individual tiles, but bringing the product to market at scale was the 'really daunting' bit. EU recycling regulations on glass are rigid, and meant that it took strenuous efforts to secure the e-waste glass where they needed it, and at the right time.
It is thanks to Alessio Brioni, fourth-generation owner of Italian tile manufacturer Fornace Brioni, that 'Forite' is now commercially available. It comes with a choice of three backing colours (green, grey and transparent), and two sizes (10cm x 10cm, 30cm x 30cm).
'Fornace Brioni has been producing tiles out of clay since 1920, but this is the first time we've worked with another material,' says Alessio. 'I think it's the most difficult thing we've done.'
It's a gamble that has clearly paid off, judging from the critical claim that Forite has garnered – including a Wallpaper* Design Award 2022 for Best Domestic Design.
Milan Design Week 2022 (opens in new tab) sees Forite shown to the public for the first time, in a pop-up showroom at Alcova, a showcase of independent design that takes over the abandoned Baggio military hospital in the west of Milan until 12 June.
On view are not only the 'Forite' tiles, but also samples of e-waste glass, prototype tiles that have been made from specific waste streams (fridge, TV screen, phone, photovoltaic panel, microwave tray, microwave door, oven and more), and a video that illustrates the research, design and manufacturing processes.
The final tiles are displayed individually, within small grids, and in more architectural applications, including vertical panels, and a 120 x 120 x 60cm plinth in the centre of the space. The architectural forms are kept 'fairly abstract, so people can project their own ideas onto them', says Stephens.
The vertical panels are particularly evocative – suggesting the possible application of Forite not only as wall coverings but also space dividers. Clear glass tiles are displayed against generous windows that overlook the lush grounds of the military hospital, perfectly accentuating the tile patterns and illustrating just how alluring waste materials can be.
Consistent with the sustainable ethos of the tiles, the exhibition design aims for a minimal environmental footprint: the adjustable aluminium profiles that hold up the vertical panels will be returned to their supplier after the exhibition closes.
'Forite is just the beginning, and an example for us and others to learn from,' concludes Marius Myking, director of product design at Snøhetta. 'The potential in materials that are currently not used efficiently due to restrictions, regulations, old habits, and systems, or lack of political incentives is enormous.'
INFORMATION
Forite tile_01, 10cm x 10cm, €280 per sq m
Forite tile_02, 30cm x 30cm, €300 per sq m
TF has been editor of Wallpaper* since December 2020. He is responsible for our monthly print magazine, planning, commissioning, editing and writing long-lead content across all our content pillars. He also plays a leading role in multi-channel editorial franchises, such as our annual Design Awards, Guest Editor takeovers and Next Generation series. He aims to create world-class, visually-driven content while championing diversity, international representation and social impact. TF joined Wallpaper* as an intern in January 2013, and served as its commissioning editor from 2017-20, winning a 30 under 30 New Talent Award from the Professional Publishers' Association. Born and raised in Hong Kong, he holds an undergraduate degree in history from Princeton University.