Designer Harry Allen revives his upstate New York cottage with subtle modernist makeover
New York-based industrial and interior designer Harry Allen founded his eponymous brand in 1993. From producing furniture collections and tableware to commercial and residential projects, Allen's career spans the breadth of design disciplines – in 2007 he really broke the mould with his pig-shaped resin piggy bank. We visited his upstate New York home in 2009 (W*118), a 19th-century cottage in suburban Bedford that had just emerged from a gentle modernist makeover.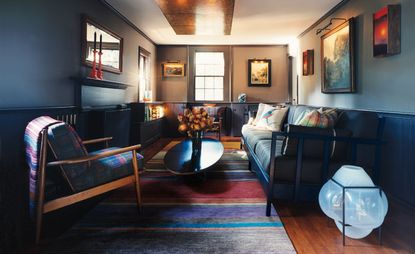 (Image credit: François Dischinger)
Wallpaper* Newsletter
Receive our daily digest of inspiration, escapism and design stories from around the world direct to your inbox
Thank you for signing up to Wallpaper. You will receive a verification email shortly.
There was a problem. Please refresh the page and try again.
When diehard modernists dream about country life, they tend to conjure images of Mies van der Rohe's Farnsworth House outside Chicago and Philip Johnson's iconic house of glass in Connecticut. Harry Allen, a multidisciplinary New York-based designer, appreciates the allure of those particular archetypes. For years, he nurtured the fantasy of escaping to the city to a sublime modern box nestled discreetly in an idyllic glade.

However, Allen's path towards Miesian splendour took an abrupt detour when he met his partner, John Holm, an estate gardener in upstate New York. Holm's 19th-century cottage in suburban Bedford was charming to be sure, but modernist rigour was not among its virtues. When the time came to renovate the erstwhile schoolhouse, Allen entertained the idea of a radical architectural intervention, but he ultimately eschewed that strategy in favour of a more subtle approach.
'This house has great bones and integrity,' says the designer. 'We didn't want to do a traditional renovation, but we also didn't want to blow out the back of the house and put in a glass wall. If you go down that road, you can wind up with a really bad hybrid.' Allen chose to nudge the house in a modern direction by maintaining the basic structure and exterior but tweaking the character of the interior spaces with plays on colour and material. He gave each room a different atmosphere and personality by emphasising one particular surface material or colour.

In the dining room, for example, Allen abstracted the familiar elements of American farmhouse vernacular. He applied the same red oak planks to the floors, walls and ceiling, created an effect along the lines of a pristine Japanese sauna. He then underscored the room's peculiar quality, at once familiar and unfamiliar, with a dramatic play on scale – a French farm table dwarfed beneath a monumental Japanese paper lantern.
As a final gesture to punctuate the highly personal, over-the-rainbow ambience, Allen hung a sculpture by Norwegian artist Rune Olsen of two stag heads – one licking the other – made of masking tape wrapped over a wire armature. 'It's our riff on the traditional hunting lodge theme,' he says.

The entry to the house has a more ethereal quality, with walls and ceiling painted in pale sky blue. The floor is paved in bluestone, an abundant local material that was used to construct the existing patio. 'I brought the stone inside to establish an indoor/outdoor connection,' Allen explains. 'The tiles in the entry are honed, as opposed to the more rustic ones outside. I like the juxtaposition of the raw and the cooked.'
Allen's palette swings towards the scuro end of the spectrum in the living room, which is bathed in various shades of brown. Once again, he nodded in the direction of the traditional country style but then subverted the aesthetic with modern flourishes. Midcentury Danish chairs, for instance, are unexpectedly upholstered in plaid fabrics. Wainscoting runs along the walls, but it is applied in a non-traditional pattern of panels rather than strip to give it a 'more abstract modern flavour', in Allen's words. The colourful striped carpet that anchors the room echoes the striped business-suit fabric by Paul Smith on the custom sofa.

Like much of the furniture, the artwork that hangs in the living room is an idiosyncratic assemblage of pieces inherited from the couple's families, and includes a painting by 19th-century French artist Rosa Bonheur and a 1920s English pastoral scene of undetermined pedigree. 'This is our Old Masters room,' Allen says with a laugh.
The decorative pendulum swings back to chiaro in the master bedroom, where the brick walls and beamed ceiling are coated in white paint, and the floor is covered in blond wood. A 1960s addition, the bedroom projects out from the original structure into the garden. Allen's serence, neutral palette and avoidance of strong patterns defer to the garden views, as does his choice of artwork – a large digital print of a moth by photographer Douglas Scheer.

The new kitchen, which was the catalyst for the renovation, is a symphony of metallic tones and materials played out in stainless-steel tiles and appliances, pewter-coloured Corian surfaces, and a crown of copper pots that belonged to Holm's mother. Like the gardens, the kitchen is the domain of Allen's partner, who was a classically trained French chef before he turned his attention to flowers and trees. 'I never even had a plant before I met John,' Allen confesses. 'I'm all about the design of the container, and he's about what goes in the container.'

So in the end Allen may not have acquired the sublime glass box of his dreams, but his good standing in the fellowship of modernists remains intact. 'The house feels like an expression of my sensibility as a designer,' he says, 'but it's more than that. It represents the grounding that John has brought to my life.' §

As originally featured in the January 2009 issue of Wallpaper* (W*118)
INFORMATION
For more information, visit the Harry Allen Design website
Receive our daily digest of inspiration, escapism and design stories from around the world direct to your inbox