International Women's Day: leading female designers in their own words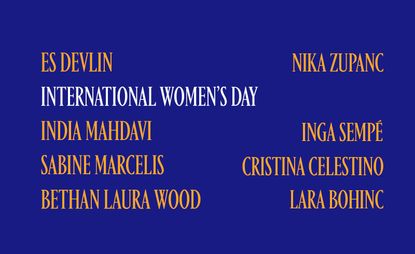 (Image credit: press)
To celebrate International Women's day, we turned to some prolific female designers to give us quotes on their successes, a glimpse at their historical heroines, and news on projects at Salone del Mobile (17-22 April). We hear from daring dames in design Inga Sempé, Bethan Laura Wood, Sabine Marcelis, Nika Zupanc, Es Devlin, Lara Bohinc, Cristina Celestino and India Mahdavi...
Rotterdam-based designer Sabine Marcelis opened her studio upon graduating from Design Academy Eindhoven in 2011. Her work is characterised by a distinguished use of colour and materials, and an innovative approach to lighting. Recent collaborations include OMA-designed Repossi boutique on Place Vendôme in Paris and candleholders for menswear brand Salle Privée.

Wallpaper*: What is your career highlight so far and why?
Sabine Marcelis: Having the opportunity to collaborate with OMA (Rem Koolhaas), which has taken my work to a completely different scale.
W*:Which women, or a woman inspired you to follow a creative path?
SM: Ellie Uyttenbroek from Exactitudes, she's a bad-ass who plays by no-ones rules and has the ability to see potential in the most unexpected things.
W*: What's on the drawing board right now?
SM: Some architectural projects and a site-specific installation. And of course preparing to show new work at Salone del Mobile in April.
W*: Dream project?
SM: To work on something monumental. A permanent public installation would be amazing. I would also absolutely love to work on more performative situation; to collaborate with musicians and theatre.
Slovenian product and interior designer Zupanc's work is witty, visually delightful and pristine. Her commissions include Moooi and Moroso, and her ongoing collaboration with Sè. She also has her own brand of precious and whimsical furniture.

Wallpaper*: What is your career highlight so far?
Nika Zupanc: It is almost impossible, if not unjust, to name one project as the most dear to me, but if I have to choose one today, I would pick the Ribbon chair, which is now officially my first injection-moulded piece of furniture. But it is not that making it so special to me, it is more the simple fact, that since the beginning it was envisioned as a statement against rationalism that is still ruling the world of product design. Using a bow as the central symbol of a contemporary chair design seemed as rather daring gesture to do in a society, that is still ruled by overrated rationalism and technicism. With a bit of humour, one could even call it a 'revenge design'.

W*: Which women, or a woman inspired you to follow a creative path?
NZ: Since we are evidently living in a world where woman still have to fight for their equal place in society, my work was always full of references to historical heroines that fail openly and laud. Daring desires of Virginia Woolf, Sylvia Plath, Camille Claudel and others inspired me since my very early age, however the role model I would pick here is Coco Chanel who proved that there is always a way. I wouldn't say she didn't pay her share, but social rules for women clothing was changed ever since and for sure she knew, how to own her desires.

W*: What's on the drawing board right now?
NZ: Among all new products and collections, that will be revealed during up coming Salone del Mobile in April in Milan, you can also find glasses, a luxury residence and a collection of surfing boards.

W*:Dream project?
NZ: Designing a car.
Celestino made her big ticket debut in 2016 with her furniture collaboration with Fendi for Design Miami. The Italian designer trained in architecture before shifting to interior architecture where she refined her style producing collections for brands including Tonelli Design and Nilufar.

Wallpaper*: What are your career highlights?
Cristina Celestino: My wall covering and flooring projects for Botteganove and Fornace Brioni had great success. I had the opportunity to work as creative director on design projects that concern surfaces, which I deeply love. Also The Happy Room project for Fendi in 2016. It was great to show a whole concept through an extensive furniture collection. And finally, my collaboration with Nilufar gallery. I will show a new piece there during Salone del Mobile 2018 and I truly admire Nina Yashar, both as a woman and as an entrepreneur.

W*: Which woman, or women inspired you to follow a creative path?
Cristina Celestino: The first woman that stands out as an inspiring guide is my art and architecture teacher at high school. She made my creativity bloom. I also have a passion for the revolutionary work of Nanda Vigo.
W*: What's on the drawing board right now?
CC: The upcoming Salone del Mobile project, there are many others too, for example Corallo for which I have reinterpreted the historic streetcars of the city imagining an ideal Cinema Corallo that will circulate in the Brera district. Corallo will create a suggestive screening room on rails.

W*: Dream project?
CC: To build a big house for my family in the country and design everything from the architecture to the towels.
A graduate of industrial design school ENSCI, Sempé is known for her versatility and lightness of touch. Since opening her studio in 2000, the French designer has established long-term relationships with firms such as Ligne Roset and Wästberg.

Wallpaper*: What is your career highlight?
Inga Sempe: No special highlights, just very slow work.

W*: Which woman, or women inspired you to follow a creative path?
IS: I was inspired by all the working women from my childhood, always taking care of all the cleaning and boring stuff at home and looking after the children, while the men were just sitting and drinking. I thought: I will never be this way, and will never be with men like that. A bigger help was my father who always said, 'women have no imagination'. So I just showed him he was wrong. A real inspiring woman for me is Grisélidis Réal, the Swiss writer and prostitute who fought for the rights of prostitutes.

W*: What is on the drawing board right now?
IS: I've just finished a herringbone double grill for Crane Cookware and a fabric for Alcantara. Coming up are mirrors for Magis, seating for Mattiazzi and handles for DND.

W*: Dream project?
IS: a cast-iron wooden stove.
The Irano-Egyptian designer has graced many spaces with her whimsically elegant aesthetic. Dubbed the 'queen of colour' by many, the Paris-based designer is accountable for the Gallery restaurant at Sketch, to stand-out pieces for the likes of Cogolin and Louis Vuitton's Objets Nomades.

Wallpaper*: What is your career highlight?
India Mahdavi: Being able to embrace womanhood, motherhood and my career as an architect and designer at the same time – and still very much enjoying all three.

W*: Which woman, or women inspired you to follow a creative path?
IM: All the inspiring pioneers like Louise Bourgeois, Lou Andreas-Salomé, Andrée Putman, Maja Hoffmann… they are all free women.

W*: What's on the drawing board right now?
IM: So many different things – a few collaborations for Salone del Mobile in Milan in April – a bathroom for Bisazza, a furniture installation at Nilufar Gallery, a collection of rugs for Golran, a new retail concept for Tod's London Sloane Street flagship store, a salon de thé for Ladurée in Tokyo (after Geneva and Los Angeles) some residential projects and scenography for an exhibition about craftsmanship for the Michelangelo Foundation in Venice.

W*: What is your dream project?
IM: To make a movie.
The RCA graduate is the flamboyant mistress of pattern and marquetry. The British designer has had decorative collaborations with Valextra to Bitossi, and in 2016 she was awarded with the Swarovski Emerging Talent Award at London Design Festival.

Wallpaper*: What is your career highlight?
Bethan Laura Wood: I have to pick more than one… getting into the RCA to study my MA in Design Products, winning the 2016 Swarovski Emerging Talent medal at London Design Festival, attending the RCA graduate gala in 2011, and winning the W Hotels Designers of the Future 2013 award at Design Miami Basel.

W*: What's on the drawing board right now?
BLW: For SS 2018, I have worked with Valextra designing handles to go with their bags, really enjoyed the experience working with their specialists, it was interesting applying my knowledge from design to create these miniature things with a specialist. Am also working with Valextra on their Venice boutique, some smaller bespoke elements rather than the entire interior. Also some rugs for CC Tapis.

W*: Which women have inspired you?
BLW: Frida Kahlo, travelling to Mexico I had more access to her and I admire her style. Yayoi Kusama, I love her absorption into herself and her patterns. Nathalie du Pasquier of Memphis and also Charlotte Perriand because their designs stand along and are timeless. Style wise am also a big fan of Bjork, another person who has found ways of expressing herself through her clothing.

W*: Dream project?
BLW: I would love to design a London Underground station, all the patterns for the walls.
Slovenian-born, London-based designer and RCA-graduate Lara Bohinc started out in fashion and jewellery design – winning the British Fashion Council's New Generation Award – but segued seamlessly into furniture design when she created the Solaris Kinetic Table with Lapicida for Wallpaper* Handmade 2014. Since then she has collaborated with Skultuna and worked with Italian manufacturers to create lighting and vases. Defiantly multidisciplinary, her love of natural materials and pure geometric forms is what unites her diverse body of work.
Wallpaper*: What is your career highlight?
Lara Bohinc: I guess getting an MBE would be a standard answer but I feel that my career highlight hasn't arrived yet.
W*: Which woman, or women inspired you to follow a creative path?
LB: My mother. She was a working woman, she was a judge until her retirement and she instilled in me a positive attitude and a good work ethic. She also made me believe that anything was possible if you worked hard, whether you were a woman or a man. She was always very encouraging and seemed to love everything that I created, from my first doodles to the objects of today. I have her to thank for who I am today, as a woman and as a creative.
W*: What's on the drawing board right now?
LB: A new metal furniture collection that will be launched at Salone. Also my new website.
W*: Dream project?
LB: Every project can become a dream project, however this depends on many factors… people, budget, timeline.
Recipient of the Panerai London Design Medal 2017 and probably the world's most sought-after set designer, Es Devlin OBE has an enviable portfolio that ranges from London's 2012 Olympic closing ceremony, for which she filled the stadium with Damien Hirst's 5,600 sq m Union Jack spin painting, to creative work for the likes of Miley Cyrus, Beyoncé, U2, Adele, Jay Z and Kanye West. Most comfortable when operating 'on the edge of the impossible', she says she practises the 'suspension of disbelief'.
Wallpaper*: What is your career highlight?
Es Devlin: My lakeside stage set for the Bregenz Festival's production of Carmen.
W*: Which woman, or women inspired you to follow a creative path?
ED: Ray Eames, Adrienne Rich and Margaret Atwood.
W*: What's on the drawing board right now?
ED: MASK: a new sculptural filmic work at Somerset house which will launch during Photo London from May 18.
W*: Dream project?
ED: I'd love to create a work in the Turbine Hall at Tate Modern.