India Mahdavi renders her most iconic piece in all-white for Athens' Carwan Gallery
At Athens' Carwan Gallery, India Mahdavi explores uncharted territories with a new all-white collection made of marble (on view until 13 August 2022)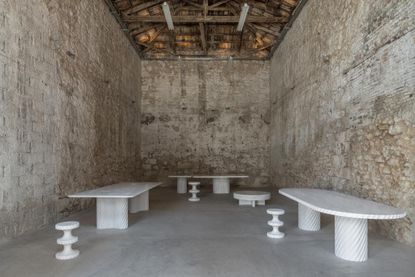 (Image credit: Giorgos Sfakianakis)
Wallpaper* Newsletter
Receive our daily digest of inspiration, escapism and design stories from around the world direct to your inbox
Thank you for signing up to Wallpaper. You will receive a verification email shortly.
There was a problem. Please refresh the page and try again.
It was, of all things, a magazine article that sparked the idea that led to designer India Mahdavi's latest exhibition. In 2018, The New Yorker published a sprawling report on current research being done on ruins unearthed from Greek and Roman archaeological sites. The conclusion these archaeologists had reached after decades of investigation is that the milky white marble forms that have come to define antiquity are not what they seem. That at the time of their creation, they were lavishly painted – buildings were awash in vibrant decorative motifs while human forms came with brightly patterned clothing and had many shades of pigmented skin – but the colourant had disintegrated and eroded over time, leaving the stark white forms we now associate with Greek and Roman sculpture and architecture. Thousands of years ago the built environment was not really homogeneously white, they concluded, but in fact, drenched in colour.
'Their clothes were a bit like Missoni, no?' Mahdavi jokes as she explains this concept on a muggy spring evening in the rough, stone-walled confines of Carwan's Piraeus-area gallery, an industrial zone turned arts neighbourhood just a stone's throw from Athens' bustling docklands and ferry terminal. 'This purity of whiteness is a false idea we have about Greek sculpture. Everything was coloured. They were all painted in very strong pigments,' she explains. This little known fact provided the conceptual underpinning of 'Achromia', her latest show with Carwan (on view until 13 August 2022), a reimagining of some of her most iconic furniture pieces totally stripped of colour. 'When Nicolas invited me,' she recounts, referring to Carwan founder Nicolas Bellavance-Lecompte, who commissioned the project, 'he told me: "You're so well known for colour, what would we do if we took it away from you?"'
As followers of the prolific furniture and interior designer's work know, colour is the guiding force in most of what she creates. Her concept for London-based restaurant Sketch, for instance, first doused the Mayfair dining room in bubblegum pink (making it the most Instagrammed place in all of London), and later in shades of saffron and gold for its 2022 redesign. Or her luscious wallpapers for De Gournay, which feature references to surrealist painter de Chirico's mind-bending canvases and figurative scenes inspired by The Persian Book of Kings. 'Colour, for me, is a way to create a vibration,' she says of her style. 'It creates a sense of light.'
For the exhibition, Mahdavi rendered the pieces solely in white marble. Among them are the three-tiered 'Bishop' stool, which she regularly reinvents in new colourways and patterns, the two-piece asymmetric 'Alber' table, originally designed for late fashion designer Alber Elbaz, and two versions of the 'Diagonale' table, a long dining table and smaller circular version, which was originally produced in pigmented ceramic. In addition to the material makeover, she added diagonal fluting to the edges of each piece as a nod to traditional Greek columns. 'I love the way they attract the light,' she explains, 'it creates a vibration even without colour.'
The pieces were crafted in Pentelic marble quarried from the slopes of Mount Pentelikon just outside the city, the very same stone used to build the Parthenon. 'I think it was really interesting also to do this project here in Athens because it's a material that belongs here,' she says. 'The pieces are made locally – they work well here.' The actual fabrication was completed by local firm Delta Marble. However, in developing the project, Mahdavi and her team employed a 3D printer to build 1:1 scale models in her Paris studio. Though the forms were pulled from her own archive, the novel material required a total rehashing of proportion and scale. 'Marble is very prescriptive,' she notes of the process. 'It took a lot of experimentation to find the right form.'
But according to Mahdavi, developing this collection wasn't as simple as bleaching the vibrancy out of these well-known designs. 'It was very difficult,' she reveals. 'It took ages for me to get used to the idea. You would think that this was a really easy show to create, but it was such a challenging exercise mentally for me to let go of my usual language.' And even though the absence of colour is the show's central concept, for Mahdavi, colour is impossible to escape. 'It's funny, even though the entire exhibition is about achromia, removing colour,' she observes. 'In the end, it's the only thing we're talking about.'
INFORMATION
'Achromia' by India Mahdavi is on view until 13 August 2022
india-mahdavi.com
carwangallery.com
ADDRESS
Polidefkous 39
Pireas 185 45
Greece
Receive our daily digest of inspiration, escapism and design stories from around the world direct to your inbox
Laura May Todd is a Canadian-born, Milan-based journalist covering design, architecture and style. In addition to the Italian dispatches she writes for Wallpaper*, she regularly contributes to a range of international publications, including T: The New York Times Style Magazine, Architectural Digest, Elle Decor, Azure and Sight Unseen. Prior to her work as a journalist, she was assistant editor at London-based publishing house Phaidon Press.
With contributions from