House of fun: Cristina Celestino's VIP 'Happy Room' for Fendi is fluffy but refined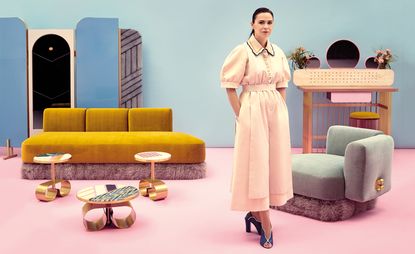 (Image credit: Alberto Zanetti)
Female designers are few and far between in the world of high design. In Italy they are, quite oddly, nearly non-existent. Which is what makes Cristina Celestino a singular rising star. Born in Pordenone, a small town in Italy's far north-eastern corner, and currently based in Milan, Celestino has been working behind the scenes for nearly a decade as an architect, designer and the founder of design studio Attico, which focuses on research into materials and shape.

Although she has presented standout individual pieces at Milan's Salone del Mobile – including glass furniture for Tonelli Design and, most recently, a feather-inspired mosaic wall for mosaic specialist BottegaNove, Celestino will make her big-ticket design debut at Design Miami (30 November to 4 December) with a collaboration with Fendi.

'I've had my eye on Cristina for three or four years,' said Maria Cristina Didero, the Milan-based design curator who hatched the collaboration. 'She has a soft, elegant approach to design that is rare right now. She's done exceptional work but nothing on this scale of a full collection. So it's a very exciting moment for her'.
Fendi, marking its seventh anniversary at Design Miami, has become a benefactor of sorts for trail-blazing design projects with up-and-coming or recently hot designers. Celestino's brief was to create Fendi's first travelling VIP room: an interior space comprising 12 pieces of furniture and lighting that will be showcased and sold in Fendi's top stores and dazzle its discerning, seen-everything clientele with another layer of something fabulous.

Collectively dubbed 'The Happy Room', the designs – including a fox-trimmed couch and armchair, a standing mirror, an onyx, marble and brass vanity table and low marble tables – are feminine but not flimsy. What could have been overly girly or 'Barbie Dreamhouse' is, in fact, highly refined. The lines are pure, the shapes under control, and the toned-down but intricate collages of materials and enticing colours suggest Celestino's talent as a designer of beautiful furniture. Her palette of mint green, soft mustard and powder grey punched with a couple of hot hits of flamingo pink was inspired by Giò Ponti-designed homes in Venezuela. 'He used a lot of marble that was very graphic and modern,' she observes.

But a Fendi brief always encourages designers to play with the fashion brand's rich caches of leather and fur and its exceptional artisanal techniques. And here, Celestino has delivered the goods. Of the many signature handcrafts that Fendi has perfected, the one that really captured the designers' attention was its famous intarsia – a technique that is used to sew up a dizzying array of different furs into intricate puzzles of colour and texture on clothing.
Celestino applied the same principle to precious stone, slicing up chunks of green Saint Denis, red Lepanto, Roman travertine and tinted onyx to create pastel petal or other graphic intarsia patterns on a series of three low tables featuring satin brass bases in the shape of giant earring backs. The same decorative technique appears in the triangle motif on the vanity top and the lacquered wood sides of the five-shutter screen. The side panels of the standing mirror feature an intarsia effect created using coloured lacquer.

'Many times, the lining inside fur is more beautiful than the outside, because you see how much work has gone into it,' Celestino remarks of the intarsia process. 'You see all the seams. I wanted to create something very artisanal and very difficult to make. It's an idea of luxury that isn't obvious to see, but is reflected by all the work that goes into each piece. Each was complicated to make.' Perhaps the most complicated is the screen, which features panels of pinstriped mink fur embedded in sheets of transparent resin, a startling prospect that seems to have trapped the fur in time. The Ziplock effect places the dazzling intarsia seaming of the fur backing on full view. Meanwhile, the standing lamp with a brass rod and a marble sandwich base has a perforated and pleated leather shade, made from ultra-thin leather that Fendi uses in its clothing.

'I'm very happy about the collaboration,' remarks Silvia Fendi, the granddaughter of founder Adele Fendi and frequent commissioner of high design for the Rome-based company. 'She has perfectly translated our Fendi codes into a truly sophisticated and feminine collection of design pieces. It's also playful and light.'

The full-scale Happy Room will be shown in Miami, with Celestino's feather mosaic wall as a backdrop. 

As originally featured in the December issue of Wallpaper* (W*213)
INFORMATION
For more information, visit the Design Miami (opens in new tab) website (opens in new tab) and the Fendi website (opens in new tab)