Cristina Celestino's Bathscape is both luxurious and sustainable
Designer Cristina Celestino reimagines the bathroom as a series of oases for wellbeing, for Kaldewei's Milan Design Week 2022 presentation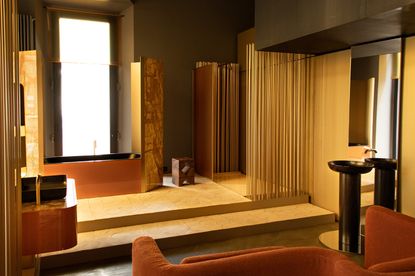 (Image credit: TBC)
'These [past] two years have weighed heavily on my thoughts around the concept of the bathroom, which has become a fluid space, with functionalities related to wellbeing increasingly linked to an emotional and aesthetic concept,' reflects Milanese designer Cristina Celestino during the preview and launch party of her installation Bathscape, presented by Kaldewei during Milan Design Week 2022.
The German company creates bathroom solutions that combine modern luxury with sustainable thinking, an approach it calls 'Luxstainability'. It's something that Celestino relates to: 'The concept of luxury, in my opinion, is unrelated to the intrinsic richness of the materials, but rather to the quality of the spaces in which we find ourselves and the time we have to devote to ourselves,' she says.
The installation, on display at Via Maroncelli 2, Brera, until 12 June 2022, unfolds through various areas that appear to be small oases of wellbeing. The first contains a sink, next to a dressing table with a pouf, a mirror and a seat. The wash basin has rotating mirrors. A structure has been built around the tub to highlight its unique shapes. The shower is screened by orange glass and metal pipes, which also divide other spaces in the showroom, as a nod to the theme of nature and to Harry Bertoia's sound sculptures.
A soft carpet welcomes you to another 'room', where a tub with a whirlpool function conveys a more intimate concept of a domestic sauna. 'There is a totem, an architectural volume, around each functional element, so the bathroom becomes a sort of landscape [marking] the rituals that take place in the bathroom,' Celestino says.
'We worked with a variety of materials because the goal was to create a luxury concept that was also sustainable in terms of materials and approach.' Notably, Kaldewei's signature steel enamel is fully recyclable and is made from 20 per cent recycled steel.
The result in terms of the installation is a combination of natural materials, such as terracotta and marble, and metals, including brass. 'My inspiration comes from the classic bathrooms of [Piero] Portaluppi. The architecture created uses elements such as metal, orange lacquers, and Italian Siena yellow marble to create simple and sculptural volumes around each functionality.'
When working on an interior design project, she says, the context is critical: 'The dialogue with the space in which one operates is important in the selection of materials – in this case, brass and large volumes. It's fundamental.'
INFORMATION