Kelly Wearstler makes over a midcentury Malibu beach house
The American designer fills her Malibu beachside home with pieces from an extensive and eclectic design collection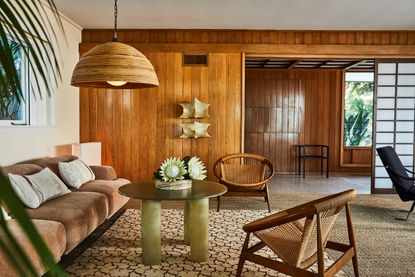 (Image credit: The Ingalls, Mark Durling)
Stretching across a triple lot on Malibu's Broad Beach, this 1953 residence is the kind of rare find that sets the imagination racing. A timber-sided structure that stands out among its more contemporary neighbours, the four-bedroom house comes with generous gardens at one end, and a spacious deck, rolling sand dunes and unobstructed ocean views at the other. It also has a Hollywood pedigree: believed to have been built by Frank A Garbutt, a co-founder of Paramount Pictures, for his daughter, it was later acquired by actor Carroll O'Connor, star of the 1970s sitcom All in the Family. Yet, before designer Kelly Wearstler moved in last spring, the house had been on the market for three years, drawing little interest.

Wearstler, like many other affluent Angelenos, was in search of a beach house where her family could pass the pandemic months. She had already seen this property from the outside, as a good friend had once rented three doors down, and she was charmed by its original architecture, expansive windows and scenic location. 'It even has a driveway where you can take your boat down from the house and just go all the way to the ocean,' she enthuses, pointing out that her family are avid surfers. She tracked down the owner of the house and asked if he might be willing to let it for a few months; he agreed, with the caveat that he'd still be able to show the house to potential buyers.
Knowing this would be a fixed-term stay did not prevent Wearstler from giving the house an extensive overhaul. Out went the white shag carpet, and in came a mix of Californian and European midcentury pieces that looked at home amid the original timber panelling and shoji screen doors and ceilings: in the living room, for instance, Wearstler put 1970s seating by Afra and Tobia Scarpa for Cassina, and a 1950s 'Control' lamp, by American designer Mitchell Bobrick, that she has had for 12 years. Many of these were drawn from her extensive collection of vintage pieces, a reflection of Wearstler's upbringing (her mother worked as an antiques dealer) and longtime passion. 'I shop all over the world, and anytime I see anything that is unusual, I buy and store it in my warehouse,' she explains. Having selected key pieces that would set the tone, she turned to Joel Chen, owner of fabled LA antiques emporium JF Chen, for the rest. 'I've been purchasing things for projects from him for as long as I remember. He has a 30,000 sq ft store that stayed open [during the pandemic] because there's a lot of room for social distancing. So I went and got a few pieces from him.'

Wearstler also introduced works by emerging talents to bring a fresh eclecticism to the house: in the entryway, Californian designer Chuck Moffit's black leather bench on a delicate bronze frame contrasts with LA studio Base 10's burly console, made of salvaged redwood and blackened using a combination of natural alchemical patination and shou sugi ban. Another charred wood piece, a side table formed of three tapered cylindrical volumes, is a contemporary take on a Senufo table by Belgian designer Arno Declercq, while a steel chair with a seat, seatback and armrests in white plaster, evoking a sculpture in progress, comes courtesy of Austrian designer Lukas Gschwandtner. From Angeleno ceramic artist Caroline Blackburn, Wearstler selected a richly textured vessel that beautifully complemented the organic forms of the living room furniture.
Working with landscape designer Art Luna and local nursery Inner Gardens, Wearstler introduced lush tropical foliage in and around the building. Plants were particularly abundant in the solarium-turned-dining room, housed in a mix of early California and contemporary pots, overrunning the dining table and huddling up to an enormous Isamu Noguchi lamp suspended in the centre. With the windows open, they would sway in the ocean breeze, further blurring the boundaries between outdoors and in.

The house is an apparently effortless melange of design styles, rich in texture and mindful of context. Yet it diverges from Wearstler's previous work (and, indeed, her usual LA home, a Spanish Colonial Revival building dating back to 1926) in its bohemian energy and intimacy. The spaces here were deliberately crafted with the expectation of an extended lockdown, emphasising ease of use and suited to relaxation and play. The office, despite its statement green marble table by Mario Bellini, is configured simply for the one or two days a week when Wearstler would work from home (on other days, she made the 70-minute drive to her studio, which continued to operate at 30 per cent capacity). Meanwhile, a family room comprises low-slung seating for just four: an Italian cognac leather sofa and a pair of Finnish lounge chairs, perfect for evenings spent playing cards and board games.
The virtues of the house became evident over time. Wearstler found an affinity for cooking during lockdown and took pleasure in the way the house's galley kitchen opened into the family room. The family also made ample use of the outdoor spaces, setting up a big volleyball net and a place to have bonfires – as the pandemic eased, it proved a perfect set-up for entertaining friends from their quarantine pod. 'I have two boys who are in high school, and [the pandemic] has been such an odd time for kids whose school and social lives came to a standstill, so I wanted to make it a really memorable experience for them,' Wearstler recalls.
As it turns out, her reinvention of the house made an impression in more ways. Blown away by her design, the owner commissioned new photographs for a real estate listing website, and found a buyer in just a month – a young Silicon Valley type with a love of surfing, who was inspired by Wearstler to retain and restore the midcentury building. 'You could have built a house three times the size of this one, which is what everybody unfortunately does on Broad Beach. But he's not tearing the house down, just fixing up the original bathrooms and doing a little more landscaping. That was amazing to hear,' says Wearstler (who took her furniture back, as there are quite a few pieces she 'would never part with'). Looking back at her Broad Beach days, she relished the opportunity to breathe life back into an underappreciated building that was unlike anywhere she had lived before: 'It was about bringing together old spirit and new spirit to create unique experiences that make every room memorable.'

INFORMATION
Receive our daily digest of inspiration, escapism and design stories from around the world direct to your inbox
TF Chan is a former editor of Wallpaper* (2020-23), where he was responsible for the monthly print magazine, planning, commissioning, editing and writing long-lead content across all pillars. He also played a leading role in multi-channel editorial franchises, such as Wallpaper's annual Design Awards, Guest Editor takeovers and Next Generation series. He aims to create world-class, visually-driven content while championing diversity, international representation and social impact. TF joined Wallpaper* as an intern in January 2013, and served as its commissioning editor from 2017-20, winning a 30 under 30 New Talent Award from the Professional Publishers' Association. Born and raised in Hong Kong, he holds an undergraduate degree in history from Princeton University.
With contributions from