Bodil Kjær at 90: 'I am not a furniture designer; I am a designer of environments'
We celebrate the work of Danish architect and designer Bodil Kjær, on her 90th birthday (11 March 2022). In this exclusive interview, she shares her views on spaces, furniture and her life in design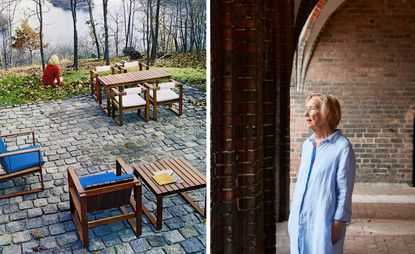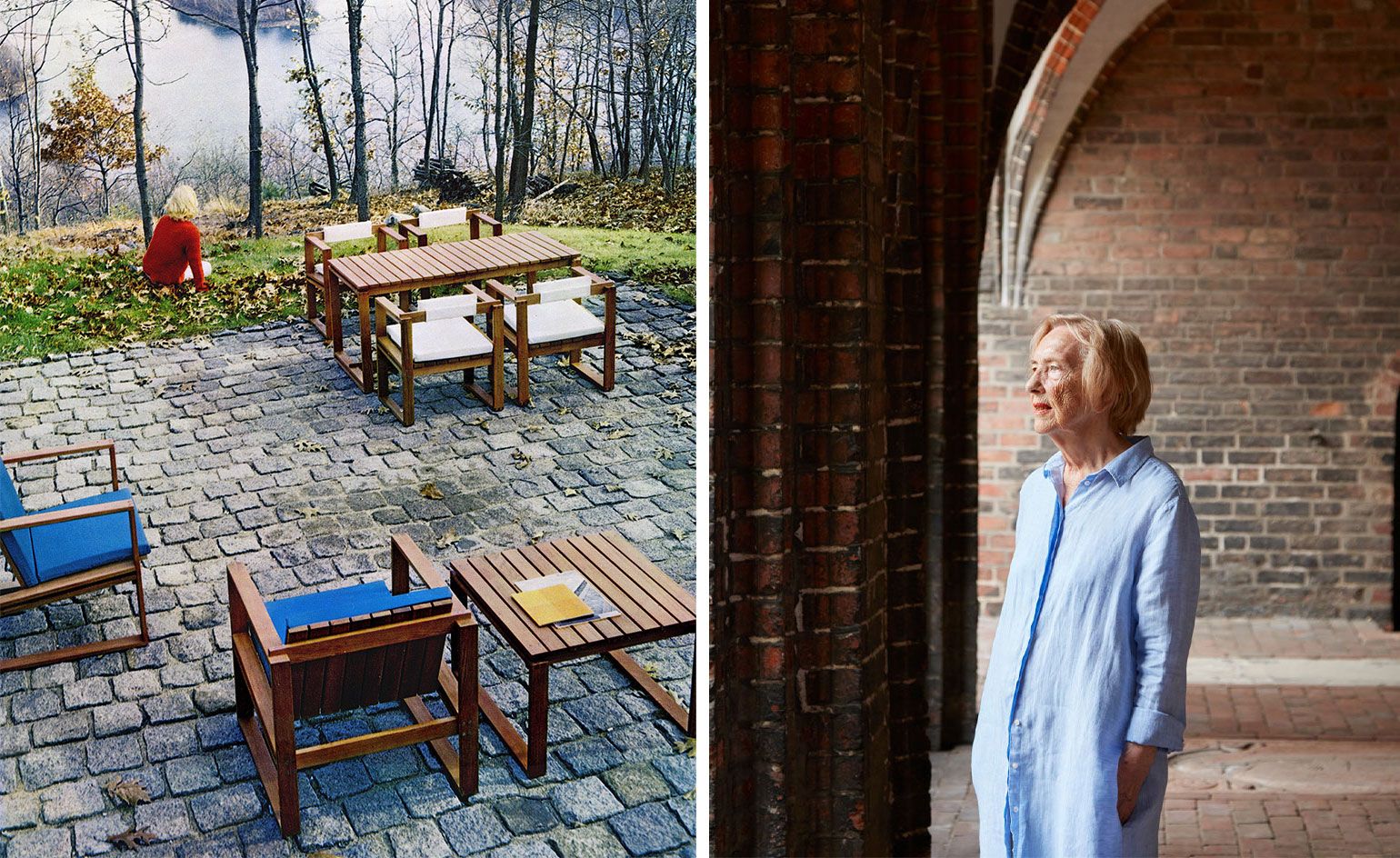 (Image credit: (left) Image courtesy of Carl Hansen & Søn; (right) Portrait: Thomas Loof)
Wallpaper* Newsletter
Receive our daily digest of inspiration, escapism and design stories from around the world direct to your inbox
Thank you for signing up to Wallpaper. You will receive a verification email shortly.
There was a problem. Please refresh the page and try again.
Bodil Kjær is as precise as the architectural lines of her furniture. Ahead of an interview, she sends talking points that read like a manifesto. 'I am not a furniture designer; I am a designer of environments. I am concerned about solving problems of the kind that can be defined. I am concerned about delight and beauty rather than opulence and vulgarity.'
Bodil Kjær at 90
She turns 90 on 11 March 2022, and is as clear, forthright and consistent as the texts that she wrote 45 or more years ago and continues to cite. When asked if she is surprised about the full-on revival of interest in her designs and philosophies, Kjær says, 'No, I have done the same thing all along.' It just took a while for a new generation to catch up. 'I go out, I see a problem and I work with other people to solve it. That's what I say to young people – don't compete with each other about who can make the fanciest chair. There are many problems that need solving by a designer, go and find them.'
This clarity of purpose comes some way towards explaining why Kjær's rigorous and elegant creations from the late 1950s to mid-1960s have proved so timeless. The chairs, tables, office desk, storage systems, lights and vases were never created as objects per se, they were designed in the broader context of space, as what she calls 'elements of architecture', to address specific problems relating to use and aesthetics.
'My furniture designs come from architecture – spatial and also based on construction principles. I think in structures – will it hold up, can you pull it apart, how do the guys in the factory put it together. It's important that furniture looks like how it will be used and people can see how it is made.' Her ideas about flexibility, functionality and purity of structure are as valid today as they were 60 to 65 years ago when she designed most of the pieces.
'When I discovered her works, what struck me most was her avant-garde approach to designing space; as an architect her products have been created to fit into a context, a home, they are functional, comfortable and offer freedom of use,' says Luca Fuso, CEO of Cassina. The Italian brand launched an informal dining concept, comprising a high-backed chair in a glorious palette including fuchsia pink, a nest of cube-shaped tables, and a serving cart last year. This year it will add two Veneto glass vases to its accessory collection. One of them, in a cross shape much favoured by Kjær, is modelled on a vase she has used constantly for 60 years. 'The shared desire for quality and functionality really unites us,' adds Fuso.
Although Kjær is resolutely Danish in many respects – happily 'grounded' in Aarhus, not far from where she grew up in the east Jutland countryside on land her family has owned since the 1400s – her perspective and aspirations have always been international. She prefers to be bracketed with the post-war American and European designers than Danish midcentury modern's big names. 'I'm the only Dane who has ever been invited into Cassina,' she says with some pride. 'I belong to the generation of the Eameses and [German architect and designer] Herbert Hirche, for example; they are a bit older than me but I feel at home with them.'
It is a point reiterated by Anne-Louise Sommer, director of Designmuseum Danmark, who attributes some of the reignited interest to Kjær's distinctive international expression. 'Although Bodil was tutored by Danish design icon Finn Juhl, she took her own path, departing from the softer version of modernism, combining steel and wood in a very sleek and minimal expression,' says Sommer.
'Her elegant and timeless furniture seems as modern today, as it did when launched.' Sommer believes Kjær's international flavour reflects her diverse background, having trained as an architect and worked in urban planning and engineering with major international companies such as Arup, in addition to designing furniture.
Bodil Kjær's life in design
Born in 1932, Kjær went to England at the age of 18 for a year of language studies and while there, discovered the British sensibility for well-considered furniture and accessories. 'I remember coming home from England and saying I wanted to be one of those who created smaller elements of architecture. In that respect, my desire to engage in design was already strong.' In 1951 she signed up for the State School of Interior Architecture in Copenhagen, the only institution in Denmark offering such an education at that time. She graduated three years later.
Kjær was in her early twenties when she conceived her first pieces, starting with a modular closet in spray-painted hardboard set into aluminium guards. In her first job in Aarhus she designed a hair salon, which led her to discover Plexiglas. She then spent two productive years from 1958-59 in the US, sponsored by the American Scandinavian Foundation. She worked briefly for Paul McCobb in New York and then Contract Interiors in Boston, designing furniture for specific projects that was subsequently put into wider production.
A photo from 1959 of the 'Indoor-Outdoor' series shows Kjær sitting with her back to the camera, recognisable by her almost-white blonde hair. 'That's my favourite orange sweater,' she says, recalling that the photo was shot in the woods north of Boston. 'Those were the very, very first samples and the photographer said, "Why don't you go in the photograph?" I said I would sit with my back to the camera.
'I am not a front person,' she declares. 'When I was in my middle twenties I was being discovered and I said I didn't want that kind of life.' It is a stance from which she has never deviated. 'In our family we don't celebrate ourselves,' she says when asked about festivities around her 90th birthday. She enjoys sharing anecdotes from a lively and well-connected life but otherwise prefers to talk about the decades of professional practice, research and professorial duties that followed the design flurry.
The best aspect of her recent fame is the new cohort of design professionals, writers and, most importantly, potential users she has encountered on a circuit encompassing Salone del Mobile in Milan, ICFF in New York and 3 Days of Design in Copenhagen. 'What I find interesting is meeting new people – in a way it is what my life has been about,' she says.
This sense of adventure had taken her to London in 1965, when she turned her back on a successful design practice in Copenhagen in favour of further education. Formally at the Royal College of Art and Architectural Association School of Architecture, and informally in the hubbub of the swinging 1960s.
'Living in London was an education in itself. London was humming with ideas, philosophies and experiments of all sorts.' Her pals were the sort of guys who would sit on either side of her at the latest Bond film and joke they would probably see some of her furniture on the big screen. Sure enough, in 1967, only three minutes into You Only Live Twice, there were not one but three of her 'Office Desks', occupied by representatives of the USSR, USA and UK for a crisis meeting in one of Buckminster Fuller's geodesic domes. 'I was so shocked, I stood up and said, "Look, it's me and Bucky,"' she recalls with glee.
Iconic designs 60 years on
A slender timber platform floating above a rectangular chrome frame, the desk is Kjær's most revered design, highly coveted as a vintage item and in the collection of Designmuseum Danmark. Kjær never set out to design an iconic desk; rather, it was but one of the components of a series for a modern flexible workplace, suited to the young Harvard Business types she was hanging out with in Boston. 'They had Corvettes in those days. I was not going to just develop a desk, but a whole system of items that young executives needed. But the desk took on a life of its own later on,' she says.
The desk was a seminal early influence on one of Kjær's contemporary producers. 'Growing up, this was the desk. It left a lasting impression,' says Christian Elving, a co-founder and CEO of Copenhagen-based Karakter. His grandparents had one, bought in the early 1960s and used as part of an extended Christmas dinner table, around which the family gathered.
Kjær, who was a tenured professor at the University of Maryland near Washington, DC in the 1980s before returning permanently to Aarhus, has never officially retired. Over the past decade, she has assiduously dealt with her archive, gifting personal and professional items to many institutions. When she moved into her apartment in a converted 13th-century monastery she also shed possessions such as a 2m-high photograph of Joseph Beuys, one of Christo's wrapped works, and a grand piano.
In 2015, licensing agent Form Portfolios began working with Kjær's design rights, which led to the launch of some 20 reissues during Milan Design Week in 2018. Danish brands Carl Hansen & Søn produced the 'Indoor-Outdoor' series of teak furniture, Fritz Hansen the 'Cross-Plex' lamp and Karakter the 'Cross-Plex' table and 'Office Desk'.
'We want that desk,' Elving had said when sitting down to negotiate rights. 'Everybody wants that desk,' was the response, but Elving prevailed. Since then he has worked with Kjær to produce the 'Principal' series, starting with a dining table and chair and this June adding a stool, bench and serving cart. It is an experience that has reinforced Elving's admiration for Kjær. The series, which has a crisp clarity of form based around the repetition of a right-angled joint, was designed for a competition and never made, yet Kjær's drawings were impeccable. 'It was never even prototyped but she had completely final drawings that had never seen the light of day and they were really good,' says Elving.
In 2019 Karakter became part of the US furniture group Haworth Inc, joining a family of Italian brands including Cassina in the Lifestyle Design division. Elving introduced Fuso to Kjær's designs and the Italian CEO was smitten. 'Her work defines midcentury design but has a modern and international outlook that is completely relevant today.' Fuso says.
INFORMATION
bodilkjaer.com
cassina.com
karakter-copenhagen.com
carlhansen.com
Receive our daily digest of inspiration, escapism and design stories from around the world direct to your inbox