Nifemi Ogunro talks design and family
Explore the work and inspiration of Brooklyn-based artist and designer Nifemi Ogunro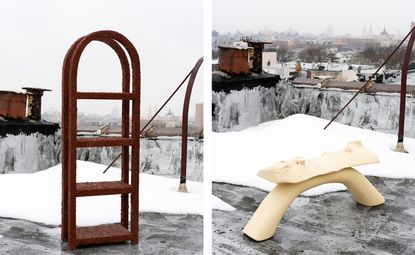 (Image credit: Dannielle Bowman)
Family and function are interwoven in the world of design. A family of stools, for instance, gathered together to explore a certain theme or shape. A coterie of tableware, each piece related to each other so that every course can be enjoyed to its fullest. But Nifemi Ogunro, a Nigerian-American artist and designer, marries design to the concept of family in a more literal way. In her first, very personal, collection of furniture (opens in new tab), she reaches for inspiration within her own immediate family.

Born in Lyon, France, Ogunro moved to Colorado, and then lived in North Carolina – graduating with a degree in industrial and product design from Appalachian State University in 2017 – and Georgia before settling in Brooklyn, New York. Throughout these moves, she's had to bring her family with her in spirit, if not in the flesh. And so Ogunro's closest relations came to inspire a series of functional objects. The collection comprises stools, for her parents, and a coffee table, for her brother. Part-sculpture (opens in new tab), part-furniture, the prototypes were all designed during the first few months of the pandemic (opens in new tab).
'The "Mrs Sola" stool is an inside joke,' says Ogunro. 'When I was growing up, my mother was always like, "I'm not your friend. Put a Mrs in front of my name".' It's a sentiment any child of a Nigerian mother can understand – a healthy dose of respect and reverence is expected by parents from the most populous and loudest of African countries. 'The "Tob(i)" stool was based on my father,' she continues. 'He's an engineer, and people would always misspell his name as Toby. And the "Tope" table bears my brother's middle name. It is the most abstract piece from the group, and I felt like only he would understand its beauty.'
With these objects, all humbly constructed from bent and glued wood, Ogunro explores affection and personal identity, giving a tangible, visible form to some of the experiences of many first- or second-generation immigrants to a Western country – that troubling moment when a quite simple name is mispronounced, or the terrifying time when your American friends call your mother by her first name.
Preceding Ogunro's 2020 collection were more disparate experiments in design and representation. There is her 'Discombobulated' side table (2019), constructed of solid wood with a finely finished circular top, a halved spherical base and a centrally placed structure connecting top and bottom in the shape of a 'U' – a form that recurs in much of Ogunro's work. It is also incorporated in her 'Comb Concepts', Afro picks inspired by memories of her mother detangling her hair. Each comb is hand-carved from wood, the oils and butters that are often applied in Black haircare routines only adding lustre and a desirable patina to the pieces with each use.
Ogunro's first independent work, the 'Decompulsion' coffee table, carries an encouraging story of self-trust. 'I made the table for an assignment in 2015,' she says. 'An amazing professor of industrial design taught me how to weld. Three days before the project was due, I flipped the metal frame upside down and still got an OK grade.' Ogunro was surprised by her luck: 'Industrial design is really technical, so my professor giving me the freedom to explore was really nice.' It was then that Ogunro learned to pay attention to her intuition. 'Not everyone is going to have a rigid or super-structured way of working, and that's OK.'
Recently the artist was included in a show at the swiftly expanding Bushwick design haven Lichen. 'Open Studio', organised in collaboration with digital design platform Pink Essay, brought together the work of a mass of young designers, many of them self-taught. The show was a huge success, with many pieces (including Ogunro's 'Tob(i)' stool) finding their way into both established and exciting new collections. Ogunro also sold work through 'Super Group', a show organised by Instagram platform Superhouse.

The untraditional format of both of these shows perfectly suits the nature of Ogunro's practice. Though digital platforms have opened up new opportunities for young designers, Ogunro isn't interested in commerce, digital or otherwise. 'My driving force was never capital,' she says. 'I am devoted not only to design, but also to the sociological aspect of it. Design has the ability to inspire people, but it has also been the source of a lot of exclusion in society.' For Ogunro, what is more important than the creation of the objects themselves is the creation of a safe space within a field that has been a locus of privilege and anti-Blackness.

'Since I was in college, I've been interested in voids,' she says. In her most recent work, it seems she has filled at least one, and in so doing has widened the space available for young people of colour within the world of art and design.
INFORMATION
nifemiogunro.com (opens in new tab)