Design for social distancing: innovative solutions for post/pandemic life
Designers globally have turned their attention to devising ways of living, working, and sharing spaces in a safe way as we adapt to the new normal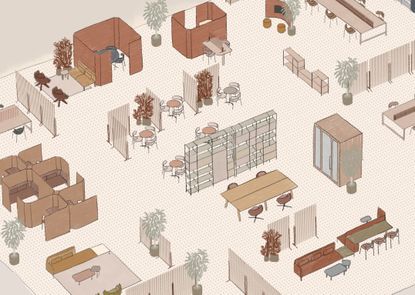 (Image credit: TBC)
During the course of the pandemic, several designers, brands and manufacturers have focused their creative experiments, research and production on creating a response to increased need for safety and respect of social distancing rules. The results of these efforts range from subtle screens to adaptable furniture, sanitizing lighting solutions and ideas for pandemic table setting and outdoors spaces. Here are some designers' proposed solutions to social distancing.
Urban Sun, UVC light installation by Daan Roosegaarde
As a response to the pandemic, Dutch artist Daan Roosegaarde unveils a new lighting project to clean public spaces and ensure safer human gatherings. The Dutch multidisciplinary designer has long made light his design material of choice, creating several striking installations such as the immersive Waterlicht virtual flood, or the 'Gates of light', an installation on Rotterdam's Afsluitdijk dike.

Roosegaarde and his team (a global task force composed of designers, external experts, and scientists) have created Urban Sun, the first project of its kind that employs far-UVC light (with a wavelength of 222 nanometers) to sanitize public spaces. The team 'challenged themselves to discover how the power of light can be used to combat viruses and therefore enhance our wellbeing.' The design features a circular light beam projected from a central pole onto the floor, essentially cleaning the below space from covid. The first iteration of Roosegaarde's Urban Sun was installed near Rotterdam's Erasmus Bridge, with the potential for future locations. Used alongside current government rules and advice, the installation helps create an additional layer of protection as well as, the designer explains, 'inspire hope'.

'Suddenly our world is filled with plastic barriers and distance stickers, our family reduced to pixels on a computer screen,' comments Roosegaarde. 'Let's be the architects of our new normal and create better places to meet and interact.'
Bounding Spaces by Anna Dienemann
Graduating from Design Academy Eindhoven in the midst of a pandemic, it came natural to Anna Dienemann to develop a project that tackled the issue of social distancing. Her Bounding Spaces wearables are a serious but playful response to the life-chaging effect of the pandemic and the new need to be responsibly distanced. 'The pandemic is reshaping our lives in unexpected ways, and social distancing will stay as an evident rule for a long time to come,' she says. To respond to the challenge, she created a series of 'compressible accessories' that transform on the body to create natural distance and protection around it.
The New Normal by Boir Studio
Safe communal dining has been on many of our minds lately, and Croatia-based Boir Studio have created an 'artisan tableware collection that bridges the gap between intimacy and distance, enabling safe food sharing while simultaneously connecting and separating the served dishes'. The studio's social distancing table setting features a 'dessert for two' set (pictured above), a bread basked truncated in half, a serving plate where two sides are separated by a raw stone divider and a set for safely sharing a plate of sushi. With the collection, the studio wanted to consider 'how to achieve balance between intimacy and safe distance within the context of the "new normal". Despite coronavirus safety rules, our conceptual tableware retains that important social and cultural dimension of dining – sharing. Minimalist, geometrically shaped steel forms ensure sterile and safe food serving, while unique pieces handcrafted from natural stone fragments soften the stern impression.'
Integralis and Discovery Space by Artemide
In the past few years, Artemide has been making great leaps in the scientific and technological aspects of lighting, and their accumulated expertise make them particularly suited to cater to the current social distancing requirements. Fresh off the shelves is Integralis, an innovative light that helps sanitise surfaces by illuminating them – the UV light can act against pathogenic microorganisms in the environment and slow the growth of bacteria, fungi and mold. Built as an open platform, the technology can be applied to existing lighting products, and activated via a specially-developed app. While it works combined with all of Artemide's designs, it is particularly effective when paired with the Ernesto Gismondi-designed Discovery Space (pictured). A semi-transparent panel that can be installed vertically or horizontally, Discovery Space helps define the environment while offering a safe distancing solution.
COV by Matteo Cibic
Italian designer Matteo Cibic has conceived a range of partitioning glass screens, appropriately named 'COV', which play on the dichotomy of socialising in separation. Produced by FusinaLab, these delicate dividers are made from anodized aluminium and perspex and give a light and airy feel to environments such as office spaces, restaurants, bars or reception desks. The designs consist of subtle decorative details and come in various shapes and sizes including the fan-shaped 'Flaneur' model, all of which are defined by the joyful curves that are typical of Cibic's works.
Hinoki by Federica Biasi
Wallpaper* Handmade 2018 veteran, Federica Biasi, has designed a range of freestanding and tabletop panels called 'Hinoki' for Italian office furniture maker Manerba. These slim panels come in subtle tones that are based on the chromatic scheme of Manerba's existing product line. Made from polycarbonate, which was chosen for its wearable, scratch-resistant and flexible qualities, the translucent panels physically divide spaces without compromising the feeling of spaciousness. Thanks to the semi-transparent material, the panels still allow for a sense of closeness to others nearby, as shapes and forms can be discerned through the vertical surface. The panel can be freestanding, on wheels or attached to a desktop. The modular system has endless customisable potential with the option of additional accessories such as cork, magnetic board, hooks, elastics, shelves and mobile hangers, while for spaces that require more privacy it can be covered in sound-absorbing fabrics.
L20 Sofa by JaK Studio
One of the biggest challenges in the face of the new work-from-home culture is the clash of our personal and work environments. Award winning JaK Studio have designed a solution for this by redesigning the classic L-shaped sofa to transform into a working pod. This versatile sofa can be folded out into a sofa bed with bedside table or turned on its side to create a sound proofed work space. Adapting to compact urban spaces, the L20 sofa concept looks at the most central feature in the home and how we can use this to transform the heart of the domestic space into a working environment. The idea behind the concept was inspired by JaK Studio's director Jacob Low's observation of his own children building dens during lockdown, using anything they could find around the home. 'It dawned on me that the limit to what we can use our homes for is infinite if we are creative. The sofa bed was a revolutionary piece of furniture when it was first designed but it has not evolved further,' says Low. Fitted with all the necessary work accessories including drop down desk, reading light, USB port and laptop charging points, this multipurpose piece of furniture gives us a real glimpse into future living.
Saltine and Toast by Pair
US-based Pair has devised two models of unobtrusive dividing screens for office spaces. The studio is specialized in functional furniture specifically for the workspace, and these two new projects expand on their expertise. Saltine (pictured here) is a clever solution that attaches a screen on brackets to existing office desks, eliminating the concern of these structures taking up valuable floor space. The adjustable height provides the user with the option of a completely enclosed private space or a more informal desk division. Made from materials that can be easily cleaned such as glass and acrylic, Pair has created a universal solution for a sanitised and focused desk space that reduces the spread of germs in compact working environments.
Toast is an adaptable, floorstanding space divider made from lightweight material and allows for work separation wherever needed, not least because it can be turned horizontally or vertically depending on the height required. This sound-absorbing panel comes in a variety of playful or subtle colours and tones. Made from recycled materials, it creates a quiet, private environment whilst also sparking collaborative innovation as its tackable surface is the perfect moodboard.
Screens by Tihany Design
Experts in hospitality design, Tihany's new solution to dining diligently in these unprecedented times is a series of elegant concepts featuring screens made of glass, and wooden decorative panels for his hospitality clients. These easily moveable and cleaned screens can be adapted in their design details to fit seamlessly with the interiors of the restaurant; so much so, that once in place they feel as if they have always been there. Providing a more intimate dining experience, the varying designs feature sleek geometric shapes evocative of the Art Deco style. 'The screens are designed with wellness and comfort in mind, but they actually evoke a kind of public privacy that we feel might actually offer a positive spin on rebuilding the experience of dining out,' says Tihany's Managing Partner Alessia Genova. 'It becomes an opportunity to focus on the faces and food in front of you while still enjoying the atmosphere, the service, and everything we've been missing while apart from our favorite restaurants'. These screens will help restaurants from Miami's Novikov to Hong Kong's Amber (pictured) as they navigate reopening safely and adapt to the new normal for dining out.
Clikclax by Zahava
Australian designer Zahava Elenberg has conceived a fun and uplifting desk tidy system which provides the necessary divisions to ensure a clean and safe working environment. Clikclax is a bright multicoloured and multi-purpose system of interlocking perspex sheets which nods to the vintage children's game, Playplax, synonymous with toys in the 70s. Comprising varying shapes and sizes of sheets that interlock with the cylindrical bases to form shelves, divisions and storage solutions, the desktop system has endless functionality and adaptability to be erected on any flat surface.

'Clikclax is a verb as well as a noun,' Zahava says. 'My dream is to see people Clikclaxing all over the world — in a range of situations, from offices and co-working spaces to schools and student accommodation, hotels, galleries and libraries, at communal tables in cafes and restaurants, and on floors for kids to play together, apart. I can also see Clikclax working on a larger scale, as people-sized partitions and wayfinding demarcations. There's nothing we can't click together.'
Dutch Invertuals
When it comes to room dividers, this Eindhoven-based design collective is not trying to blend in. Their custom-made dividers available in four varying shapes (circular, oval, diamond and crescent) ensure safe surroundings are achieved with a light and uplifting aesthetic. Distinctive in their bold and bright material options of acrylic transparent, acrylic translucent and fabric, they can also be customised in shape, size and colour combinations upon request. The dividers, which are made in the US, can be combined and layered to create life sized, vertical geometric montages. Mounted on a powder coated steel frame on wheels, they are easily moveable and bring life to anywhere indoors in need of a safe and sanitised solution.
INFORMATION
annadienemann.com
boir.store
atemide.com
matteocibicstudio.com
manerbaspa.com
jakstudio.co.uk
madebypair.com
tihanydesign.com
dutchinvertuals.nl
Rosa Bertoli was born in Udine, Italy, and now lives in London. Since 2014, she has been the Design Editor of Wallpaper*, where she oversees design content for the print and online editions, as well as special editorial projects. Through her role at Wallpaper*, she has written extensively about all areas of design. Rosa has been speaker and moderator for various design talks and conferences including London Craft Week, Maison & Objet, The Italian Cultural Institute (London), Clippings, Zaha Hadid Design, Kartell and Frieze Art Fair. Rosa has been on judging panels for the Chart Architecture Award, the Dutch Design Awards and the DesignGuild Marks. She has written for numerous English and Italian language publications, and worked as a content and communication consultant for fashion and design brands.