The outdoor art installations defining public spaces
We've scoured the globe for the most exciting, surprising and compelling outdoor art installations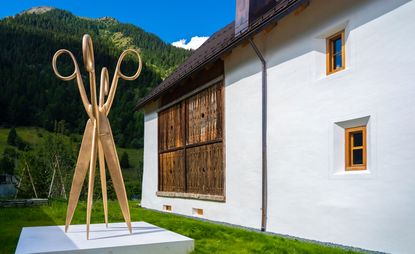 (Image credit: Claudio von Planta)
There's something majestic about outdoor art. Against landscapes, cityscapes or seascapes, sculpture can take on an entirely new life. Al fresco, art is at its most accessible. It is used to commemorate, celebrate, shock, invite engagement and define the outdoor space it occupies.

Read our guide to the best outdoor art installations to stumble upon, or seek out.
Artist: Hugh Hayden Location: Madison Square Park, New York
Marking the American artist's most ambitious public project to date, Hugh Hayden's Brier Patch is a gridded maze of 100 interconnected elementary school desks – each erupting with tree branches – and grouped accross four lawns at Madison Square Park. Hayden's work takes the brier patch as a concept of both protection and peril, and draws connections to the disparities within the education system and the ideal of the American Dream. The Madison Square Park Conservancy commission will be on view until 24 April 2022, and is accompanied by public programmes focusing on storytelling and education.
Artist: Moniker Location: M+, West Kowloon Cultural District, Hong Kong
M+, Asia's first museum of global contemporary visual culture has unveiled its inaugural digital commission. Touch for Luck, which will illuminate the M+ facade, has been created by Amsterdam-based interaction media and design studio, Moniker. The work explores a society in the grips of social media and the physical and psychological costs of excessive online consumption. Touch for Luck is also interactive and accessible via mobile at touchforluck.com. Players can engage with interactive games and collaborate with others touching their own screens simultaneously. Touch for Luck will be displayed on the M+ Facade from 7pm to 10pm from 27 January to 27 February 2022. From 28 February to 28 March 2022, the work will be displayed between 7pm to 9pm.
Artist: Michael Beutler Location: Piedmont, Italy
At Fondazione La Raia, Piedmont, a new installation reflects the region's rich heritage and rural architecture. Oak Barrel Baroque, a site-specific work by German artist Michael Beutler resembles a country chapel, intimate theatre, or a refuge for the people visiting the 180-hectare estate, which comprises a 12-room boutique hotel Locanda La Raia, a biodynamic farm, and a winery. Oak Barrel Baroque is on public view as part of the foundation's permanent display collection, following previous works by Remo Salvadori and Koo Jeung A.
Artist: Robert Montgomery Location: Glasgow, UK
In Glasgow, world leaders and leading thinkers are gathering for COP26 to debate the future of our planet. Coinciding with the summit, Scottish artist Robert Montgomery has created Grace of the Sun, a solar-powered light poem urging commitment to renewable energy at the UN climate conference. On view until 12 November at Glasgow's The Landing Hub, the artwork is illuminated by 1,000 solar lights by Little Sun, the non-profit organisation founded by artist Olafur Eliasson, and is made in collaboration with Octopus Energy & MTArt Agency. Once the work is dismantled, the lights will join Little Sun's wider efforts to provide clean, affordable solar power to the 600 million people living without electricity in Sub-Saharan Africa.
Artist: Yuri Suzuki Location: London, UK
In Mayfair, a new public installation by Japanese sound artist, designer, and electronic musician, Yuri Suzuki is resonating across the city. Sonic Bloom, a community-focused, multi-sensory installation explores the nature of communication through the interactive deployment of sound. Sited in Brown Hart Gardens, the project has been curated by Alter-Projects and features a network of colourful horn-shaped elements that together create an interactive flower. 'We aim to encourage connections with friends and strangers creating serendipitous audible moments that create a sense of community, shared creative ground and sociability', says Suzuki, whose project aims to rebuild a sense of community in London after more than a year of isolation. 'These temporary connections create an incentive to form a closer, more intimate human connection where a friendship could flourish'
Artist: Valie Export Location: Engadin Valley, Switzerland
Set against the bucolic, mountainous wonderland of the Engadin valley is Die Doppelgängerin, a colossal sculpture by Austrian filmmaker, media and performance artist Valie Export. The piece – now on permanent display at Muzeum Susch – comprises a pair of double scissors: sinister in its spearing of the ground, and opulent in its gilded majesty. Die Doppelgängerin is reminiscent of Claes Oldenburg's gigantic public interventions, or Duchamp's reframing of everyday commercial objects. But Valie Export has transformed the domestic object into an icon of feminist art: the 'doubled' motif occurs frequently in the female avant-garde, symbolising a fragmented female identity in the face of often violent social attributions to gender roles.
Artist: Eva Rothschild Location: London, UK
On the banks of the River Lea at Bow Creek, Eva Rothschild's Living Spring is turning heads. The new sculpture unveiled on The Line, London's first dedicated public art walk – is formed of slender steel tubes, boldly painted black, red and green in Rothschild's autograph stripe motif and 'Magic Minimalism'. The artist – who spoke to us ahead of her Venice Biennale pavilion in 2019 – offers a deceptively simple, branch-like counterpoint to the surrounding post-industrial landscape. 'Striping forms are something I have used throughout my practice…it segments a continuous form, interrupts how we look at it and keeps us looking a bit longer; an interaction with an object which occurs when we look at art,' she says.
Event: Olympic Agora, Olympic Games Tokyo 2020 Location: Nihonbashi district, Tokyo
In a dynamic collision of sport and culture, the first-ever Olympic Agora has commemorated the cultural facet of the Olympic Games Tokyo 2020. The programme includes a permanent, site-specific sculpture by French artist Xavier Veilhan. Titled The Audience, it features five human figures of various ages, genders and nationalities gathered in sport spectatorship. Elsewhere, visitors can find a photography installation by Japanese artist Rinko Kawauchi; multimedia installations by Japanese artist Makoto Tojiki and Canadian studio Moment Factory; new artworks by Olympian and Paralympian artists-in-residence, alongside an exhibition of treasures from the Olympic Museum collection.
olympics.com (opens in new tab)
Writer: Harriet Lloyd-Smith
Event: Folkestone Triennial Location: Folkestone, UK
With summer in full swing, 'tis the season for coastal escapes, particularly those in the name of art. The fifth Folkestone Triennial has unveiled 20 newly commissioned outdoor public artworks across Folkestone's scenic coastal setting, by artists including Assemble, Rana Begum, Gilbert & George, Atta Kwami, Pilar Quinteros, and Richard Deacon. Free to the public, the Triennial marks one of the UK's most ambitious art exhibitions. Following its run, some works will remain as permanent additions to Creative Folkestone Artworks, which currently features 74 artworks located across the town and harbour.
creativefolkestone.org.uk (opens in new tab)
Writer: Harriet Lloyd-Smith
Artist: Sarah Sze Location: Storm King Art Center, New York
American artist Sarah Sze's permanent site-specific commission for Storm King Art Center is an exercise in reflection. Fallen Sky comprises a 36-foot-diameter spherical cavity that seems to erupt from the earth – its mirrored stainless-steel surface trapping images of its environment. Alongside the sculpture, a solo show by Sze – including site-specific installation – will take place in Storm King's Museum Building until November 8, 2021. Fallen Sky joins a series of site-specific commissions for the sculpture park's permanent collection, including works by Maya Lin, Andy Goldsworthy, Isamu Noguchi, and Richard Serra, among others.
Writer: Harriet Lloyd-Smith
Artist: Carly Rogers Location: Selfridges, Duke Street, London
Over at the Selfridges Duke Street entrance, a new public installation is guaranteed to lift the spirits of any green-fingered art enthusiast. To mark the opening of its new Garden Centre, the iconic department store has commissioned London-based artist Carly Rogers to create something of an ode to green power and the beauty of the overgrown. Rogers' vibrant pop-up garden comprises a shed, bursting with familiar and obscure plants including strawberries, foxgloves, scented geraniums, delphiniums and lupins. 'I love the juxtaposition of this quite humble but beautiful garden against the glamorous and iconic entrance to Selfridges,' she says. 'I hope it's playful and celebratory and captures a touch of the British eccentric.' Since taking a Saturday job in a flower shop in her teens, Rogers has been turning heads with her unique combination of plants, contemporary art and fashion. Her dazzling pieces have included installations for the Mayfair Flower Show and London Design Week. selfridges.com (opens in new tab)
Writer: Harriet Lloyd-Smith
Image: Courtesy Selfridges
Artist: Elmgreen & Dragset Location: Royal Djurgården, Stockholm, Sweden
On the scenic banks of the canal at the Princess Estelle Cultural Foundation's Royal Djurgården, Berlin-based Elmgreen & Dragset have installed a new sculpture fit for the setting, and the times. Their interconnected circuit of life rings spirals upwards into the air, forming a collective symbol for dependency and mutual care. But as with most Elmgreen & Dragset works, there's a twist: the rings are made of metal and unable to float. In Life Rings, the artist duo has taken the lifebuoy, a tool that signals rescue and safety in crisis, and rendered it entirely impractical. Life Rings marks Elmgreen & Dragset's first public outdoor sculpture in Sweden and will be on permanent view, with guided tours available until 26 September 2021.
preks.se
elmgreen-dragset.com
Writer: Harriet Lloyd-Smith
Artist: Masako Miki Location: Uber Campus, San Francisco, USA
Interdisciplinary artist Masako Miki's Holographic Entities Reminding of the Universe are as playful as they are otherworldly. Permanently installed in public view on Uber's new campus in Mission Bay, nine outdoor art installations explore the Shinto concept of the Tsukumogami yōkai - 'shapeshifters' that take the form of commonplace objects and undefinable forms. Miki's anamorphic yōkai sculptures are often created on a human scale from brightly-coloured felt wool, but now take shape as larger-than-life - and equally as vibrant - bronze sculptures. Miki's characters are simultaneously sacred and secular, animate and inanimate and reflect the nuances of nonbinary spaces across gender, biracial identities and the artists own lived experience as a Japanese immigrant woman on the intersection of two cultures. On 16 June, Miki will open a new solo exhibition, 'New Mythologies' at CULT Aimee Friberg Exhibitions, San Francisco. masakomiki.com
Writer: Harriet Lloyd-Smith
Artist: Najja Moon Location: The Bass, Miami Beach, USA
As its name suggests, Your Momma's Voice in the Back of your Head is an homage to motherhood. Miami-based artist Najja Moon's new monument, comprising sound and sculpture, has been installed in Collins Park, in front of The Bass, Miami, and aims to continue global conversations around the role and history of monuments. It's also a timely and urgent message exploring the pandemic's impact on motherhood, particularly for Black mothers. Multi-directional speakers encased in iridescent dichroic glass emit spoken statements such as 'Don't make me tell you again' and 'You can do anything you put your mind to baby'. In the months leading up to the installation, Moon organised a recording studio in Collins Park in which she recorded the perspectives of mothers residing in Miami-Dade County, in a variety of languages, which were then added to the sound bath alongside the voice of Moon's own mother. gypsysocialite.com; thebass.org
Writer: Harriet Lloyd-Smith
Artist: Superflex Location: Arca Wynwood, Miami, USA
Copenhagen-based artist collective Superflex are no strangers to confronting politically charged subject matter. Their latest project, a 3D installation in Miami, is no different, despite its vibrant and enticing appearance. Like a Force of Nature, takes over the full breadth of stone manufacturer ARCA's new design warehouse concept, Arca Wynwood. Comprising an intricate pattern of ARCA ceramic tiles designed by Hector Esrawe, the installation uses Fibonacci Sequence patterning and draws on a colour palette inspired by banknotes. As with the collective's previous work, Like a Force of Nature fuses art, science and activism, and references the relationship between currency, colour and global economic systems. Behind the facade, Arca Wynwood is staged as a 'gallery-like' experience. The interior spaces are composed of neutral tones and creates an interactive, sensory environment for visitors engaging with Arca products.
Writer: Harriet Lloyd-Smith
Artist: Hixxy Location: Brentford, London
Partnering with Ballymore's The Brentford Project, mural artist Jo Hicks (professionally known as Hixxy) has created a vibrant mural enveloping a multi-storey car park building sited at the gateway to the town's high street. The monumental collage-esque work, which will be in situ for three years, pays homage to Brentford's historic canals, native wildlife and even includes a bee motif, a nod to the badge of Brentford Football Club. Hixxy's mural also looks ahead to The Brentford project development, which, due for completion in 2027, seeks to reconnect the town's high street and waterways through pedestrianised yards and lanes, alongside new public spaces. As Hixxy explained, 'My aim was to create a positive, beautiful and uplifting image inspired by the local area, giving a very grey building an injection of colour and life!'
josephinehicks.com; thebrentfordproject.com; ballymoregroup.com
Writer: Harriet Lloyd-Smith
Artist: Olafur Eliasson Location: Willis Tower, The Loop, Chicago, USA
Danish-Icelandic artist Olafur Eliasson is well known for merging environmental commentary with innovative ways to bring art to the public realm. His latest installation, Atmospheric wave wall, extends across the facade of EQ's Office's Willis Tower in Chicago. Comprising a vast tiled wall, the piece appears to respond to the motion of those who move past, as well as shifts in the weather and sunlight. As Eliasson explains, 'Inspired by the unpredictable weather that I witnessed stirring up the surface of Lake Michigan, Atmospheric wave wall appears to change according to your position and to the time of day and year. What we see depends on our point of view: understanding this is an important step toward realising that we can change reality.' For the colour palette, a sea of blues, greens and white tones, Eliasson drew inspiration from the stirring water surfaces of nearby Lake Michigan and the Chicago river. olafureliasson.net; eqoffice.com
Writer: Harriet Lloyd-Smith
Artist: Es Devlin Location: Jubail Island, Abu Dhabi, UAE
Conceived for the UAE's official 49th National Day celebrations on 2 December, The Seed, devised by British artist, set designer and artistic director Es Devlin, has now become a destination in its own right. Hovering above the water by Jubail Island, Abu Dhabi, the cube-shaped moving image sculpture charts an evolution of a plant, from seed to propagation. Visitors will have the opportunity to view the sculpture from a newly-created, socially-distant beach area until 30 January 2021 surrounded by the island's mangrove forests. All proceeds generated from ticket sales will fund a mangrove conservation programme.
uaenationalday.ae
esdevlin.com
Writer: Harriet Lloyd-Smith
Exhibition: Wander Art Location: Mayfair & Belgravia, London
Late last year, a series of curious, site-specific art and design installations began popping up in London's Mayfair and Belgravia. Titled 'Wander Art', and curated by Alter-Projects, the outdoor exhibition trail comprises new artworks by prominent international and London-based creatives curated on two themes. 'Urban Jungle' in Mayfair features bold, vibrant work by the likes of Yinka Ilori and Fernando Laposse. Laposse's playful Wild Lights sees colourful sloths dangling from the pillared entrance to the Mercato Mayfair. Yinka Ilori's installation, In Plants, We Trust serves as a reminder for the importance and beauty of the natural world in urban spaces. In Belgravia, 'Pop Metropolis' focuses on altering urban perceptions through the unexpected and includes work by Richard Woods, Jordan Södeberg Mills and Kinska. As outdoor art continues to soar in popularity, albeit out of necessity, the trail presents a safe space for art appreciation and a spirit lifter in challenging times. Wander Art will be on view until June 2021.
mayfairandbelgravia.com
alter-projects.com
Writer: Harriet Lloyd-Smith
Artist: Gio Tirotto; Curator: Maria Cristina Didero Location: Water Square, Tiberius Bridge, Rimini, Italy
In the Italian city of Rimini, around the stone arches of the historic Tiberus bridge, artist Gio Tirotto and curator Maria Cristina Didero have installed 208 custom-made buoys, each with a solar power LED light. 208 is the number of nations in the world, including semi-recognised or unrecognised states, and so the 208 illuminated buoys, which gently bob up and down with the tide, allude to the ways in which ostensibly separate entities are similarly affected by the same events. The installation is 'a powerful metaphor for the state of extreme fragility in which we have been living in recent times', explain Tirotto and Didero. Their enduring glow is also a symbol of resilience, a reminder after a turbulent year that humanity will endure and prosper as long as there is mutual cooperation. 208, at the Water Square near Tiberius Bridge, Rimini, until end of January 2021.
Writer: TF Chan
Artist: GT2P Location: Miami Design District, USA
At the heart of GT2P's installation for the Miami Design District, titled Conscious Actions, is the idea that every action has an impact on our environment and our communities. The Chilean design studio created a series of architectural, playground-inspired devices that respond to use with shadows, movement and changing surfaces. A particular highlight is this swing set with a pair of articulated fins at its top that undulate as the rider swings to and fro. Poetic, inviting and irresistibly fun, the installation points to a new path for GT2P, who hope to create more interactive public art projects in future. Conscious Actions, in Miami Design District
Writer: TF Chan
Artist: Marinella Senatore Location: Palazzo Strozzi, Florence, Italy
Reflecting on ideas of community and participation, Marinella Senatore's psychedelic intervention in Palazzo Strozzi's open-air courtyard holds a timely and uplifting sentiment. The Italian artist's installation We Rise by Lifting Others, is a vivid light installation that draws on the popular southern Italian luminaria or 'artist's lighting' tradition. Comprising hundreds of LED lights, the ten-metre-high installation becomes the monumental heart of the palazzo's Renaissance courtyard. As in much of Senatore's work, words play a key role: within the composition are three phrases inspired by poetic musings on emancipation and participation: 'The world community feels good', 'Breathe, you are enough' and 'We rise by lifting others'. As the artist reflects, 'I see my works as flowing vessels designed in harmony with the specific environment in which they unfold and based on the potentially infinite inclusion of the elements involved.' We rise by lifting others, at Palazzo Strozzi until 7 February 2021.
Writer: Harriet Lloyd-Smith

Installation view of We Rise by Lifting Others, by Marinella Senatore in the Palazzo Strozzi Courtyard.
Artist: Lawrence Weiner Location: The Jewish Museum, New York, US
Lawrence Weiner's All The Stars In The Sky Have The Same Face (2011/20) is a striking two-storey mural that spans the Jewish Museum's Fifth Avenue-facing façade. For this temporary commission – which has been in the works for three years – Weiner drew upon an old Yiddish phrase he heard while growing up, 'Ale Yevanim habn eyn punim,' meaning all Greeks (i.e., all non-Jews) have the same face. As a commentary on the poignant history of Jewish self-isolation in response to anti-Semitism, the artist reconceived the sentence to read 'all the stars in the sky have the same face' – which he then translated into Hebrew, Arabic and English. Characteristically text-based and fundamentally social in statement, Weiner's message is one of unity, hope, and an urgent plea to fight global social injustices. All The Stars In The Sky Have The Same Face will be installed until February 2021. thejewishmuseum.org
Writer: Harriet Lloyd-Smith
Installation view of Lawrence Weiner, All The Stars In The Sky Have The Same Face, 2011/2020, The Jewish Museum, NY. © Lawrence Weiner.
Artist: Kris Perry Location: Rockaway Beach, Queens, New York
Forming part of NYC Parks' Art in the Parks programme, a new, towering public sculpture has sprung up at Rockaway Beach in Queens. Created by Hudson-based contemporary artist, Kris Perry, Mother Earth is comprised of Corten steel and draws on a mix of architectural sources including temples, mosques and the sparsely columned spaces found in classical Greek architecture. Rooted by three towering legs supporting a sharp central spire, the sculpture urges viewers to gaze skyward, while also offering space for introspection. Perry, who primarily works in steel and is known for large-scale, kinetic projects that fuse industrial sound sculpture with live performance, hopes the installation will encourage 'deep contemplation', shared experience, and engagement with the natural world.
Perry's sculpture will be on view at Rockaway Beach until August 2021
nycgovparks.org; krisperry.com. Writer: Harriet Lloyd-Smith
Artist: Nick Hornby Location: Harlow Science Park, Essex, UK
One's perception of Nick Hornby's sculpture literally depends on perspective: using computer algorithms, he cross-pollinates distinctive, often contrasting forms to mesmerising effect. His largest work to date, a 5m tall, Corten steel piece, resembles Michelangelo's David from one angle, and a line from a 1925 Kandinsky drawing when seen from another. The combination of the most recognisable of Renaissance artworks with an excerpt from one of the past century's greatest abstract artists is visually arresting as well as thought-provoking – speaking to the entwinement of figuration and abstraction, old and (somewhat) new. It also takes an impressive feat of engineering to steady the gravity-defying form. Titled Twofold, the sculpture was commissioned for the city of Harlow, a new town in Essex with a robust public art collection that has often flown under the radar. Joining the work of Rodin, Hepworth and Chadwick among others, Twofold is a testament to the imagination and finesse of one of contemporary Britain's most thrilling sculptural talents.
nickhornby.com (opens in new tab). Writer: TF Chan
Artist: Conrad Shawcross Location: Chelsea Barracks, London, UK
British sculptor Conrad Shawcross' latest public commission, Bicameral, is a striking sight at the new luxury housing complex of Chelsea Barracks. Three years in the works, the eight-metre tall tree-shaped sculpture draws on the botanical heritage of Belgravia and the nearby Physic Garden. The structure is pieced together using hundreds of three-pronged anodised aluminium components like bits of Meccano decreasing in scale towards the extremities of the branches. The idea taps into the characteristics of Japanese joinery by using no glue or welding and secured only by dowel joints and intelligent engineering. The sculpture's branches are split into two halves, channelling the concepts in The Origin of Consciousness in the Breakdown of the Bicameral Mind, a book by Julian Jaynes. 'The sculpture is a progression of bifurcating and trifurcating elements that fan out from a stem loosely forming two hemispheres or sides,' Shawcross explains.
chelseabarracks.com (opens in new tab). Writer: Harriet Lloyd-Smith.
Artist: Yayoi Kusama Location: Place Vendôme, Paris, France
Yayoi Kusama breezed into Paris this week, with a major public artwork conceived specifically for the Place Vendôme as part of FIAC Hors les Murs. But, shortly after its unveiling, the artwork was taken down due to high winds in Paris this week. Presented in collaboration by her galleries Victoria Miro, David Zwirner and Ota Fine Arts, the 10m-tall Life of the Pumpkin Recites, All About the Biggest Love for the People was the 90-year-old Japanese artist's largest inflatable pumpkin sculpture to date.
fiac.com (opens in new tab). Courtesy of Ota Fine Arts, David Zwirner and Victoria Miro
Artist: Snøhetta Location: United Nations, New York, USA
'The best weapon is to sit down and talk,' Nelson Mandela once famously said. This historic quote is the inspiration behind a 'peach bench' designed by architecture firm Snøhetta, installed in the plaza of the United Nations headquarters. The arching bench pays tribute to past Nobel Peace Prize laureates, while encouraging passersby to engage in conversation and social intimacy. Produced by Vestre in a completely carbon-neutral process, the 6.5m long installation is made from the world's greenest aluminium, care of Norwegian renewable energy firm Hydro. The Best Weapon – first unveiled on Nelson Mandela Day (18 July) – will remain at the United Nations Plaza until 15 October, after which it will be transported to Norway to a permanent location near the Nobel Peace Center and the Oslo City Hall, where the Nobel Peace Prize is awarded annually.
snohetta.com (opens in new tab).
Artist: Lothar Götz Location: Towner Art Gallery, Eastbourne, UK
Marking Towner Art Gallery's 10th anniversary, German artist Lothar Götz has given the Eastbourne institution a Technicolor treatment in the form of a vivid geometric mural on its façade. Incorporating the gallery's unique exterior recesses and alcoves, Götz's mural – his largest to date – wraps the length and width of three sides of the Rick Mather Architects-designed building with paint supplied by local company Brewers Decorator Centres. The commission, which coincides with the launch of the £54m redevelopment of Eastbourne's Devonshire Quarter, will be in situ for one year.
Until June 2020, Towner Art Gallery. townereastbourne.org.uk (opens in new tab). Courtesy of Towner Art Gallery
Project: [AR]T Walk and [AR]T Lab Location: Worldwide
Apple is teaming up with New York's New Museum on an art-based augmented reality project with projects from artists Nick Cave, Nathalie Djurberg and Hans Berg, Cao Fei, John Giorno, Carsten Höller and Pipilotti Rist (whose work is pictured here). Launching on 10 August and running until at least the end of the year, ten people at a time, armed with an iPhone, the [AR]T app and headphones, will be lead by an Apple team member in each city around six interactive displays or pieces, each lasting five to ten minutes. The initiative also includes an in-store session that teaches the basics of creating AR using Swift Playgrounds and an AR art installation viewable in every Apple Store worldwide. Read more here.
Registration for the [AR]T Walk and [AR]T Lab sessions will be available at apple.com/today (opens in new tab)
Artist: Joana Vasconcelos Location: Jupiter Artland, Wilkieston, Scotland
Dive into Joana Vasconcelos' dazzling – and fully functional – swimming pool at Jupiter Artland on the outskirts of Edinburgh, where a former livestock space has been transformed into an immersive installation. Vasconcelos has incorporated patterns from her own astrological chart into the design of the artwork, which comprises 11,366 hand-painted and glazed tiles crafted using traditional methods at a 100-year-old factory in the artist's native Portugal. With Gateway, the artist invites visitors 'to immerse in a joyful and spirited dimension, leading to a connection with the energy of the earth'. Vasconcelos muses, 'It's like a threshold to another universe that we're not conscious of but through which we can flow.' Between 29 July – 22 August, guests will be able to take a dip in Gateway and experience the sculpture park's latest permanent commission from a new angle.
Gateway, until 29 September, Jupiter Artland. jupiterartland.org (opens in new tab). Courtesy of Jupiter Artland
Exhibition: Frieze Sculpture Location: Regent's Parks, London, UK
The English Gardens at Regent's Parks have once again been transformed 'into a museum without walls', says Frieze London artistic director Jo Stella-Sawicka, ahead of the art fair in October. More than 20 artists were plucked from a gallery open call to exhibit at this year's Frieze Sculpture, among them Tracey Emin, Robert Indiana, Tom Sachs, and Lucy Skaer. Highlights include a full-size reproduction of a 1973 Jaguar E-Type Matchbox toy car by Brazilian artist Vik Muniz, and a 3m tall bronze work by Huma Bhabha that riffs on ancient sculpture and sci-fi. Pictured, Superhero Cog Woman, 2019, by LR Vandy.
Until 6 October, Regent's Park. frieze.com (opens in new tab). Courtesy of Frieze
Exhibition: The High Line Location: New York, USA
The mid-19th century tradition of en plein air painting is getting a modern makeover in a group exhibition of new commissions by Daniel Buren, Sam Falls, Ei Arakwa, Lubaina Himid, Lara Schnitger, Vivian Suter and Ryan Sullivan. Spanning the length of the park, the free-standing works expand on the mid-19th century practice of en plein air painting, not only bringing painting outdoors but harnessing nature as context, subject and collaborator. The works will remain in situ until March 2020. Pictured, 19.604692°N 72.218596°W, 2019, by Firelei Báez.
thehighline.org (opens in new tab).
Artist: Doug Aitken Location: Gstaad, Switzerland
Doug Aitken's ranch-style mirrored houses have surfaced in the Palm Springs desert and a former Detroit bank. Now, the American artist is taking to the Swiss Alps with the latest iteration of his architectural intervention. Every available surface of the structure has been clad in mirror, both absorbing and reflecting the verdant surrounds, while the interiors offer a kaleidoscopic perspective. The installation was part of the third edition of Elevation 1049: Frequencies, a three-day art festival hosted annually in the resort town of Gstaad in February. But Mirage Gstaad will remain open to intrepid alpine wanderers for multiple seasons. Get the recipe for Aitken's Neuchâtel fondue here.
Mirage Gstaad, until January 2021. dougaitkenworkshop.com (opens in new tab).
Artist: Antony Gormley Location: Philadelphia Museum of Art, USA
A ten-strong ensemble of Antony Gormley's Blockworks sculptures is holding court outside of the Philadelphia Museum of Art, while it undergoes a renovation by Frank Gehry. 'Like standing stones, these works are markers in space, but I would also like them to engage the viewer's time,' says the artist. 'Here is sculpture, not statue; less hero or ideal, more material and real: a public declaration of subjective identity.' The rough cast-iron pillars, placed at regular intervals across the museum's East Terrace, invites viewers to both project and recognise their own identities in the humanoid stacks of blocks.
'STAND', until 26 June, Philadelphia Museum of Art. philamuseum.org (opens in new tab)
Artist: Alicja Biala; architect: Iwo Borkowicz Location: Bay of Art, Poznań, Poland
Artist Alicja Biala and architect Iwo Borkowicz have erected six towering wooden totem poles beneath the MVDVR-design Bałtyk building in Poznań, in a jubilant protest against climate change. The colours and form were diligently made by hand, with help from local woodworkers, students, politicians, activists, and other members of the community, with regular events and workshops throughout the process. Each of the 9m tall totems correlate to different statistics visualising relationship between human and natural forces. The sculptures are stamped with an individual QR code, which after scanning reveals a webpage deconstructing the meaning of its proportions. 'We wanted to address the public at large, and at an everyday level,' says Biala. 'Passersby on the street and tram will catch out of the corner of their eye a flash of strong colours and be reminded of the current state of our world.'
totemy.org (opens in new tab)
Artist: Daniel Libeskind Location: Paleis Het Loo, Apeldoorn, Netherlands
Polish-American architect Daniel Libeskind is disrupting a 17th-century baroque garden in the Netherlands with a series of monumental sculptures as a protest to climate change. The 'Garden of Earthly Worries' consists of four abstract works that create an imbalance within the manicured garden, designed in its time to represent man's perfection of nature. Each of the 3m tall structures – fragments of a globe – represent different chemical compounds that contribute to our changing climate. 'We can no longer distinguish if nature is culture, or culture is nature,' says Libeskind. Read more here.
'The Garden of Earthly Worries', 2 April – 29 September, Paleis Het Loo. paleishetloo.nl (opens in new tab)
Artist: Anthony Cragg Location: Hotel du Cap-Eden-Roc, Antibes, France
Blain Southern gallery is returning for its second summer sojourn at Hotel du Cap-Eden-Roc in the French Riviera, this time bringing a series of monumental sculptures by Anthony Cragg. The totems in this exhibition form part of two larger groups of work, Early Form and Rational Beings, which the artist has been developing since the 1990s. The works (pictured, Tommy, 2013, fibreglass) derive their forms from the contours of gestural drawings, which Cragg then realises three-dimensionally using hefty, circular or oval discs which are superimposed (often vertically), glued together and then covered with a 'skin'. The underlying structure of these sculptures gives their skin the tension of a membrane, reflecting the basic structures of many organisms, organs, plants and animals.
'Anthony Cragg at the Oetker Collection', 9 May – 18 October, Hotel du Cap-Eden-Roc. blainsouthern.com (opens in new tab).
Artist: Lea Ceramiche; architect: OMA Location: Prada Foundation, Milan, Italy
The inauguration of Torre – a monumental white concrete building by Rem Koolhaas with Chris van Duijn and Federico Pompignoli from OMA – last year marked the completion of the Prada Foundation complex in a former distillery. And while visitors may flock to the six levels of exhibition spaces, it is worth scaling the 60m high tower to the rooftop terrace, where a hypnotic, eye-bending installation awaits. The terrace flooring features an optical illusion in black and white, made using porcelain stoneware tiles from Lea Ceramiche's Absolute collection. Mirrors at the edge of the terrace remove the visual barrier between the rooftop space and the panoramic vistas of Milan.
ceramichelea.it (opens in new tab); fondazioneprada.org (opens in new tab)
Exhibition: Eden Project collection Location: Cornwall, UK
When Studio Swine's 'breathing' sculpture first huffed and puffed into life at Eden Project in 2017, it put the Cornwall institution on the map as a budding destination for contemporary art. Since then its permanent collection has come into full bloom, most recently with new sculptural additions by Ryan Gander and Jenny Kendler, installed in the grounds alongside works from Julian Opie and Tim Shaw that arrived earlier in the year. Gander's sculpture, To employ the mistress.... It's a French toff thing (2015), is a marble drinking fountain fabricated in the likeness of his wife Rebecca, leaning in for a kiss with the artist, and playfully spitting water.
edenproject.com (opens in new tab)
Artist: Tauba Auerbach Location: New York, USA
New York-based artist Tauba Auerbach transformed the historic Fireboat John J Harvey into a dazzle ship, putting a contemporary spin on the optical patterns conceived by British painter Norman Wilkinson during the First World War to confuse enemy submarine radars. Auerbach created her design for the surface of the boat through the process of marbling paper, floating inks on a fluid bath and combing the surface to create various wake patterns before transferring them on to paper. The fireboat also flies a flag diagramming 'flow separation' — the phenomenon when areas of fluid in a wake move backwards, creating eddies. The work was co-commissioned by New York's Public Art Fund, and 14-18 NOW, a UK-led arts programme marking the centenary of the First World War.
Flow Separation, 1 July 2018 – 12 May 2019, Public Art Fund. publicartfund.org (opens in new tab); 1418now.org.uk (opens in new tab). Courtesy of Public Art Fund, NY
Artist: Phillip King Location: Taikoo Hui, Guangzhou, China
In 2011, London-based Phillip King was commissioned by Christ's College, Cambridge, to commemorate the 200th anniversary of the pioneering biologist Charles Darwin's birth. The interlocking composition comprises three shapes working together to represent concepts beyond their physical forms: the oval for evolution, the triangle a nod to the young character of Darwin, and the square as a gateway or window for the external world. More recently, a new iteration of King's monumental painted steel sculpture has now emerged in retail complex Taikoo Hui – fittingly evolving in tribute to its namesake.
thomasdane.com (opens in new tab)
Artist: Rachel Feinstein Location: Chatsworth House, Derbyshire, UK
Chatsworth has worked with Gucci creative director Alessandro Michele to bring American artist Rachel Feinstein to the property as its 2019 artist in residence. Feinstein – a sculptor whose broad influences include Renaissance painting, contemporary cartoons and Roman ruins – created a new commission for the Grotto, entitled Britannia. The life-size figure, named after the Roman mythological figure that represents the British Isles, was made in tandem with the Nymphenburg porcelain factory in Munich, Germany. Overlooking the Grotto Pond, the whimsical Rococo Hut (detail pictured) has been magicked up. The white powder-coated aluminium structure, adorned with silkscreen-type applications, recalls a castle from a pop-up storybook. The sculpture is part of Feinstein's Folly series, which connects strongly to the Grotto – itself a garden folly. The artworks conceived during her residency will remain on view for five years.
chatsworth.org (opens in new tab); gucci.com (opens in new tab). Courtesy of Gucci
Artist: Vibhor Sogani Location: Dubai Creek Harbour, UAE
Delhi-based installation artist and designer is tapping into his inner child with a bouquet of balloons in the Dubai Creek Harbour – the location of what will be the world's tallest tower when completed in 2020. Standing 30ft tall and crafted in mirror-finished stainless steel, the polished spheres – simply titled Joy – reflect the ever-changing environment around them as the passersby catch a glimpse of themselves in it.
vibhorsogani.com (opens in new tab)
Harriet Lloyd-Smith is the Arts Editor of Wallpaper*, responsible for the art pages across digital and print, including profiles, exhibition reviews, and contemporary art collaborations. She started at Wallpaper* in 2017 and has written for leading contemporary art publications, auction houses and arts charities, and lectured on review writing and art journalism. When she's not writing about art, she's making her own.