Design initiatives showcasing resilience through creativity during the pandemic
Over the course of 2020 and 2021, we have seen examples of human life shifting gears. In the creative world, we've been inspired by brands that have used design expertise to devise ventilators, sanitisers and masks. Now we're looking at what the design and art community has been sharing on virtual platforms and beyond to keep energised. Institutions, designers and artists are expanding horizons and showing how design can continue to innovate and unite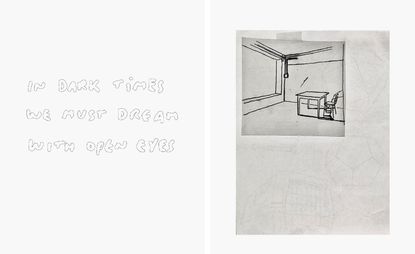 (Image credit: TBC)
Basketclub in collaboration with Dedon
At the beginning of the pandemic, Toronto-based designer Jamie Wolfond and Rotterdam-based 'textilish product designer' Adrianus Kundert joined virtual forces across the ocean to launch an Instagram-based, collective design project. The idea for the initiative was simple: every week, the pair would launch a brief on the social media platform (from their account, @_basketclub_), asking designers to weave an object inspired by an emoji.
What started as a project for an intimate group of 12 international designers (and an orange emoji), has now developed into a collaborative platform with a weekly open call, and a roster of participating designers from all over the globe. Among them are Garth Roberts, Samy Rio, Carole Baijings and Ladies & Gentlemen Studio (opens in new tab), while Basketclub's collaborators include American textile brand Maharam, which provided materials for some of the earlier creations, and Karimoku, which hosted the digital collective's first physical exhibition.
The project's latest initiative is a collaboration with German outdoor furniture brand Dedon, which challenged 20 designers, including Sebastian Herkner, Stephen Burks and Studio Satël, to create woven pieces using Dedon fibre, inspired by the 'Sun of May' emoji. 'We love the way Basketclub harnesses the possibilities of social media and digital collaboration to keep maker traditions alive and relevant,' says Chloé Sos, Dedon marketing director.
instagram.com/_basketclub_/ (opens in new tab)
dedon.de (opens in new tab)
Viavài
Curator Federica Sala was tasked to instil new life into the empty shop windows of Milan's Via Della Spiga. The project was started by VIA Visiting Installation Art, an initiative created to 'encourage rebirth and recovery' in collaboration with shop owners in the area. Titled Viavài (meaning 'coming and going' in Italian), the project is developed as a contemporary art show through the street's shop windows, featuring pieces by Nathalie du Pasquier, Lorenzo Vitturi, Regine Schumann, Gianluca Malgeri and Arina Endo.
'The owners of these spaces share the common desire to see a new cultural revival in the neighborhood,' reads a statement from the organisers. 'While waiting for the "coming and going" of passers-by, which once animated the street and its surroundings, to resume.'
The Soap Project by House of Today
In response to the ongoing health and economic crisis, Beirut-based design platform House of Today launched The Soap Project, an initiative involving 14 Lebanese designers creatively re-interpreting soap design. One of the most basic materials, soap has become both an essential necessity and desirable product. The project started from an idea of curator Anne-France Berthelon, to support the Lebanese design industry during the pandemic, and evolved with an open call from House of Today to invite designers to approach soap as a creative material and develop a new piece in collaboration with vegetable soap makers Senteurs d'Orient (who donated the raw materials).
The resulting projects range from conceptual and poetic interpretations of soap to more functional approaches. Architectural practice Bits to Atoms used it as a raw building material, developing it into a substance that can be 3D printed (above), while designer Karel Kargodorian was inspired by the experience of isolation, and used the soap to create objects hanging from a mobile, offering companionship in solitude (top picture).
Others, like Guilaine Elias, Dalia Husseini and Suzanne Anhoury, worked collaboratively to create imaginary soap landscapes (above), placing sculptures carved from the material in symbolic locations across the world where the pandemic had a profound impact.
Yo-Yo Machines
These playful DIY devices can be built using household materials and simple instructions. Created by Interaction Research Studio (a Goldsmith University, London, initiative that employs design to enhance everyday life through technology), the machines use the internet to share a moment across the world, including light, sound, ideas and moods, and encourage sharing and interaction at a time when isolation feels like normality. 'Yo-Yo Machines complement Zoom or telephone calls by giving a frequent and casual feeling of presence, and are a bit of a solace at a time when we'd really like to visit,' says the team behind the project. The Yo-Yo Machines, they explain, build on three decades of research into 'systems that support peripheral and emotional awareness remotely,' translating it into simple technology that promotes intimate interaction.
yoyomachines.io (opens in new tab)
Pop a Bottle, Make a Tiny Chair
Giving new meaning to all those champagne bottles popped in solitude during lockdown festivities is Design Within Reach's 'Pop a Bottle, Make a Tiny Chair' charity initiative. DWR's Annual Champagne Chair Contest, in partnership with Champagne Pommery, invites entrants to create a chair with their leftover champagne cork. Entrants are invited to get creative, using foil, label, cap, cage, and cork from no more than two champagne bottles to make a chair (which can be an original design or a reproduction), photograph it on a neutral background and publish it on Instagram using tags @designwithinreach and #dwrchampagnechair. For each entry this year, Herman Miller Cares donated $50 to Artist Relief, a charity providing financial help to artists during the pandemic.
dwr.com (opens in new tab)
Volunteer Architects Limited
Volunteer Architects Limited and SIKI IM STUDIO's limited edition T-shirt was created to support pandemic recovery efforts in Queens' Jackson Heights – one of the communities hit the hardest by Covid-19. Created to offer free design services to disadvantaged communities, Volunteer Architects Limited includes ARO, Design Advocates, LTL, MOS, nARCHITECTS, SO-IL and WORKac, working together to create a series of tools and programmes to support the area's people and systems. Projects include outdoor seating and installations, assistance to local businesses to reopen during the pandemic and ongoing proposals to assist with outdoors events and activities. One hundred per cent of the proceeds from the T-shirt sales go to support these projects, and more.
sikiim.com (opens in new tab)
Jumpthegap by Roca
Barcelona-based brand Roca changed the course of its biennial design contest for the ninth edition. It offered the platform as a space to share ideas and projects on products or services related to the functions of the bathroom space, such as sanitation, hygiene, and wellbeing as a response to the pandemic. Held in collaboration with Barcelona Design Center, the initiative invited designers and architects to propose their creative solutions, of which five projects were selected as winners. Among them were a smart shoe sole cleaner by Hao Wang and Hanyuan Hu, to reduce the transmission of the virus from people's footwear; and a device by Alina Pshenichnikova that releases sanitiser in soap-style bubbles to encourage hygiene among children.
Pictured: Iranian designer Mohammad Reza Shahmohammadi's winning design from the 7th edition – a clever rethink of the bathtub shape called Panacea.
jumpthegap.net (opens in new tab)
Canadian Covid Creators Network
Growing concerns for the need for personal protective equipment (PPE) saw designers rise to the occasion. In Canada, architecture studio Partisans joined forces with community services group WoodGreen to launch Canadian Covid Creators Network – a project that encourages the creative community to use their expertise to 3D print and distribute shields. Open source designs were created by an industrial design model shop led by Teddy Shropshire, to be downloaded from a website designed by Toronto-based studio Puncture.
'Here Comes The Sun' by Paul Cocksedge Studio
Planning for the future can be tricky right now, but British designer Paul Cocksedge turned the potential long-term social distancing rules into a project. Titled 'Here comes the sun', a proposal for a post-lockdown future sees him realise a blanket where people are guided to sit 2m apart, as advised by the government. Intended to be used during social situations when lockdowns ease, Cocksedge's design is downloadable, and encourages people to devise their own using his template (pictured), also offering a creative challenge at home.
'As a designer that works with sizes and measurements on a daily basis, I sometimes find it hard to accurately interpret 2m – which is a common problem we're all having at the moment,' says Cocksedge. 'It adds a level of worry to our future interactions. This blanket is a playful answer to that and works as a democratic piece of design that anyone can download and make.' Next step with the project is to develop a 3D furniture version.
paulcocksedgestudio.com (opens in new tab)
ServiceShop
This initiative is the brainchild of photographer James Holborow, who launched this at the point when freelance incomes were looking uncertain. The online print shop functioned as a platform for creatives to continue to sell their work, while also donating proceeds to The Trussell Trust, a UK-based charity servicing food banks around the country. Artists and photographers on the roster included Thea Løvstad, Liam Mertens (print pictured) and Scott Licznerski. 'Many self-employed creatives are faced with losing income [when asked to isolate], with the majority of upcoming jobs cancelled,' said Holborow. 'ServiceShop aims to help creatives by both promoting their art and generating a source of income – however small – to aid them through this tough time. By championing their work, we hope to be of some support to artists amid the crisis.'
Jaime Hayon Instagram drawing
The Spanish designer and artist has been sharing his whimsical drawings on social media, and inviting his followers to print and get creative with colouring these in. Reaching those as home, Hayon's drawing leaves space for individuals to fill in their country flag and name, creating a unique artwork in collaboration with the Valencia-based creative himself. Hayon has been sharing these over on his handle @jaimehayon (opens in new tab) – the results are vibrant, motivating and intricate.
instagram.com/jaimehayon (opens in new tab)
Isolation chair by Max Enrich
While being at home, Barcelona-based designer Max Enrich was keen to build a chair, 'but [I] rapidly realised I had no materials at home'. So he turned to what he did have – Alpen Swiss Style muesli and Kellogg's choco krispies in his kitchen cupboard. He posted some of these crafted creations onto his feed, and asked his followers to get resourceful in their domestic environments too. Watch the hashtag #isolationchair for seating that is amusingly contemporary, and made out from everything from olives, shoes, books, sponges and more.
instagram.com/maxenrich (opens in new tab)
Fountain of Hygiene: Sanitiser Design Competition
Raising money for Red Cross, London-based creative studio Bompas & Parr launched a competition for creatives, designers, makers and architects to rethink traditional hand sanitiser pumps. In the hope to reframe how we think about global health, the challenge asked individuals to consider social and environmental impact too. Results are viewable online and chosen entries went on view at London's Design Museum. 'We hope that the entries of the Sanitiser Design Competition will demonstrate the importance of research and innovative thinking,' said Tim Marlow, chief executive and director of Design Museum. 'We look forward to raising money for an important cause.'
bompasandparr.com (opens in new tab)
Milano Art Guide – The Colouring Book
On the back of exhibition cancellations in Milan, this project, by Rossella Farinotti and Gianmaria Biancuzzi, allows people to engage with artworks in a new experimental way. Download a plethora of contemporary artworks – including whimsical pieces like L.O.V.E by Maurizio Cattelan (pictured) and domestic illustrations from Linda Carrara – and get your colouring kit out.
milanoartguide.com (opens in new tab)
Hope and Togetherness at Carpenters Workshop Gallery
In the name of camaraderie, Carpenters Workshop Gallery launched an exhibition in its digital viewing room. Under the theme of Hope and Togetherness, works including Atelier Van Lieshout's Family Lamp and Minimal Kiss, and the calming and ethereal Flylight by Studio DRIFT (pictured) can be found. The gallery also took fans backstage on its Instagram account, to explore some of these artists' studios, and get a glimpse of what their work.