Design in an Age of Crisis: London Design Biennale responds to today's crucial issues
London Design Biennale and Chatham House have held an open call to gather proposals and the results are in. The 500 submissions span over 50 countries and six continents, highlighting important issues (and possible solutions) in the fields of health, environment, society and work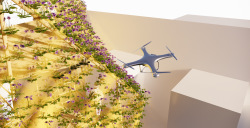 (Image credit: londondesignbiennale.com)
Creativity and crisis make for strange bedfellows. Yet, innovation proves itself best borne out of necessity as London Design Biennale and think-tank Chatham House address some of the most critical issues facing contemporary society with their new collaboration, Design in An Age of Crisis.

Launched this January, the digital platform effectively comprises a great meeting of the minds, poised to play an integral part in spotlighting the local iterations of far-reaching issues, encouraging radical design thinking and fostering dialogues between designers, policymakers and the public. The initiative is decidedly global and inclusive with 500 submissions spanning over 50 countries and 6 continents, each a response to an open call with four categories: health, environment, society and work. 'The range of ideas illustrates how anyone, anywhere can contribute to design thinking', says Victoria Broackes, Director of London Design Biennale, who views the exercise as a celebration of the survival of creativity with individuals continuing to form ideas even whilst at home during the pandemic.

London Design Biennale's most ambitious presentation yet offers an unequivocal opportunity to practically reimagine our world. As Covid-19 continues to rage, the strain on the global community has highlighted issues outside of the pandemic that also demand address. Design in An Age of Crisis speaks to a world that will still be in need, even after coronavirus, ultimately presenting an opportunity for us to propose a world we want, in the face of one dealing with many crises.

After pandemic-related postponements in 2020, London Design Biennale will return to Somerset House this June to showcase a selection of highlights from Design in An Age of Crisis. Here, we look at some of the projects from the initiative's four categories.
Environment
As confinement and social restrictions take their toll on the mental health of many across the globe, Pop-up Ecosystems by MuDD Architects and AirLab in Spain proposes a design that will safeguard our mental wellbeing as well as protect our environment. Effectively changing the shape of our urban landscapes, it offers innovative techniques for attaching green spaces to existing buildings to promote positive health.
PriestmanGoode's Guy Genney designs a greener world with a strong sense of community with TURF, an app that facilitates for people to grow their own food and share surplus with neighbours and local businesses. The project includes a selection of items (in a zero-waste, biodegradable pack) needed to get started growing edible plants from home.
Work
Work cultures have undoubtedly changed as a result of the pandemic, so it is no surprise that some submissions have attempted to address our new realities, with some suggesting ways to reclaim unused spaces such as Out of (Paper) Office, a playful set of printable office prop templates by Brown Office and Jon Abbott Studio. The Work from Home Clock by Wareesa Lakanthampichit offers a practical way to organise time around work, leisure, rest, family and friends while working remotely. The digital project helps visualize a 24-hour period to better coordinate colleague interaction as well as personal time.
Health
London Orchestra From Waste Materials, a project by Andrew Scott from the Royal College of Art in collaboration with composer Hangrui Zhang from the Royal College of Music, aims to promote wellbeing through music and uses repurposed waste materials to do so.
Eindhoven student Anna-Sophie Dienemann addresses coronavirus restrictions and the direct impact on people's everyday lives with Bounding Spaces, a playful wearable aid to social distancing.
Society
Responding to issues around social identity, community and survival, Aqueous Communes by Mad(e) in Mumbai is a design that not only offers low-cost flood resilient housing for the Sonbarsa village in India, but also recycles the flood water to the benefit of the community.
Radical Gravity by Angelina Kozhevnikova, Kyungha Kwon and Konuralp Senol looks at some of the failures of the pandemic, which highlighted inadequacies in our emergency response systems. The project proposes an innovative, self-sustaining global system that provides airdrop shelters in the wake of natural disasters, using freefall as a self-building stage.
INFORMATION
Receive our daily digest of inspiration, escapism and design stories from around the world direct to your inbox