Best Sculpted Furniture: Wallpaper* Design Awards 2021
Browse our pick of sculptural furniture: perfectly honed stone lamps, marble seating and tables, winners of 'Best sculpted forms' in the Wallpaper* Design Awards 2021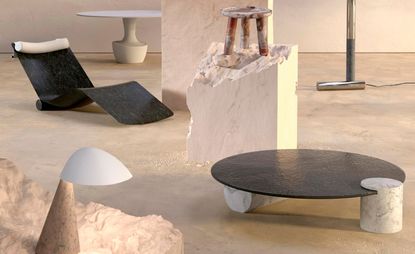 (Image credit: press)
Salvatori
Rarely can we say our furniture choices are set in stone but in this case, we can't resist Piero Lissoni's 'Curl' chaise longue for Salvatori (opens in new tab), a block of natural stone carved back into a smooth lounger using cutting-edge technology. 'To paraphrase Michelangelo,' says Lissoni, 'I took away the excess, the superfluous; the chaise longue was already in the piece of stone. We worked on its sections, as if it were the bodywork of a car (opens in new tab) or the engine of a plane, making them extreme, and pushing the stone to the limit.'
salvatori.it (opens in new tab)
Baxter
With such a long marble sculpting tradition, it's no surprise Italy is the source of award-winning stone designs. Our favourites include Studiopepe (opens in new tab)'s 'Verre Particulier' coffee table for Baxter, with a Bianco Gioia marble base and fused glass top.
baxter.it (opens in new tab)
Exteta
Another marble design we admire is Ludovica and Roberto Palomba's round side table for Exteta. The sculptural design features a simple raised rim, and is available in five different marbles, including Arabescato Orobico Red, pictured above.
exteta.it (opens in new tab)
Potocco
An elegant exercise in sculptural furniture, Potocco's 'Anfora' round table, by the young German designer Alexander Lorenz, is defined by a Greek amphora-inspired base in new grey resinated quartz. Its sinuous and light appearance is a delightful contrast to the heavy stone.
potocco.it (opens in new tab)
Brut Collective
Charlotte Jonckheer of design collective Brut created the unusual 'Opening Light, Gesture 1' lamp. The Belgian designer (opens in new tab)'s piece is a composition featuring a cylinder of Belgian bluestone lined with aluminum, which lights up when an embedded titanium stick is withdrawn.
brut-collective.be (opens in new tab)
Federicia
The soft silhouette of Space Copenhagen's 'Fellow' table lamp for Federicia comprises two organic-shaped elements, making it a sculpture in its own right.
fredericia.com (opens in new tab)
Léa Teuscher is a Sub-Editor at Wallpaper*. A former travel writer and production editor, she joined the magazine over a decade ago, and has been sprucing up copy and attempting to write clever headlines ever since. Having spent her childhood hopping between continents and cultures, she's a fan of all things travel, art and architecture. She has written three Wallpaper* City Guides on Geneva, Strasbourg and Basel.