Symphony in blue: best use of colour from the Wallpaper* Design Awards
This Blue Monday, be inspired by a series of designs that bring a soothing chromatic comfort to these gloomy days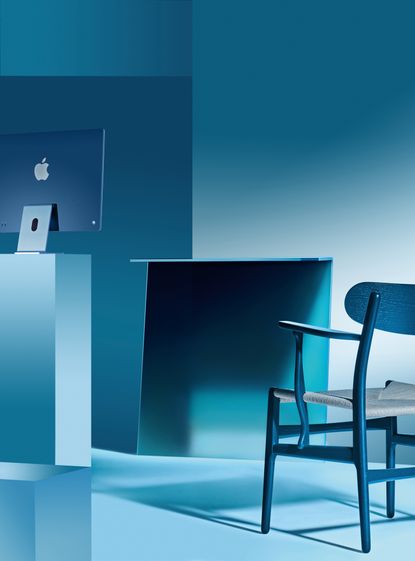 (Image credit: Neil Godwin)
From technology to furniture, we looked at the best blue design of the year for the Wallpaper* Design Awards 2022.
Blue design for soothing interiors
Apple's 1999 iMac G3 revolutionised the personal computer with its cutting-edge tech. But let's be honest: what we all really remember is its cute curved shape and rainbow of happy hues. Now, after years of serious silver, the Cupertino giant has finally brought back some colour for its new ultra-thin iMac, available in green, yellow, orange, pink, purple and this lovely deep blue. Each option features a softer shade on the front to allow users to focus on their content, and a bold, saturated colour on the back; colour-matching accessories include a woven power cable.
Among our worthy winners is also Germans Ermičs' frosted glass console, an ethereal part of the Amsterdam-based designer's ongoing polychromatic, ombré explorations. Originally presented at Design Miami/Basel (opens in new tab) with Peter Blake gallery, the 'Shaping Color' collection features new interpretations of Ermičs' colour-driven furniture designs in glass, in fresh chromatic compositions. The Design Miami installation, Blake noted, hoped to elicit 'a phenomenological viewer experience. We hope viewers will take away a newfound appreciation for Ermičs' focus on aesthetics and material, and their relationship with surrounding environments.'
Ilse Crawford's North Sea Blue version of Hans J Wegner's 'CH26' armchair, is part of a special edition inspired by Nordic abstraction and the expressionist works of Per Kirkeby. Titled 'Reimagining the Classics', the collection (which also includes chairs in pewter, seaweed, slate and falu red) celebrated Wegner's first five chairs in colours that, in true Crawford fashion, 'respectfully reimagine' the designs. Translucent, non-toxic and water-based paints were specially selected by the British designer to add a new layer to the chairs' familiar forms. The final result is intended to create an atmosphere in a space, and highlight the material's natural beauty – blue design that leaves us feeling anything but blue.
INFORMATION
The Wallpaper* Design Awards 2022 feature in the February 2022 issue of Wallpaper*. Subscribe today! (opens in new tab)
Léa Teuscher is a Sub-Editor at Wallpaper*. A former travel writer and production editor, she joined the magazine over a decade ago, and has been sprucing up copy and attempting to write clever headlines ever since. Having spent her childhood hopping between continents and cultures, she's a fan of all things travel, art and architecture. She has written three Wallpaper* City Guides on Geneva, Strasbourg and Basel.
With contributions from