Stone furniture rocks the Wallpaper* Design Awards 2022
From rock furniture to marble pieces, we looked at the best stone designs from the world's finest designers and manufacturers, from Ghidini 1961 and Salvatori to Germans Ermičs and Stephen Burks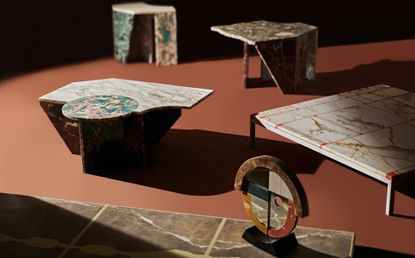 (Image credit: Neil Godwin)
We've gathered the best stone furniture of the year, including assembled compositions made of marble offcuts and curved stone designs that include lighting, seating and tables. From marble to limestone and volcanic rock, we left no stone unturned. As we surveyed natural assets for this Wallpaper* Design Awards 2022 round-up, we also encountered pieces whose manmade organic forms and puzzle-like arrangements, in wood and resin-bonded sand, for example, were the perfect complement to our celebration of materials.
Best stone furniture: hard acts to follow
From left, 'Mass' bench, £19,700, by Fred Ganim, for Agglomerati. 'Taula' coffee table, £8,000, by Patricia Urquiola, for Salvatori. 'Apple' floor lamp, price on request, by M2 Atelier, for Visionnaire. 'Sculpture' lamp, from €469, by Morten Bo Jensen, for Vipp. 'Drop' stool, €7,900, by Danielle Siggerud. 'Lignage d'Hermès' stone table, price on request, by Studio Mumbai, for Hermès.
We're collecting all the marbles this year, starting with Australian designer Fred Ganim's modular furniture system, made entirely out of Statuario. Also made of Italian stone are M2 Atelier's 'Apple' floor lamp, with a stem-like leather handle and a base available in three types of marble, and Patricia Urquiola's 'Taula' table, inspired by the prehistoric structures found in the Balearic islands. Next up are two Nordic designs: Danielle Siggerud's stool, an attempt to square the circle made out of a single piece of stone, and Vipp's new table lamp, with a marble base incorporating the brand's signature dimmer button, as well as an elegant reeded glass shade. Also beautifully striated is Studio Mumbai's blue Hainaut limestone table for Hermès, engraved with radiating lines representing rays of light.
Best odes to nature: raw materials and organic textures
From left, 'Pele de Tigre' stool, price on request, by Germans Ermičs. 'Earth' vessel, $216, by Oliver Whyte Studio. 'Native' round table, €14,850, by Stefano Giovannoni, for Ghidini 1961. 'Plain Cuts Stone and Steel' table, price on request, by Wonmin Park, for Carpenters Workshop Gallery. 'No.20' mirror, $7,800, by Ben and Aja Blanc, from The Future Perfect. '6x8' chair, price on request, by Max Lamb, from Salon 94.
We dug deep for this category and found buried treasure in the form of temptingly tactile pieces crafted from organic materials such as wood, marble and ore. From Max Lamb's sculptural chair composed of interlocking blocks of Western red cedar and Oliver Whyte's monolithic vessel made from resin-bonded sand to Stefano Giovannoni's reassuringly robust marble table for Ghidini 1961, edged in burnished metal, and Germans Ermičs' marble stool, whose rippled form aligns with its striations, these are objects that elevate the wild beauty of their natural materials. Meanwhile, Wonmin Park explored the relationship between natural and manmade beauty with a series of tables that juxtaposed volcanic rock bases, the surfaces of which have been smoothed to become mirror-like, emerging effortlessly from precisely cut steel tops. As for Ben and Aja Blanc's freeform mirror, its marbled surface is, in fact, achieved by pouring layers of silver onto large glass planes, creating a dappled effect that celebrates the accidents of nature.
Best assemblage: small fragments, big impact
From left, terrazzo carpet, €23,000, by Studio Stefan Scholten. 'Ritagli' coffee tables, price on request, by Studiopepe. 'Friends' table mirror, £2,900, by Stephen Burks, for Salvatori. Terrazzo coffee table, €11,000, by Studio Stefan Scholten. Interiors: Hannah Jordan
Italy's world-famous quarries have been churning out blocks of marble since Roman times, but what to do with the offcuts produced by this colossal industry? For his first solo project, Stefan Scholten, formerly of Scholten & Baijings, has used bits and pieces of stone sourced from Italian quarries to create designs such as a terrazzo carpet made of imperfect slabs assembled in a book-matched pattern, and a table practically 'woven' together by the experts at Laboratorio Morseletto. Meanwhile, Studiopepe has looked to Dadaism and the aesthetics of chance to produce a series of unique coffee tables using marble scraps and slabs of terrazzo. As for American designer Stephen Burks, he's fashioned ultra-expressive table mirrors out of colourful natural stone, proving that even the smallest pieces of marble can make a big impression. 
INFORMATION
The Wallpaper* Design Awards 2022 feature in the February 2022 issue of Wallpaper*. Subscribe today! (opens in new tab)
Léa Teuscher is a Sub-Editor at Wallpaper*. A former travel writer and production editor, she joined the magazine over a decade ago, and has been sprucing up copy and attempting to write clever headlines ever since. Having spent her childhood hopping between continents and cultures, she's a fan of all things travel, art and architecture. She has written three Wallpaper* City Guides on Geneva, Strasbourg and Basel.