Surrealist furniture: dreamy designs from the Wallpaper* Design Awards
With their colourful curves and uncanny details, these five unique designs seem to have been beamed down from another galaxy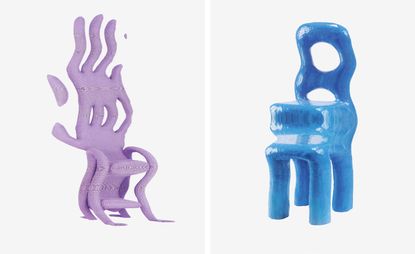 (Image credit: Artworks throughout by Keisuke Otobe. Interiors by Hannah Jordan)
Dreamy surrealist furniture, in the shape of these five unique designs, gets a nod in the Wallpaper* Design Awards 2022.
Diego Faivre's 'Stool made in 643 Minutes' rolled out of the French artist's Minute Manufacturing production system, which makes objects by the minute. Their cost is measured in custom 'Diego Coins', each worth a minute of production time and equivalent to €1. All designs are made from waste materials such as cardboard tubes, plastic boxes and leather strips, covered in 'Diego Dough' air-drying clay.
Partly inspired by Joan Miró, meanwhile, is Chris Wolston's playful chair, 'Mano Peluda', or 'hairy hand', from The Future Perfect. The American artist, who splits his time between New York City and Medellín in Colombia, has worked with local artisans to create this purple seat out of Colombian mimbre wicker harvested in the Colombian Amazon.
Belgium-based Lithuanian designer Barbora Žilinskaite has fashioned a green shelving unit with doors in the shape of clasping hands. Made from wood dust and ply, her 'Storyteller' bookcase is part of an anthropomorphic series exploring shapes and emotions and inspired in part by the paintings of Paul Klee and Joan Miró. Other designs in the collection include a hand-shaped magazine rack and a coffee table made out of a folded footprint.
Meanwhile, Laia Arqueros' take on traditional Galician chestnut roaster pots includes a Dalíesque pair of eyes and matching lolling tongues. The Barcelona-based ceramic artist's striking creation is part of the Loewe Weaves Project, a collaboration between the Spanish luxury house and Sotheby's. By adding her own twist to chestnut roasters made by master potter Antonio Pereira, she sought to explore the concept of the ritual.
As for Liam Lee's lumpy felted merino wool and cedar creation, it's inspired not by alien life forms, but by microbes and seed pods. The New York-based designer focuses on exploring the boundaries between man-made and natural to create one-of-a-kind textile works.
INFORMATION
The Wallpaper* Design Awards 2022 feature in the February 2022 issue of Wallpaper*. Subscribe today! (opens in new tab)
Léa Teuscher is a Sub-Editor at Wallpaper*. A former travel writer and production editor, she joined the magazine over a decade ago, and has been sprucing up copy and attempting to write clever headlines ever since. Having spent her childhood hopping between continents and cultures, she's a fan of all things travel, art and architecture. She has written three Wallpaper* City Guides on Geneva, Strasbourg and Basel.