Best metal morphosis: aluminium and steel designs from the Wallpaper* Design Awards
Alchemist designers transform aluminium and steel into gold-standard splendour: discover the best metal designs from the Wallpaper* Design Awards 2022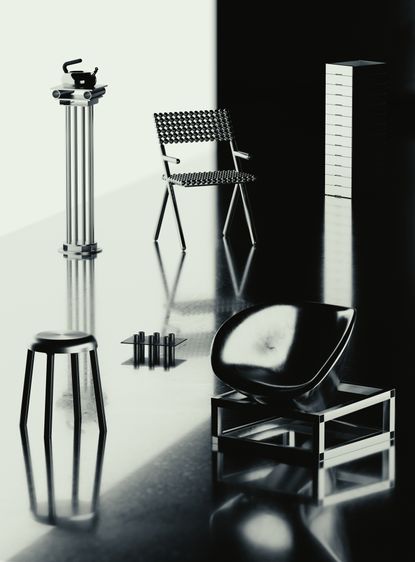 (Image credit: Artwork: Tom Hancocks. Interiors: Olly Mason)
Lightweight, super strong, durable and almost endlessly recyclable, aluminium is a designer's dream material. We were particularly enamoured with Naoto Fukasawa's 'Za' stools for American furniture brand Emeco. Named after the Japanese word that means 'place to sit', 'Za' is a series of simple yet timeless seats, available in three heights. Handcrafted from recycled aluminium in a range of muted colours, they can be used just about anywhere, both indoors and outdoors (as the brand exemplifies at its recently opened Venice Beach house).
Dutch design studio Joachim-Morineau took inspiration from temples and monuments in Rome's Parco Archeologico del Colosseo and put aluminium on a pedestal. Created from sheets and tubes of industrial aluminium, 'Tholos', 'Pteron' and 'Metope' are columns that can serve as pedestals to display your favourite objects or plants.
Elsewhere, Scottish-Swedish designer Nick Ross turned to the post-and-lintel system used in ancient Greek, Indian and Egyptian architecture for his aluminium candleholders; CP-RV created some highly versatile aluminium stackable storage boxes, for Lisbon-based design brand Util, inspired by the crates traditionally used for the transport of fruit and vegetables; while Paris-based design studio Waiting for Ideas was motivated by the motor industry to create its unique aluminium 'No Seat Belt Required' chair sporting harmonious curves and sharp angles, much like the body of a modern automobile.
Designers also love working with sleek, versatile, corrosion-resistant stainless steel. Bahraini outfit Shepherd Studio's deliciously tactile and shiny 'Tila' chair (which made its debut at the Dubai Expo's Bahrain Pavilion) is composed of 210 stainless steel spheres, and borrowed its conceptual and aesthetic language from a traditional Arabic folk game, using the communal nature of the game and its components as a metaphor for density.
Meanwhile, at the end of 2021, to celebrate the centenary of its founding, Alessi president Alberto Alessi launched a year-long project to pay tribute to the design masters he has worked with over the years, unveiling every month either a never-before-released design or a novel version of an Alessi classic. Among these creations is the previously unreleased 'Bulbul' kettle, designed in 1995 by Achille Castiglioni, who, inspired by curling stones, moulded stainless steel into a playfully bulbous object. All are metal winners in our book.
INFORMATION
The Wallpaper* Design Awards 2022 feature in the February 2022 issue of Wallpaper*. Subscribe today!