At Home With Naoto Fukasawa
In our ongoing profile series, we find out what designers are making, what's making them tick, and the moments that made them. Japanese designer Naoto Fukasawa tells us about his striking new live-work atelier in Tokyo and his ethos of not only designing objects, but an integrated atmosphere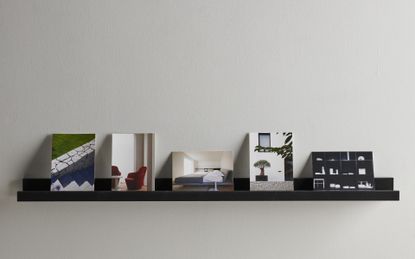 (Image credit: Naoto Fukasawa)
As one of the world's leading design thinkers today, Japanese designer Naoto Fukasawa simplifies the way we live, overseeing products and furniture embedded with an inherent humanistic value bearing timelessness and longevity.
From Muji to Alessi and B&B Italia, there's a high chance you already own one of Fukasawa's designs, yet he is uninterested in any eponymous recognition. For him, a design succeeds when there is a reaction responding to uninhibited human behaviour. It's no wonder then that his human-first approach initially began in microelectronics, leading to design consulting at Ideo San Francisco and Tokyo, and extended to the establishment of his own studio designing products for Artemide and Samsung, to retail interiors for Issey Miyake and TG.
Now with an undeniably illustrious product and industrial design career, his next focus is on creating a fully-integrated atmosphere as complete lifestyle, starting with his own recently-complete atelier in Tokyo. As a live-work building nestled in a quiet residential suburb, everything inside — including the structure — has been designed by him. From glassware to seating and even meticulously down to window panes, providing an all-encompassing environment lending to his own inspiration where he starts his mornings.
We sat down with the Japanese designer in his new atelier in Tokyo to speak with him on integrated design thinking, his latest release with Panasonic, and his most recent establishment of The Design Science Foundation, an external arm of his practice for experimental projects and critical thinking.
At home with Naoto Fukasawa
Wallpaper*: Hi Naoto, can you describe where we are right now?
Naoto Fukasawa: We are here in my new Tokyo atelier. These past two years without travel allowed me to focus and design my own space for working and living. It is completely designed by me, working together with [Japanese construction company] Takenaka. We had seventy meetings over the course of two years just discussing all of the details.
NF: Yes, such as these chairs we are now sitting on — Hiroshima Lounge Chair — that I designed for maruni. It was initially made for the domestic market focussing on the living environment, but after a few years Apple Park also ordered more than five thousand chairs. This here is in walnut, but the most popular one is in oak, and can include leather and fabric cushioning.
NF: In the morning I have an espresso or cafe latte in bed. I sleep on the bed I designed [Siena, B&B Italia, 2007] that has a headboard leaning back, responding to our natural behaviour. It can make us comfortable or enable us to do something without immediately falling asleep. Even if we are thinking or being still in bed, it's still a good position to be in.
NF: I mostly invite guests over in the late-afternoon, serving champagne or prosecco or wine with finger food. For those who already know me well, they just bring the wine themselves for an aperitivo together. In Japan, aperitivo is not really common but here in my atelier, we have it often. It's a very nice time, especially before sunset.
Every year Alessi's owner [Alberto Alessi] sends me wine from his own vineyard, in a bottle designed by Leonardo da Vinci. I've visited Alberto's winery and home designed by Alessandro Mendini, and we cooked pasta together in his kitchen with the pot and pan I designed. So for me, designing a project together and talking and drinking with each other is all integrated, rather than being just a business meeting. That is the life I wanted to create here at my atelier too.
RELATED STORY
NF: In the first half of my career I focussed on shape and form-making like [Isamu] Noguchi, but now I am more focussed on the medium, meaning the ambience and atmosphere. I've designed every object centred on substance, and now I'm more focussed not only on one object, but on the ambience and creating a fully integrated space.
NF: Usually when I look back I still feel "my product was right", because from the beginning I always focus on the relationship between the object and the person. If someone is naturally sensing and touching [a design] then I know it is right.
I'm not thinking from the form or shape or a trend, or on the differences of a culture or country, but rather I focus on behaviour. Without consciousness, human behaviour is still all the same. Feeling happy is not under a culture or history. Of course the relationship between us and the environment should be integrated, but still be focused on humans.
NF: The Aman resorts are my most admired place to be, as they have combined total harmony with integrated service and atmosphere. I'd like to make a world like that too, whilst connecting nature too.
NF: A gardener, or sushi chef. The process of both is very simple with a high quality that inspires people's happiness. Even for the maker himself as well!
NF: I have just designed a new kitchen island with Panasonic called Caresa. Before, a kitchen was commonly the name of a room but this is kind of a kitchen counter or island, it's more flexible in use. Many people get together and start drinking, eating or talking. It's one of the main reasons we made this atelier too, so at the end of the day people can already get together and start drinking!
NF: I am interested in the science of design. Science and design appear to have the same goal, but the process of reaching that goal is quite different. When it comes to science, I am particularly interested in ecology. Ecology and psychology can accurately describe the human body and the environment, while design can intuitively tell us what to do.
It is interesting to see the synthesis of these elements reaching its goal in today's complex world, and that these scientific rationale and considerations are in sync with what design and art are trying to achieve. I created The Design Science Foundation with the hope that by bringing both together, we can create an emergence. I hope it will be an interesting catalyst.
INFORMATION