Wabi savvy: Antwerp aesthete Axel Vervoordt has built an ever-expanding empire on art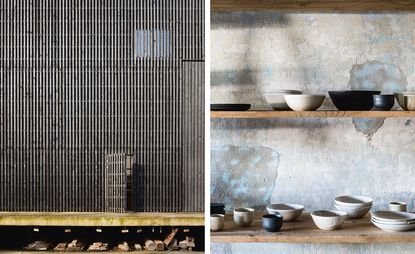 (Image credit: Jan Liégois)
Axel Vervoordt has just returned from a morning ride on his prize stallion Raio, whose giant portrait by Belgian artist Michaël Borremans hangs in the hallway of his medieval castle. It has been a particularly pleasant outing on this gloriously crisp morning and he stopped for a while at one of the ponds on the 62-acre estate. 'The sun was rising and it was very meditative,' he says, throwing open the windows to allow a rush of cold air in.

We are in the 'Wabi room', a Japanese-inspired tokonoma of rustic beams, plain wooden floorboards and rough walls. Vervoordt - an art dealer, collector and interior designer - has spent 20 years developing his version of wabi-sabi, the Japanese philosophy that finds beauty in nature, imperfection and humility. It's just one of his passions, which spans centuries and cultures, and range from art from the Zero and Gutai movements, pre-Columbian artefacts, midcentury furniture and contemporary architecture. His own, Westernised version of wabi features peeling paint, bare boards, distressed plaster walls, muted colours. 'It looks poor but it's very costly. It's the opposite of what most people want, which is something that looks expensive but is cheap,' he chuckles.

Most people, maybe, but most people aren't Vervoordt's clients. Last year, he created a wabi-sabi penthouse in Greenwich Village for Robert de Niro, while Brad Pitt, Kanye West and Calvin Klein have all visited his home. From the all-white altar room to the parlour filled with poor-man's Ming porcelain, every room at Kasteel van 's-Gravenwezel offers its own mise en scene, making it a sort of modern day Hearst Castle minus the ostentation. Rodman Primack, executive director of Design Miami recalls visiting and wanting 'to hide in a wardrobe and stay there forever'. So vast is the castle (50 rooms) and so full of carefully constructed emptiness, you could imagine roaming unnoticed for weeks, living in splendid isolation like the ancient aristocratic lady from whom Vervoordt bought the place in 1984.
The castle is reserved for Vervoordt's private pursuits, which stretch from impromptu art 'happenings' to classical concerts and fundraisers, while the real business takes place at Kanaal, a former gin distillery on the eastern outskirts of Antwerp. Here, a staff of 100 works in offices, ateliers, warehouses and showrooms, restoring, archiving and shipping some of Vervoordt's 14,000 objects. Vervoordt and his eldest son Boris buy around 200 pieces a month and hundreds of solid oak tables are stacked in corridors awaiting restoration, alongside carriage lamps, marble fire surrounds, and stack upon stack of broken Le Corbusier chairs from Chandigarh.

Like the castle, Kanaal is a decorator's paradise; in room after room, postwar art from the likes of Antoni Tàpies, Lucio Fontana and Günther Uecker sits alongside ancient Greek torsos, Japanese pots filled with apple blossom and €30,000 cupboards made of burnt poplar taken from the estate. Vervoordt has an atelier in the castle grounds where he designs and makes furniture, and his 3m-long sofas hint at the scale of his projects. 'I have many very important clients but also those with a limited budget, which brings me back to normal,' he says, running his hands over a 10m-long oak table that has giant weights attached to its corners to straighten out the warp. 'I don't like the bourgeois look or minimalism. For me, it's about warmth and objects that get better with age.'

In the staff café, a resident chef serves organic produce grown in the kitchen gardens at the castle, and Vervoordt's wife May is having lunch. She's just back from an Ayurvedic retreat in India and is heading upstairs to the fabric studio where her husband's oversized sofas and beefy armchairs are upholstered in nubbly Belgian linens and natural cottons. Container ships crawl along the Albert Canal outside and next to it a new gallery, a roof garden and the Axel and May Vervoordt Foundation is under construction.

When it opens at the end of 2017, the foundation will complete the transformation of Kanaal into a fully fledged 'art community'. Vervoordt's youngest son Dick is masterminding the development, which includes 99 apartments, artisanal food outlets, public gardens, a fitness centre and an auditorium. He's working alongside three Belgian-based practices, Stéphane Beel, Coussée & Goris and Bogdan & Van Broeck, whose soft contemporary style appeals to his father. So far, 70 apartments have been sold and 30 are finished. They start at €430,000 for a 130 sq m shell minus kitchen and bathroom, and the four penthouses have all been sold for an undisclosed sum. Those seeking the Vervoordt lifestyle can order everything from original Fontana canvases right down to the toilet brush holders.

It's brand building on an epic scale and it's hard to love the surrounding neighbourhood, but whatever the risks, the family has a proven track record in property development. Vervoordt's mother restored many of Antwerp's old baroque buildings and his father was a horse trader who exposed his son to negotiations from a young age. When Vervoordt and May married in 1972, they bought, bit by bit, the 16th-century alley of Vlaeykensgang in the city centre. At one end is a plinth on which stands an artwork commissioned by Vervoordt; at the other is the gallery and Boris' house, which he describes as 'Antwerp baroque with a modern twist. It has a wabi bedroom and a contemporary rustic sitting room. You could say I have the Vervoordt style!'

Opposite Boris' house is the Axel Vervoordt Gallery. A former bakery, it features an ancient bread oven, a small courtyard and a few works by the late Japanese Gutai artist Ryuji Tanaka. 'If Axel had curated this show, he would have dressed the space with a table, some pots, accessories,' explains the gallery's head of press. 'Boris took the decision to show just art.' 'The gallery was a natural progression,' Boris explains. 'When we started putting paintings and objects together a few years ago, it made sense to give the art its own platform, and to promote artists such as Dominique Stroobant and Tàpies, my father's friends.' Next year, the gallery will relocate to Kanaal. Boris also oversees the sister gallery that opened last year in Hong Kong. Both spaces focus on artists from the 1980s and 1990s as well as Vervoordt senior's works.
This year, the gallery attended the Masterpiece fair in London for the first time. 'It's a design audience so we presented our "total look" and "action" painters such as Niki de Saint Phalle and Shozo Shimamoto,' says Boris. These days, Vervoordt's appearances at fairs are fleeting and popular; he's surrounded by a circle of admirers, while Boris is on hand, talking to collectors he has known since he was a baby. Such is the buzz around famille Vervoordt, that Masterpiece CEO Nazy Vassegh did everything she could to get them involved. 'Axel collects across the centuries, which encapsulates the ethos of the fair,' she says. 'He has the ability to juxtapose old and new in a way that creates something fresh and exciting. The ancient becomes suddenly modern and the modern becomes somehow grounded in a historical and aesthetic context.'

Back in Kanaal at the fledgling foundation, the same eclecticism is at play. Works by eight artists, Conrad Shawcross and Marina Abramovich among them, currently occupy the silos, but these will change over time and make way for other sound and video works. Anish Kapoor's At the Edge of The World is a permanent fixture, housed on its own in a circular building originally used for grinding and sifting malt. A separate building designed by Vervoordt's pal and wabi collaborator, architect Tatsuro Miki, will house further pieces from the 700-strong collection, and a new auditorium will cater to performance pieces and Inspiratum, Vervoordt's non-profit outfit that organises musical evenings to raise funds for young musicians. 'I was slow to like video art, which was a pity,' says Vervoordt, 'and I still don't like it when it demands a screen the size of a TV, as I don't like TVs. I always try to steer clients away from them, but I know they retro-fit them when I've gone.'

With his sons in charge of real estate and sales, Vervoordt now spends more time on loftier ambitions. Each Venice Biennale, he holds a blockbuster exhibition at Palazzo Fortuny with an esoteric theme (for 2017, it's Intuition) and, closer to home, he's beating the path of interior design as a route to enlightenment. He's working on plans to build a wabi village in the castle grounds. It will consist of 23 villas, each for sale and there won't be any lettings. 'I only want high quality people,' he explains unapologetically. And with that he sweeps downstairs to welcome a collaborator who's just arrived from Mumbai.

As originally featured in the November 2016 issue of Wallpaper* (W*212)
INFORMATION
For more information, visit the Axel Vervoodt website (opens in new tab)
Emma O'Kelly is a contributing editor at Wallpaper*. She joined the magazine on issue 4 as news editor and since since then has worked in full and part time roles across many editorial departments. She is a freelance journalist based in London and works for a range of titles from Condé Nast Traveller to The Telegraph. She is currently working on a book about Scandinavian sauna culture and is renovating a mid century house in the Italian Lakes.