Ettore Sottsass' designs go up for auction in Paris this autumn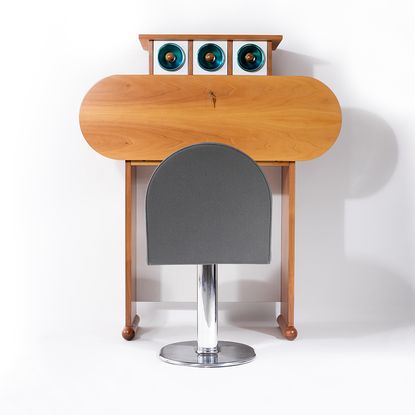 (Image credit: press)
Celebrated for his vibrant and rebellious approach to architecture and design, Ettore Sottsass has re-entered the spotlight in recent years with the revival of postmodernism and embracing of the pattern-clashing ardour of the 1980s, and now a plethora of centennial celebrations (he was born 14 Sept 1917). His highly desirable creations have as much influence on the current design culture as that of yesteryear, and an impressive assortment of 40 Sottsass pieces will go under the hammer on 23 October in Paris, in the 'Repertorio Sottsass' auction organised by Artcurial.

Spread across the 20 lots are a more recent pastel painting of a bedroom scene (2004) and the polychrome enamelled copper 'mod 220' plate (1958), as well as handsome icons like the Sideboard for Poltronova (1959) – a sassy side-step away from modernist minimalism, made from rosewood, lacquered wood and bronze valued at €25,000 - €35,000 – and the elegant 'suspension' hanging light (1957), valued at €50,000 - €70,000.

The retro 1970s 'Poupouf' chairs will rub shoulders with the luxe 'Harlow' chair, the 'Cavaliere' floor lamp (1981) and 'Sapho' cup (1986) – true Memphis joys bursting with colour — will make an appearance, as will a rare silk-screened Murano glass table clock (1965). With estimated prices ranging from €3,000 to €150,000, there is some Sottsass for everyone.

Sottsass's biography was equally as riotous as his beloved design objects and architectural interventions. Ceramics, jewellery, photography, painting, architecture, and interior design were all part of his toolkit by the time Sottsass had established his own design studio in Milan, aged 30.

With routine stints in the United States and India that strongly influenced his design sensibilities, Sottsass heralded such bizarre and later iconic commissions as the first Italian mainframe computer in 1958, and the slick, fire engine red portable typewriter 'Valentine' in 1969.

By the time he founded the Memphis Group in Milan at the end of 1980, christening it with a Bob Dylan tune, Sottsass's reputation as a dissident of design had preceded him. It is no doubt that Artcurial's slices of Sottsass wonderfully energetic world will be recognised by both collectors and makers worldwide in Paris this autumn.
INFORMATION
The 'Sottsass Century' auction is on 23 october 2018. For more information, visit the Artcurial website (opens in new tab)