Who are we buying? An anonymous art and design auction changes the game in Miami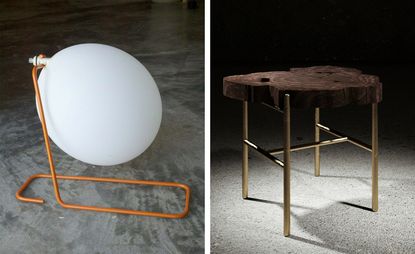 (Image credit: Jorge Pardo, La Metropolitana)
'We expect one thing or are fearful of one thing, and then the opposite happens,' says Alejandra Martinez of the surprises that arise from her Latin American and Mexican non-profit art and design auction, Anónimo (anonymous in Spanish). The sale, that took place during Design Miami last week, hides the name of the artist or designer until after purchase, leaving individuals to buy purely based on their connection to the works.

Anónimo has had a presence in Miami since 2015. 'When we said we wanted to launch in Miami, people thought we were crazy as there are 1000 different events and parties.' It came as a shock when 600 people arrived at the M building in Wynwood on a rainy night for that first edition, and they completely sold out.
Koopte chair and ottoman by La Metropolitana

For the 2018 edition that took place at Faena Forum and was sponsored by Bancredito, curators Ximena Caminos and Zoe Lukov included design for the very first time. 'It all started at Ximena's house,' explains Martinez. 'She has a temple of design aesthetics. Its exquisite, yet risky and fun, but still extremely elegant.'

Taking this eclectic approach they chose a rich mix of furniture pieces for the sale that included Jorge Pardo lamps, an armchair by 20th-century Mexican architect Pedro Ramirez Vazquez and a table by Studio Job. 'We didn't even think we would sell one design piece,' says Martinez of the sale that generated $260,000 for Faena Art & Blue Lab Preservation Foundation.
RELATED STORY
The Anónimo mission to keep us grounded in what we love and what truly moves us is more important than ever,' comments Alan Faena. This sense of emotion was certainly felt across Faena Forum, where an electrifying auction energy was induced by champagne and a talented beat boxer.

Martinez notes that this energy is usually created by Mexican buyers, but the auction drew in a new crowd this year. 'I think its attracting a lot of new buyers who are intimidated by the formula of the art world, and the intellectual elite. Here they just have to like the piece to buy'.

Anónimo is certainly making collecting much more accessible with this USP which is evident in its expansion. They are transporting to many new locations including Oaxaca in 2019 for a textile edition, and then Desert X in LA in 2021, where they will curate a site-specific installation of one Mexican artist, and funds for this will be raised at the second edition of Frieze LA in 2020. Here they are flipping the idea, so buyers will only know the name of the artist, changing the game yet again.
INFORMATION
Anónimo Oaxaca will take place on 7 March 2019. For more information on all future editions, visit the website (opens in new tab)