The legend of the Ritz: Artcurial Paris announces spring auction curated by Vincent Darré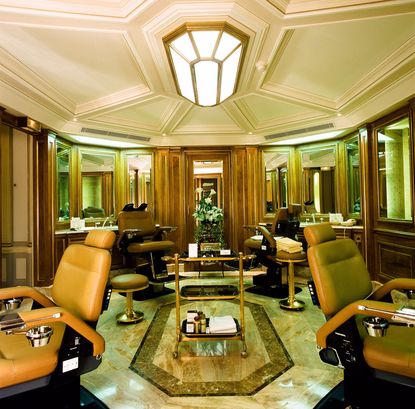 (Image credit: Ritz Archives)
The Ritz in Paris is imbued with a self-propagating mythology. Home to Proust, Hemmingway and Coco Chanel over the years, it has become a microcosm of Parisian decadence.

Following four years of extensive renovations, the famed Ritz hotel reopened its doors to the public in 2016. This refurbishment meant the replacement of much of the furniture, and now, two years later, you can get your hands on a gilded piece of its decadent history. Comprising over 10,000 pieces divided into 3,500 lots, the sale includes delicate china and glassware adorned with Ritz insignia, as well as Regency-style lanterns and four-poster beds.
Curated by Vincent Darré, the self-proclaimed Dandy whose rather fabulous trajectory has seen him pass through the most prestigious fashion houses —Yves Saint Laurent, Prada, Fendi — before launching his career as an interior furniture designer and creator of decorative objects, this monumental sale is preceded by a large-scale exhibition at Artcurial's Hôtel Marcel Dassault.

Assuredly preferring to refer to his role as that of a Stage Director rather than a curator, Darré has individually selected each piece from the Ritz's archives, actively entering into the aura of mythologisation that the hotel exudes. 'I let my imagination run free with this project,' says Darré, 'I conceived of it like one would a film.' While his principal inspiration is 'the way Paris would have been perceived from the other side of the Atlantic by Americans during the 1950s', Darré has also produced a series of watercolour illustrations of each lot, as well as various hand-painted wallpapers which provide thematic Cocteau-esque backdrops to each suite of the exhibition.

Highlights include a pair of crescent-shaped ochre velvet bar sofas from the Ritz bar; a pair of gilt metal single beds; a set of rosewood bar stools; a marble-topped regency-style desk from the Proust suite; a gilt metal floor lamp and a gilded wooden Louis XV-style writing desk topped with marble.
INFORMATION
'Once upon a time… The Ritz Paris' is on view from 12-16 April, and will be followed by five consecutive auctions taking place at Artcurial from 17-21 April. For more information, visit the Artcurial website (opens in new tab)
ADDRESS
Hôtel Marcel Dassault
7 Rond-point des Champs-Elysées
75008 Paris
VIEW GOOGLE MAPS (opens in new tab)