Fendi celebrates a decade of Design Miami with a series of fountains by Sabine Marcelis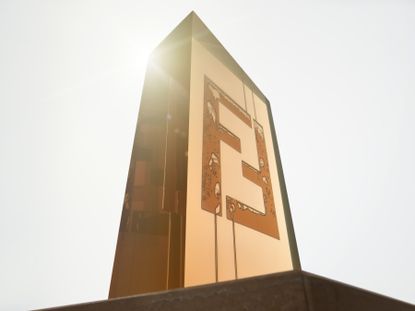 (Image credit: Qui Yang)
Water, one of the most essential elements of life – has long been a central creative feature for Fendi. Some 40 years ago, the house found inspiration in the waters in Rome, producing Histoire d'Eau, the first film in the history of fashion, to present its inaugural ready-to-wear collection for women through a young model traversing the fountains of Rome. Now, Fendi is continuing its fascination with the theme; this time by commissioning Dutch designer Sabine Marcelis to create a series of installations during Design Miami that also take their inspiration from the Italian capital's fountains.
Marcelis came to the design world's attention with her luminous masterpieces in glass and resin, which she manipulates in such a way as to create the similar fluid quality of water. 'Water is such an interesting material because of its changing state of shape and appearance,' she says. 'It's such a luxurious thing as well; it's much undervalued and I think it's nice to showcase its beauty in a luxurious manner like this.'
This body of new work, 'The Shapes of Water', will be presented at Design Miami in December to mark the 10th anniversary of Fendi's collaboration with the design fair.

Female designers have been something of a rarity in the field of high design, yet Fendi has collaborated with a number of them, including Maria Pergay, Cristina Celestino and Chiara Andreatti. Silvia Venturini Fendi, heir to the furrier and leather goods company, who is responsible for commissioning the intallations says, 'Over these 10 years, I have noted that women designers pay more attention to the context while men focus on the one-of-a-kind piece.'
The fountain theme has particular resonance for Fendi. In 2013, the fashion house set up the Fendi for Fountains initiative to restore the famous Trevi Fountain and several others as part of its commitment to Rome and its culture. Marcelis has created ten travertine-mounted, cast-resin fountains incorporating water, each of which represents a Fendi icon. 'When I went to the headquarters to see the atelier,' says Marcelis, 'the precision and care applied to create the designs was very impressive. And I think because I'm so interested in production processes and the use of materials, it was very interesting to see how Fendi also has the same love and care for craft and materials.'
The exhibition is designed as a discrete space for visitors to explore, where one hears just the water and can observe the movements up close. Some of the fountains are quiet; others – which contain pumps to propel the water upwards — are louder. And the designer has choreographed them in such a way that as one walks through the space these differences are noticeable, giving the installation both visual and acoustic qualities. The serene simplicity of the fountains is deceptive, however; a complex mechanism provides the magic unseen. §
Read more about 'The Shapes of Water' project in the current December 2018 issue of Wallpaper* (W*237)
INFORMATION
'The Shapes of Water' is on view at Design Miami from 5-9 December. For more information, visit the Fendi website, Sabine Marcelis website and the Design Miami website
Yoko Choy is the China editor at Wallpaper* magazine, where she has contributed for over a decade. Her work has also been featured in numerous Chinese and international publications. As a creative and communications consultant, Yoko has worked with renowned institutions such as Art Basel and Beijing Design Week, as well as brands such as Hermès and Assouline. With dual bases in Hong Kong and Amsterdam, Yoko is an active participant in design awards judging panels and conferences, where she shares her mission of promoting cross-cultural exchange and translating insights from both the Eastern and Western worlds into a common creative language. Yoko is currently working on several exciting projects, including a sustainable lifestyle concept and a book on Chinese contemporary design.