Over 150 Ettore Sottsass ceramics go on view at Phillips in London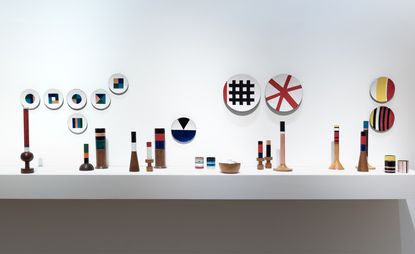 (Image credit: Phillips Rui Cravo)
Over 20 years before founding Memphis in 1980 – the subversive Italian design and architecture group that spearheaded a movement against the rigid rules of modernism – a young Ettore Sottsass was already experimenting with the radical design language that would later become his legacy. Created between 1955 and 1970, these artisanal experiments in form and colour were realised in ceramic and enamel – a medium that the designer returned to over and over throughout his 60-year career.
Over 150 of the works that Sottsass created during this early period are now assembled at Phillips' London galleries on Berkeley Square in a non-selling exhibition titled 'Ettore Sottsass: Fragile'.
'There has never been an exhibition of Sottsass's ceramics like this one,' says French architect and avid Sottsass collector Charles Zana, who co-curated the exhibition with historian Fulvio Ferrari. 'We want to show people this fantastic saga.'
The collections on show, Zana informs, were largely produced over a ten-year period by small artisanal workshops such as Bitossi for Milanese gallery Il Sestante. For Sottsass, the pieces were created purely as a creative outlet with very few actually being sold at the time of their production.
'Maybe some were given to friends and intellectuals in Milan, but they were very unconventional for their time,' remarks Zana, who says that Sottsass produced around ten collections over ten years for the gallery. 'That's why I find it so remarkable that this young architect managed to convince the best ceramic company to produce them. I am always interested in people who were not commercially successful in their time,' he adds.
Zana has been collecting Sotsass's works for around 20 years and estimates that he has around 50 of the designer's pieces in his personal collection, although he hasn't ever counted.
'Every collection has something to say about Sottsass – he created them as an artist not an architect,' he enthuses. 'This is why these years were so incredibly rich.'
Starting from 1955 the pieces show that even in the beginning the designer was pushing boundaries. Between 1957 and 1959 he produced Ceramiche di lava – a series of around 30 pleasingly tactile pieces with rough surfaces made from lava – according to Zana he was the first artist to do so. From here he abandoned the material entirely and switched direction.
'This is what makes the way he worked so interesting. It's a very modern way to think,' comments Zana. 'Each year the collections were very different.'
In Sottsass's work from the early 1960s we start to see the emergence of the black and white grid that became a signature trademark for the designer. This pattern, Zana says, was influenced by his upbringing in the Italian Tyrol and the influence of Austrian designers such as Josef Hoffman and the artists of the Wiener Werkstätte.
The large-scale totems that Sottsass produced in 1967 for Enzo Sperone Gallery in Milan are perhaps some of his most recognisable works. Zana says that despite their cheerful appearance, these colourful stacked forms were actually inspired by the cocktail of pills he was prescribed during a stay at a treatment centre in Palo Alto when suffering from nephritis. It was at this time during his illness that he also dreamt up the Ceramic of Darkness collection, with its hallucinogenic sun and moon symbolism. Meanwhile the Yantra series from 1969 references the designer's ongoing fascination with Tantric art and Indian culture.
'Sottsass was someone that could be dark,' explains Zana. 'He was always working with old materials, simple form, very basic colour and was inspired by ancient culture, but at the same time his work was very modern – I'm very moved by that.
With his encyclopaedic knowledge, Zana's stories bring the collections to life, yet at the Phillips exhibition, the ceramics are left to speak for themselves – a missed opportunity perhaps. Presented in groups across the space, these miniature ceramic skylines illustrate the designer's unique and experimental aesthetic while serving as a reminder that there was much more to the man than Memphis.
To coincide with the opening this week, Zana also celebrates the launch of his book, Charles Zana: The Art of Interiors, published by Rizzoli, and the launch of a series of furniture pieces with London gallery The Invisible Collection. Pieces are on show at the brand's discreet Belgravia townhouse showroom until 12 April.
INFORMATION
'Ettore Sottsass: Fragile' is on view until 15 February. For more information, visit the Phillips website (opens in new tab)
ADDRESS
30 Berkeley Square
London
VIEW GOOGLE MAPS (opens in new tab)