Meet the next generation of creative forces reshaping Chinese design topography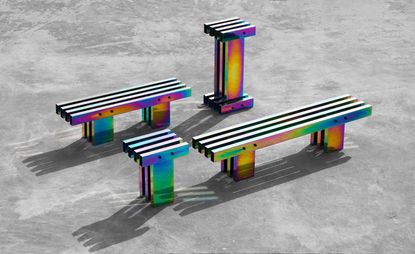 (Image credit: press)
Last year, we introduced nine burgeoning Chinese designers and brands, including Furong Chen, Ximi Li, Zhoujie Zhang, that we discovered at Design Shanghai, China's most sought-after design fair. During this year's edition (6-9 March), we uncovered six more emerging names to look out for.

Between them, they are evolving the Chinese design landscape in a number of crucial ways: by addressing sustainability through exploring new materials; up-cycling and slow manufacturing; using technology to enhance everyday experiences; adapting and transforming traditional craftsmanship to contemporary life; and revolutionising Chinese manufacturing...
Defront was set up in 2014 by two UK-based Chinese designers Jingzi Pan and Danyang Fu, who had worked for major companies including Bentley and Johnson & Johnson, and both attended Microsoft Cambridge research centre. The brand collaborates with designers, inventors, technologists and social workers across eastern and western cultures. Three years ago, Defront started a Kickstarter campaign for one of its first landmark designs, the 'Hei' Teaset, designed to revive China's tea ceremony tradition. Following that is 'Lumia' (pictured), an adjustable table lamp with a clever brightness function that creates a balance between tactile and intuitive experiences. This year, it launched a scent diffuser called 'Triple-X'; the design allows users to control the density of essential oil that evaporates into the air by altering the speed of the fan.
Founded in the Guangdong province in 2010, Mumoon is a brand built on more than 20 years of production and manufacturing. The collection started with designers from abroad but this year it turned to its homeland launching its first collection with Hangzhou-based Mario Tsai. The locally educated designer started his studio in 2014 and since then has worked with Chinese brands like Shang Xia, ZaoZuo and international firms including Ferm Living and Woud.

The lighting fixture series 'HOLD' (pictured) comprises four ready-made components that can be multiplied and composited indefinitely into ambient chandeliers, floor lamps, table lamps or wall lamps. This also solves the comprehensive problems of packaging and transportation, thus making it a greener product. The collection will also be part of the designer's solo exhibition in April at this year's Milan Design Week.
Xiamen-based Nanchow was founded in 2012 and relies on traditional methods in its entire production process. The special patterns and colours of the tiles are all handmade with cement, sands and mineral pigment, providing a low-energy and environmentally-friendly product. The waste from the manufacturing process has been developed into the 'Re-tile' accessory collection, which includes paperweights, magnets and bookends (pictured). The brand also collaborates with artists and uses new materials and techniques to improve the quality and aesthetic value of this craftsmanship. At the fair they lanched 'NA0010,' a collaboration between Nanchow's chief designer Lin Yuming and artist Jiang Cheng.
Founded only last year by the Qiu twin brothers Simin and Sitao, Qiu Design is a multidisciplinary studio based in Shanghai. Graduating respectively as a product designer (Simin) from the Royal College of Art and a graphic designer (Sitao) from Central Saint Martins, between them they worked for international design firms like Samuel Wilkinson and Neri & Hu and served Chinese clients such as Huawei and Ant Financial before launching the studio together.

For their debut at Design Shanghai, they present the 'Rattan' collection (pictured) that is made traditionally: colours and patterns are added manually to the machine-waved octagonal cane webbing. The series of home furniture comprises a chair, stool, wall shelf, cabinet, desk and small accessories, and the design takes advantage of the flexibility and strength of the material itself so that it can be used structurally as well as decoratively. All prototypes are handcrafted in Foshan, where most of the rattan suppliers in China reside.
Featured in last year's picks from the fair, Tang Mode is the new concept developed by Tells Studio. Founders Xinyu Dang and Jie He continue their research in traditional crafts and local materials, and the balance between creativity and functionality. This time the subject turns to Yixing clay, a type of clay found near the city of Yixing in Jiangsu Province and used in pottery since the Song dynasty (960–1279). The finished stoneware has a purple-red-brown hue, and thus the material is also commonly known as purple clay. It is regarded as old-fashioned, but the studio aims to revive its beauty by creating contemporary items such as a water pitcher, container, oil pourer etc. At the same time, it hopes to show a young generation how the material improves as it ages, from its rough grainy texture when new to its gentle transformation into a smooth, shiny item – think of it as turning from stone to jade.
Established in 2017 as a subsidiary of Bentu design studio, Buzao experiments with new materials through design and manufacturing processes. This year the brand launched two collections in the fair's inaugural New Materials & Applications Design Hall. One of these is the 'Hot' collection (pictured) that takes advantage of the uneven distribution of positive and negative electrons in electroplated stainless steel to create random rainbow-hued patterns in a palette of psychedelic colours.
INFORMATION
For more information, visit the Design Shanghai website
Receive our daily digest of inspiration, escapism and design stories from around the world direct to your inbox
Yoko Choy is the China editor at Wallpaper* magazine, where she has contributed for over a decade. Her work has also been featured in numerous Chinese and international publications. As a creative and communications consultant, Yoko has worked with renowned institutions such as Art Basel and Beijing Design Week, as well as brands such as Hermès and Assouline. With dual bases in Hong Kong and Amsterdam, Yoko is an active participant in design awards judging panels and conferences, where she shares her mission of promoting cross-cultural exchange and translating insights from both the Eastern and Western worlds into a common creative language. Yoko is currently working on several exciting projects, including a sustainable lifestyle concept and a book on Chinese contemporary design.