Top 9 Chinese designers at Design Shanghai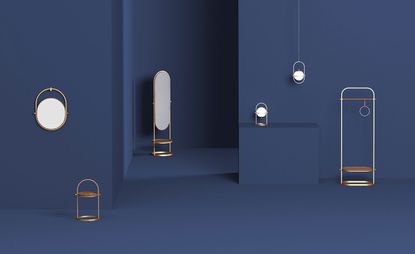 (Image credit: Urban Craft Design)
Now in its fifth edition, Design Shanghai (14-17 March) has established itself as the go-to exhibition for talents rooted in the heart of Oriental culture. Held in the Shanghai Exhibition Centre in the upscale city centre, it welcomes brands and designers from around the world to gather and showcase their creativity. Contemporary Chinese design is evolving, and Chinese elements are seen, not merely at the edges but in the nation's core values – social and environmental – creating a lifestyle that facilitates and enhances its modern urban life. Here, we select our new talent highlights...

Wuu (opens in new tab)
Furong Chen started the brand WUU in 2014 and a year later won Design Shanghai's China Emerging Chinese Designer Award. Dedicated to furniture, lighting and accessories design, Chen aims to produce timeless pieces in materials that focus on sustainability.
Jihe Studio (opens in new tab)

Tony Lee's Shenzhen studio focuses on developing products for the home that are influenced by lines and clean surfaces with a strong minimalist aesthetic. One of his most important designs is Wait, a simple but versatile geometrical floor lamp.

Frank Chou Design Studio (opens in new tab)
Frank Chou Design Studio seeks to find a unique, modern expression of Chinese design while balancing the stylistic differences between East and West.
8 Hour Design (opens in new tab)
Designer, brand founder, businesswoman and mother, Sherry Xu aims to use design to balance work with the other aspects of one's life. Born and trained in Shanghai, her ideas are mostly based on the city.

Endless Form (opens in new tab)
Founded by Zhang Zhoujie in 2014 and formally launched this year, Endless Form focuses on avant-garde, computer-aided designs while providing customisation services to shape and promote a new direction in the digital era.
Tells Studio (opens in new tab)

Tells studio was founded by Xinyu Dang and Jie He in 2015. Basing their work on craft and material research, the studio aims to balance the relationship between creativity and functionalism.
Zao Zuo (opens in new tab)
The brand caters to the rapidly growing Chinese middle class, offering furniture and lifestyle products manufactured in the country. Founder Shu Wei and Italian creative director Luca Nichetto this year launched their collaboration with China-based Japanese architect Shuhei Aoyama and French designer Noé Duchaufour-Lawrance.
Ey-products (opens in new tab)
Raffles Design Institute interior design graduates Jerry Huang and Eva Zhou co-founded Dongwest Design Studio in 2007, specialising in interior, exhibition and furniture design services. In 2010, they established the brand E-Y (which sounds like 'surprise' in Chinese) creating products, that aim to surprise.

Urban Craft Design (opens in new tab)
Founded by Ximi Li, Urban Craft seeks to integrate unique cultural elements of different regions around the world into its works. Li, who studied in China and Italy has worked for designers including Andrea Branzi, Luca Trazzi and Neri & Hu. (opens in new tab)
INFORMATION
Design Shanghai is on view from 14-17 March. For more information, visit the website (opens in new tab)
Yoko Choy is the China editor at Wallpaper* magazine, where she has contributed for over a decade. Her work has also been featured in numerous Chinese and international publications. As a creative and communications consultant, Yoko has worked with renowned institutions such as Art Basel and Beijing Design Week, as well as brands such as Hermès and Assouline. With dual bases in Hong Kong and Amsterdam, Yoko is an active participant in design awards judging panels and conferences, where she shares her mission of promoting cross-cultural exchange and translating insights from both the Eastern and Western worlds into a common creative language. Yoko is currently working on several exciting projects, including a sustainable lifestyle concept and a book on Chinese contemporary design.