Prague celebrates its global creative identity at Designblok 2018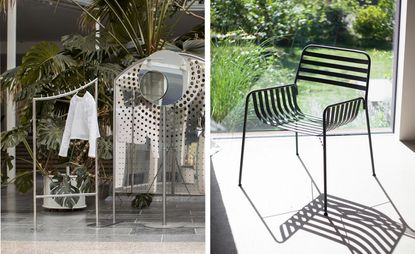 (Image credit: TBC)
There was an aura of celebration across Prague this past week. Not only is the capital celebrating 100 years since the formation of Czechoslovakia, but the creative community also joined together for the 20th year of the international festival Designblok. Amidst the cakes and balloons, the mature design show had a strong international presence on the agenda, including special guest Spanish designer Jaime Hayon (who designed a sugar-free birthday treat), a WallpaperSTORE* pop-up and the sixth edition of the annual Diploma Selection exhibition displaying European emerging talent.

The show continues to be a platform for Czech design. 'We believe this is only the beginning,' says Designblok's director Jana Zielinski. 'Designblok is here to showcase the promising future of our country.' Below, we shine light on the most impressive displays that firmly places the historical city on the global design map...
Manifesto at Colloredo-Mansfeld Palace
Set within the baroque surrounds of an 18th-century building, 14 Czech and international designers who have shaped the last 20 years of the festival were invited to showcase installations under the broad title of 'Manifesto'. Lasvit art director Maxim Velčovský realised a maze-like sculpture using 5000 empty gold metal cans inside the Theatre Hall (pictured). Creating strong visual impact juxtaposed against the ornate ceiling and walls, the empty cans are designed to symbolise hedonism in today's society and offer a message of possibilities, alluded to in the title, 'Yes, we can'.
Elsewhere in the location, Jaime Hayon forms a celebratory tiered cake using his designs, while in the room next door, Madrid-based Jorge Penadés, a former winner of the Diploma Selection competition, plays with the idea of contemporary joinery and construction with glass tables and cabinets that use leftover leather straps to connect the glass panes.
Art House at National Museum's Lapidarium building
Art House is Designblok's display of works that teeter between design and art. Located at National Museum's Lapidarium building, contemporary and experimental pieces by the likes of Matteo Cibic, Philippe Cramer (pictured) and Marcin Rusak could be found scattered amongst the impressive statuary from the Gothic era and beyond, introducing a whimsical conversation between the old and new.
Diploma Selection exhibition at Industrial Palace in Výstaviště Praha Holešovice
For the sixth edition of the Diploma Selection awards, 15 European talents got creative with materials. Highlights include projects from Czech graduates, including a hybrid mirror and screen by Monika Fišerová from Czech Technical University and a metal outdoor furniture range by Johana Němečková from Prague's Academy of Arts, Architecture and Design. Innovative material re-use was on view from Central Saint Martins graduate Charlotte Kidger and Maastricht Academy of Fine Arts and Design graduate Alexander Schul; his easy to assemble recycled plastic furniture (pictured) was awarded winner by a jury that included MoMA curator Juliet Kinchin, gallerist Rossana Orlandi and designer Ineke Hans.
Designers by Maria Cristina Didero at Okolo studio
Local creative collective Okolo opened its doors to a satellite exhibition that saw the words of Milan-based curator Maria Cristina Didero given a visual spin. They translated her interviews, articles and curatorial texts into graphic and vibrant 3D posters that expose the narratives behind design stars including Nendo, Snarkitecture, Ron Gilad and more. In addition, Okolo hosted the Czech premier of Didero's film on the Radical Design movement, SuperDesign, directed by Francesco Molteni at the Center for Architecture and Metropolitan Planning (CAMP) that opened last year.
INFORMATION
Designblok was on view 25-29 October. For more information, visit the website (opens in new tab)