How Tokyo's creative universe is evolving at Designart's second edition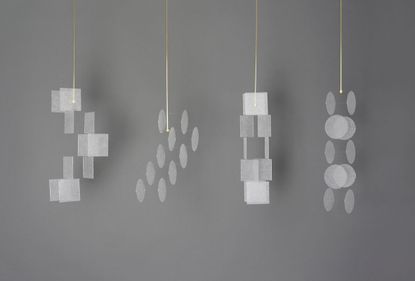 (Image credit: TBC)
Forget creative boundaries: from architecture and design to art and fashion, it's all about mixing it up at Designart Tokyo, which kicks off in the Japanese capital 19 October. The event, which debuted last year, aims to transform the sprawling city, quite literally, into a living creative hub, with more than 100 exhibits – installations, exhibitions, product launches, and parties – scattered across 10 neighbourhoods.

Deliberately timed to overlap with fashion week, Designart Tokyo showcases a roll-call of emerging and established Japanese creative talents alongside well-established international brands (Hay will even be opening its first Tokyo flagship this week).

Akio Aoki of Miru Design – one of six Tokyo creatives behind the event – explains: 'Tokyo is a multifaceted city, with everything from massive state-of-the art buildings to nostalgic alleys. People can walk the streets and unexpectedly find artworks, designers, artists or cafés in a treasure hunt-like thrill.' Another co-founder of the fair, Mark Dytham of Klein Dytham Architecture adds, 'we see the creative world as borderless. Design flows into art, art into fashion, fashion into design. This really reflects the seamless nature of creativity in Tokyo. There have been many design events in Tokyo over the last 20 years, but none were city-wide or on a level with Milan, London or New York. We want to change this and use the city as a stage.' This year's theme is 'Into the emotions,' Here are our highlights...
SUKI lighting at Designart Gallery
A contemporary take on Japanese lanterns, the geometric forms of the SUKI lighting collection are crafted from thin stainless steel wire and superfine washi paper. The collection, by Baku Sakashita of Studio Baku, forms part of a group exhibition at Designart Gallery at Francfranc Forest in Omotesando. Also look out for crow-print furnishings by avant-garde shoe designer Noritaka Tatehana and Italian furniture company Gervasoni, using fabric handcrafted by centuries-old Kyoto company Hosoo.

Aoyama Crystal Building B2F, 3-5-12, Kita-Aoyama, Minato-ku
'timeless' by Makoto Tanijiri at Agnès B.
Rising star architect Makoto Tanijiri of Suppose Design Office showcases another facet of his creativity with a photography exhibition. The collection – called 'timeless' – reflects Tanijiri's photographic musings on the passage of time and is displayed at Agnès B. in Aoyama.

Agnès B. 5-7-25, Minami Aoyama, Mitato-ku
Sou Fujimoto at Canada Goose
He may be an architect renowned for his minimal, conceptual structures – but for Designart Tokyo, Sou Fujimoto has turned his focus towards something a little lighter: feathers. More precisely, Fujimoto has created an abstract installation inspired by down feathers for the Canada Goose flagship store in Harajuku.

Canada Goose, 2 Chome-22-16 Jingumae, Shibuya
Propellaheart at Artless Appointment Gallery
A narrow path running along the railway tracks behind Nakameguro station leads to the discreet, carefully curated confines of Artless Appointment Gallery (just behind Artless Craft Tea & Coffee). Run by designer Shun Kawakami – one of Designart Tokyo's co-founders – the gallery showcases flower installations by creative unit Propellaheart, exploring the boundaries of nature and the digital world.

Artless appointment gallery, 2-45-12, kami-meguro, meguro-ku
'New Generation' at the AXIS Building
A taste of the future of Japanese design can be found at the cult AXIS Building in Roppongi, where the work of four young creators is on display. Look out for bursts of colour in Yuri Himuro's 'Bloom' collection of textile works plus the hanging mobile-style lighting pieces that make up 'Focus', a spatial work by Yuji Okitsu.

AXIS Building, 5 Chome-17-1 Roppongi, Minato
2021#Tokyo Scope at the Avex Headquarters Building
As the Japanese gears up for pre-2020 Olympics frenzy, this installation – created by artist Akira Fujimoto and architect Yuko Nagayama – casts a spotlight on the future of Tokyo. In particular, it aims to explore what lies ahead of the city when the 2020 games come to an end.

Avex Bldg, 3-1-30, Minami-Aoyama, Minato-ku
INFORMATION
Designart Tokyo is open from 19-28 October. For more information, visit the Designart website (opens in new tab)