The world's best coffee shops for design lovers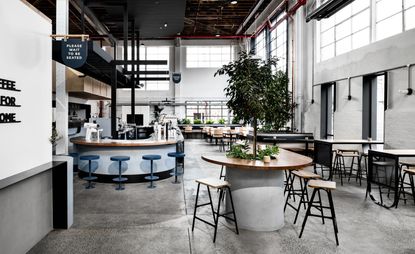 (Image credit: Veneziano Coffee Roasters)
Wallpaper* Newsletter
Receive our daily digest of inspiration, escapism and design stories from around the world direct to your inbox
Thank you for signing up to Wallpaper. You will receive a verification email shortly.
There was a problem. Please refresh the page and try again.
Veneziano Coffee Roasters
Melbourne, Australia

Coffee is serious business at Veneziano Coffee Roasters' new Melbourne flagship.
Caffeine cravers unite – we're filtering down the best coffee shops for design lovers across the world. Featuring experimental twists on big brands in Europe (such as the Starbucks conceptual Coffee Laboratory in Amsterdam), artistically informed spaces in the United States (see the Hirshhorn Museum's Dolcezza Coffee & Gelato) and minimalist modern marvels in the East (Blue Bottle Coffee in Tokyo), our thirst-quenching list will satisfy all your coffee needs, whilst providing an excellent backdrop to whet your palette. Drink it in...
Subscribe to Wallpaper* today and save
Veneziano Coffee Roasters
Melbourne Australia

Housed within a former industrial building, local group Technē Architecture + Interior Design wanted to emphasise the full 'bean to cup' procedure of coffee creation in the space's redesign – now embodied by an open-plan roastery and self-use coffee server. The industrial outpost's metallic palette of blues, bronze, greys and blacks is offset by an interior design akin to a bar. Customers are invited to watch coffee concoction at the central rounded counter, which encourages natural engagement with baristas (as opposed to the rapid turnaround of today's high street caffeine providers).

Writer: Luke Halls.
Coffeebar
Silicon Valley, USA

At the heart of California's Silicon Valley, Coffeebar is a new outlet sorting the Menlo Park community with their caffeine fix. Whilst designing the space, founder Greg Buccheister, Walker Warner Architects and interior design firm Nicolehollis wanted to translate their love for classic Italian coffee shops, but also were keen to add a local spin. Resultantly, a tasteful blend of quiet terrazzo, copper and ash meets a plethora of cycle-centric imagery inside – a nod to the Silicon Valley biking culture – including a bicycle chain chandelier, bicycle enamel paint and metal chain curtains.

Writer: Luke Halls
Coffeebar
Silicon Valley, USA

Visitors can take advantage of coffee roasted on a weekly basis in Reno, Nevada, with milk sourced from local dairy farm Clover Sonoma. If peckish, a food menu comprised of breakfast staples, as well as burritos, baguettes and panini will hit the spot. All of this and more can be enjoyed at a live-edge communal walnut table, or for those seeking a more intimate experience, banquettes accompanied by hightop and copper-top café tables.

Writer: Luke Halls
Cafezal
Milan, Italy

With coffee traditions steeped in history, drinking a caffè in Milan is as much a ritual as it is art. In recent years, however, Italy's design and fashion capital has seen a surge of third wave coffee pioneers rewriting the rulebook. The latest addition to the scene is Cafezal, a newly launched Milanese speciality coffee brand that takes its name from the Portuguese for coffee plantation.

Writer: Jessica-Christin Hametner
Cafezal
Milan, Italy

Set in the city's trendy design district Brera, Cafezal was founded by two Italian-Brazilian friends and engineers who took their inspiration from London's 'third wave of coffee' scene. Offering a fine selection of coffee from the best plantations around the world, the 50 sq m micro- roastery-boutique brews up speciality coffees from Ethiopia to Honduras and beyond. An inky interior is set against black marquina marble and hints of satin copper, devised by Milanese architects Studiopepe who mixed bespoke furnishings with pieces by AYTM and Atelier Areti, ensuring that the stylish backdrop is as trendsetting as Cafezal's daily caffeine fix.

Writer: Jessica-Christin Hametner
Swan Café
Cape Town, South Africa

Evoking a truly Parisian atmosphere and aesthetic is a new addition to Cape Town's blooming creative district, Swan Café. Serving up traditional crêpes, savoury galettes and exclusive tea blends 'steeped in the perfume of Paris', the new crêperie draws on the elegance and grace of the swan as its design focus, fashioned by South African interior and furniture designer Haldane Martin.

Writer: Luke Halls
Swan Café
Cape Town, South Africa

The crêperie conjures up traditional notions of French design and feminine symbolism through bistro furniture pieces, romantic imagery (courtesy of Leonardo da Vinci and Jean-Léon Gérôme's allegories of the ancient Greek tale of Leda and the Swan) and a colour palette directly inspired by the French flag. Elsewhere, copper and brass interior pieces flirt with pink hues and tones, creating a subtly playful environment reinforcing the café's avian concept. Guests are welcomed by a linear seating layout, from which they can watch their tantalising treats come into being from the open-plan kitchen at the front of the café.

Writer: Luke Halls
Pastryology
Port Rashid, Dubai

Dubai's Port Rashid has undergone large-scale redevelopment over the last decade, from commercial shipping port to cruise liner terminal. Greeting guests as they dock to explore the city, Pastryology is a new café by Dutch spatial designer Maja Kozel.
Pastryology
Port Rashid, Dubai

Pastryology was conceptualised for a young Emirati couple serving up specialty food and beverages with a focus on handcrafted deserts. The 92 sq m space occupies two repurposed shipping containers, a throwback to the port's commercial history.

Writer: Luke Halls
Pastryology
Port Rashid, Dubai

The space exudes a comfortable warmth from a colourful palette, incorporating brass, marble and blue and pink pastel hues. A wall mural by Amna al Muhairi accompanies the staircase leading guests to the second floor, where a sprawling window offers views over the port to accompany the treats held inside, like Bitezellas (small chocolate and biscuit treats), Cakelits (individual cakes, such as the social-media friendly No Filter Pistachio) as well as Tartfuls (buttery tarts with a variety of toppings, including Crunchy Pecan and Espresso Rocky Road) – a truly tasteful invite to travellers and returning locals setting foot in Dubai.

Writer: Luke Halls
Bear Market
Dublin, Ireland

Shunning coffee snobbery with the belief that good quality caffeine should be accessible and enjoyable for everyone, Irish coffee house Bear Market has hit its stride with a fourth Dublin outpost, adopting a new space on the city centre's Pembroke Street. Architecture studio Design Urban Architecture (which featured in the 2017 Wallpaper* Architecture Directory) looked at the prohibiting shape and size of the new space as a design opportunity. A curved service bar maximises both customer and serving space, making use of the long and narrow ground floor, accompanied by minimal bare-brick walls and wooden interiors.

Writer: Luke Halls
Bear Market
Dublin, Ireland

Meandering steel tubes wrap around the service counter, flowing upstairs to an elongated steel central table where guests can enjoy Bear Market's own House Blend (made from Colombian and Guatemala Beans), as well as weekly single origin selections chosen from the world's best farms.

Writer: Luke Halls
Noc Coffee Co.
Sheung Wan, Hong Kong

Hong Kong-based design agency Studio Adjective has lent its head for urban storytelling to the new Noc Coffee Co. Located in the Western District, the industrial-feel store occupies a ground level space of a new residential development, and aims at impeccable craftsmanship with personality-filled interiors. The 1,500 sq ft steel and concrete store features airy floor-to-ceiling windows, and long, shared tables ideal for working lunches.

Writer: Elly Parsons
Noc Coffee Co.
Sheung Wan, Hong Kong

Most notable at Noc are the bespoke coffee-themed pictograms that snake across the floor. 'These stylised white floor lines tie up the space,' says Emily Ho and Wilson Lee of Studio Adjective. 'Playful elements like this will become the interior focus, heightening the warehouse feel.' Following the patterns, customers are encouraged to navigate between the bean roasting area, the art-installation-like coffee storage display, and the 7m bar, which acts a stage for the baristas.

Writer: Elly Parsons
Bonanza Roastery Cafe
Berlin, Germany

Artisan Berlin-based coffee roaster Bonanza has broken new ground by expanding its offering and opening the Bonanza Roastery Cafe – a flagship space nestled in a backyard plot off Adalbertstraße in Kreuzberg.

Writer: Sara Sturges
Bonanza Roastery Cafe
Berlin, Germany

A bright, modern space greets visitors on entrance, provided by Dutch interior and furniture design firm Modiste. The star of the show is, of course, the coffee. Bonanza offers up a concise menu of hot and cold drinks brewed from a selection of single delectable origins sourced from Kenya, Panama and Ethiopia.

Writer: Sara Sturges
Bonanza Roastery Cafe
Berlin, Germany

After roasting the beans within a rebuilt 1965 Probat UG-22 drum roaster, the Bonanza blends are brewed and either served either alone or with an ethically sourced milk, to provide patrons with one of the smoothest cappuccinos the city has to offer.

Writer: Sara Sturges
Misto
Prague, Czech Republic

Opened in 2015, the highly anticipated cafe by Doubleshot Roastery has garnered a reputation as one of Prague's finest coffee destinations. Located in the Dejvice neighbourhood, the cafe was converted from a former ground floor apartment.

Writer: Adam Štėch, Elana Wong
Misto
Prague, Czech Republic

The clean lines and flowing spaces of Místo were designed by Edit!, a local architecture and interior design firm, while a colourful mural by up-and-coming illustrator Kateřina Kynclová adds a playful feel to Místo's understated aesthetic.

Writer: Adam Štėch, Elana Wong
Stories
Leeds, UK

Nestled in the vibrant area of Oakwood in North Leeds, Stories is an independent café inspired by Scandinavia in all its forms. Sitting fittingly next to Bang & Olufson, Stories serves up speciality coffee from Origin along with a small menu of locally sourced plates including Smörgås, freshly squeezed juices and baked treats. The Nordic menu and Scandinavian-meets-vintage interior pours attention and love into the café by focusing on sustainability, provenance, seasonality and ethical supply chains, with a story behind everything that is offered. While Stories may adore all things Scandi, its roots are firmly set in the local community, reminding us that there is always time to take a break and pause for fika.

Writer: Jessica-Christin Hametner
Stories
Leeds, UK

Designed by owner Emily Crocker and Anna Lea Wilson, an interior designer, a neutral interior is adorned with light woods, marble and greys, accentuated with a subtle mix of modern and retro furniture pieces from the likes of Ferm Living, Muuto and Hay. Eclectic vintage items found at Homeplace in East London add individuality, while ceramics and interior touches finish the airy look and feel.

Writer: Jessica-Christin Hametner
Toki
Binnen Dommersstraat 15, Amsterdam

Nestled in the picturesque Amsterdam district of Jordaan, ex-ad man Jeff Flink's coffeehouse Toki is a peaceful oasis away from the hustle and bustle of the nearby Haarlemmerdijk. Serving up cups of top-tier coffee from Berlin-based roasters Bonanza, Toki's Scandinavian-meets-Japanese interior affords a cosy and calm atmosphere to enjoy at any moment of the day.

Writer: Sara Sturges
Toki
Binnen Dommersstraat 15, Amsterdam

Cakes are served fresh from neighbourhood patisserie Petite Gateaux and a comprehensive drinks menu features tea from Brooklyn's Bellocq and Crate craft beer from Hackney.

Writer: Sara Sturges
Toki
Binnen Dommersstraat 15, Amsterdam

The serene interiors distinguish Toki from the burgeoning Amsterdam coffee scene. Low slung lighting with subtle hints of bamboo complement Flink's carefully-curated set of furnishings from the likes of Stephen Kenn, studio OS ∆ OOS and Max Lamb.

Writer: Sara Sturges
Blue Bottle Coffee
Tokyo, Japan

Creating the perfect synergy between urban efficiency and rural serenity is the fourth Blue Bottle Coffee shop in Japan. Located on a back street, at a distance from a busy avenue, the coffee shop is adjacent to a sunken plaza filled with lush greenery, offering respite from the city clamour.

Writer: Adam Chapman
Blue Bottle Coffee
Tokyo, Japan

Schemata, the Japanese architects tasked with the design, eschewed any elements that might disrupt the natural surroundings. Opting for basswood plywood as the main material, the interior space exudes woody warmth. Found on the first floor of a bustling high rise, the walls are adorned with geometric lines - which feels like a tasteful nod to office ergonomics. Blue Bottle Coffee's freshly grounded beans are sustainably sourced from farmers around the world and are sold within 48 hours of roasting. Invitingly spacious and genial - the design embodies the brands good-natured ethos.

Writer: Adam Chapman
Bocca Coffee
Kerkstraat 96HS, Amsterdam

With an HQ tucked away in the heart of Amsterdam, Bocca prides itself on producing delicious sustainable coffee, and in turn is brewing one of the best cups in town.

Writer: Sara Sturges
Bocca Coffee
Kerkstraat 96HS, Amsterdam

Bocca's ample catalogue currently features a single origin from Fogo, in Cape Verde. Impressively, the entire process of selecting, purchasing, shipping, tasting, roasting and packaging is all managed in-house.

Writer: Sara Sturges
Bocca Coffee
Kerkstraat 96HS, Amsterdam

The coffee mecca is adorned with relaxing neutral tones and raw wood, and is bursting to the brim with features. Bocca runs a weekly training lab for budding baristas, espressos are served from a custom made La Marzocco Strada and the filter coffee selection is measured and served from a home-crafted 'brew bench'.

Writer: Sara Sturges
Tierra Garat
Mexico City, Mexico

Opened by Mexican gourmet coffee brand Café Garat, Tierra Garat brings quality coffee to the hip neighbourhood Colonia Roma.

Writer: Sam Clark, Elana Wong
Tierra Garat
Mexico City, Mexico



A collaboration between Héctor Esrawe's studio and Cadena y Asociados, it is designed as a space that is, and feels, authentically Mexican down to its roots. With the aim of centring the patron experience on the 'untold story of Mexican coffee', the warm texture of the interior reflects the smooth chocolate and coffee offered.

Writer: Sam Clark, Elana Wong
RAW Coffee House
Dubai, United Arab Emirates

Located in a converted warehouse in Dubai's manufacturing district, RAW Coffee is a roastery, espresso house and brew bar all rolled into one. Though constantly busy, owner and founder Kim Thompson has had to overcome no small number of environmental, legal and cultural obstacles to get RAW to where it is now.

Writer: Farrah Shaikh, Elana Wong
RAW Coffee House
Dubai, United Arab Emirates

With an unwavering dedication to delivering quality craft coffee, RAW is no doubt one to check out.

Writer: Farrah Shaikh, Elana Wong
Starbucks Coffee Laboratory
Amsterdam, Netherlands

In a move away from their mainstream brand image, the first global Starbucks Coffee Laboratory is a concept store dedicated to testing alternative brewing methods, new products and social media strategies.

Writer: Farrah Shaikh, Elana Wong
Starbucks Coffee Laboratory
Amsterdam, Netherlands

Located in Amsterdam's popular Rembrandtplein, the underground store is designed to cater specifically to Dutch culture with decorative touches such as antique tiles from the town of Delft. With the aim of pushing the brand beyond its comfort zone, this experimental store is worth a visit by even fiercely independent coffee lovers.

Writer: Elana Wong
Kafé Nordic
Seoul, South Korea

Though the menu offers up a typical coffeehouse fare of homemade sandwiches, coffee and tea, Kafé Nordic is anything but workaday.

Writer: Elana Wong
Kafé Nordic
Seoul, South Korea


Situated in a quiet residential area of Seoul, a bright yellow, house-shaped façade fixed onto a red brick building ushers you into an equally colourful interior. Designed by local studio Nordic Bros Design Community, quirky furnishings give the cafe a peculiar energy that has turned it into a hotspot.

Writer: Elana Wong
Dolcezza Coffee & Gelato at Hirshhorn
Washington DC, USA


The metal coffee bar consists of brushed brass, with tin diamond patterns inspired by fireproofing techniques used in 1930s Tokyo. The menu behind the bar is rendered in a new font designed by Sugimoto specifically for Dolcezza.

Writer: Elly Parsons.
Dolcezza Coffee & Gelato at Hirshhorn
Washington DC, USA

The Hirshhorn Museum's first permanent food and beverage area makes quite the impact. Placed in the all new lobby, re-imagined by Japanese artist Hiroshi Sugimoto and Tokyo-based architectural firm New Material Research Laboratory (NMRL).

Writer: Elly Parsons.
Receive our daily digest of inspiration, escapism and design stories from around the world direct to your inbox
Melina Keays is the entertaining director of Wallpaper*. She has been part of the brand since the magazine's launch in 1996, and is responsible for entertaining content across the print and digital platforms, and for Wallpaper's creative agency Bespoke. A native Londoner, Melina takes inspiration from the whole spectrum of art and design – including film, literature, and fashion. Her work for the brand involves curating content, writing, and creative direction – conceiving luxury interior landscapes with a focus on food, drinks, and entertaining in all its forms