Former military barracks and a 1960s home to host new launches at Dutch Design Week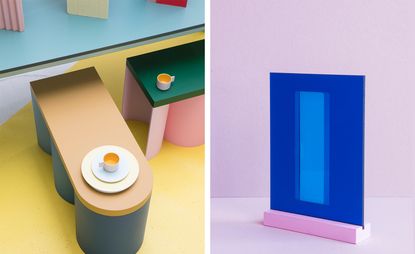 (Image credit: TBC)
Dutch Design Week isn't like other design shows. Held every October in the Dutch city of Eindhoven, it manages to be at once experimental, innovation-focused and speculative, while also doing justice to new furniture launches and prototypes and being commercial, though not in a conventional sense. As Ravi Naidoo, founder and director of Design Indaba in South Africa and one of three ambassadors for this year's show, puts it: 'the event is less focused on the traditional trade fair models of most design weeks, but is rather a platform that gives insights on the future trajectory of design.'
Taking place in converted warehouses and factories, creative maker spaces and other showrooms and studios around town, one of the event's highlights is the graduate show of the city's world-famous Design Academy, which this year will showcase the work of some 185 designers in a much larger location, the former Campina milk factory. Here are five of the launches and shows Wallpaper* is most excited about...
'Body of Work' by OS ∆ OOS (opens in new tab)
This year studio OS ∆ OOS present their 'Body of Work' show, which will highlight both past and current projects created in the years since they have been working in the city of Eindhoven. Their pieces are functional and streamlined with a touch of artistic whimsy. They include the mesmerising 'Repeated Mirrors' series (pictured) composed of a mirror framed in layers of coloured glass in different organic shapes and the 'Tunnel' collection of benches, stools and tables made of anodised aluminium and glass without the need for anything superfluous, such as glue, screws or fasteners. Recent launches include the 'Spanner' coat rack made with a concrete base (and no welding) and the 'Trilithon' marble and onyx furniture range. Catch their show in a 400 sq m space in recently renovated TQ building in the former Philips power plant district of the city known as Strijp-T (the electricity giant used to be headquartered here).

Strijp T, TQ1 building, Achtseweg Zuid 157
'#Timeisnow' and 'Transitions IV: The not so Flat Collection' by Baars & Bloemhoff (opens in new tab)
Dutch materials specialist Baars & Bloemhoff presents '#TIMEISNOW', an exhibition exploring urgent and timely themes such as sustainability, circularity and digitisation. In a series of styled rooms, designers working with a diverse range of Baars & Bloemhoff materials taken directly from their warehouse and used in their natural and 'unprocessed' state have created a series of exciting and inventive objects and accessories. Also of interest is 'Transitions IV', the fourth in a series of exhibitions using Baars & Bloemhoff materials, held regularly at Dutch Design Week. While past 'Transitions' shows have focused on experimentation, this time the focus is on digital production techniques and the creation of a flat-pack furniture collection that will be available to buy online later this year (examples pictured).

Broeinest EHV, Torenallee 45, 5617
Prolific designers Renee Mennen and Stefanie van Keijsteren, also known as Studio RENS, will be showing four projects at Dutch Design Week; two collaborations, with design-for-good foundation Social Label and Dutch furniture brand Pode, and new products to add to their own collection. The first – 'Re:Re-Vive' – is a revisiting of their 2014 collaboration with carpet brand Desso and composed of tapestries and rugs coloured in multiple red dyes and subsequently reassembled in new and bigger compositions and available in three versions: circle, semi-circle and circle and rectangle combined. Meanwhile 'Working Glass' is an elegant series of experiments with coloured Plexiglas in different geometric shapes (pictured).
THE YOUNG COLLECTORS II by Studio Thier&vanDaalen (opens in new tab)
After showing a selection of pieces in a friends' 1930s home in Eindhoven last year, Studio Thier&vanDaalen are opening up their own recently acquired three-storey 1960s house this year. Designed in the unique Bossche School style and lovingly renovated using materials, flooring and furniture by brands such as Mosa, Forbo, Caracterr and Baars & Bloemhoff, the house itself will be on display, as well as the objects within. Look out for the veneer, PVC, porcelain and paper creations by Jeroen Wand (pictured), the 'orphaned' art pieces sourced from Dutch museums collected by Marleen Kurvers and new wall shelves, recycled polyethylene candlesticks and mirrors created by Thier and van Daalen themselves. This is a showcase for 'living design' shown in a domestic context instead of on a pedestal.

Populierenweg, Eindhoven, 5651
'Ongoing Dialogue – New Design by Old Friends' at Kazerne (opens in new tab)
This exhibition celebrates the designers who have contributed to the success and growth of former military barracks and industrial warehouse turned design-and-art venue Kazerne in Eindhoven over the past few years. Recent work by over 40 established names will be placed alongside the experiments of promising emerging designers (in the 'ongoing dialogue' of the title) and offer a 'glimpse of the future', according to Kazerne's founder and creative director Annemoon Geurts. Participants include Lidewij Edelkoort and Kiki van Eijk with their softwear installation for Google, Joost van Bleiswijk with his new outdoor kitchen, Lucas & Lucas with their IKEA hacking project, Studio Drift with a kinetic installation (pictured) and Léa Mazy with her Design Academy Eindhoven graduation project. While in Eindhoven make sure you get a sneak preview of Kazerne's design-centric new eight-room hotel, exhibition space, fine dining restaurant, design shop and members' club opening this December.

Kazerne, Paradijslaan 2-8 §
INFORMATION
Dutch Design Week 2018 is on from 20-28 October. For more information, visit the Dutch Design Week website (opens in new tab)