Shanghai's MMR Studio is inspired by industrial processes and materials
Chinese designer Zhang Zhongyu of MMR Studio is inspired by industrial processes to create furniture and objects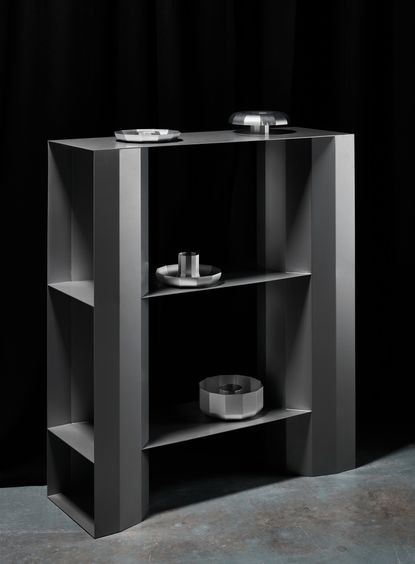 (Image credit: Neil Godwin at Future Studios for Wallpaper*)
Shanghai-based designer Zhang Zhongyu believes that by studying cultural nuances as towns develop, a designer will discover the texture and emotion that flow within the ordinary. Her research-based design approach combines the qualities of different materials to generate new objects that can be integrated into everyday settings to enrich our daily routines.
A graduate of the Royal College of Art, where she gained a major in Product Design in 2018, she worked for several years for local furniture manufacturers on her return to China before establishing her own practice in Shanghai at the end of 2021. Naming it MMR, which stands for Materials, Modality and Routine, Zhang says, 'I treat materials as a kind of grammar; they reveal variations in different modalities and daily life. Throughout my journey of creation, I've realised that I need to deal with all sorts of information and a designer's job is to figure out the relationship between them and make the most applicable design decisions.'
Inspired by the book 'Basic Forms' by German artist Bernd & Hilla Becher, her Slice System series takes the idea of the metal ventilation ducts that are widely employed in urban structures to fashion into furniture pieces that are versatile in dynamic, metropolitan environments. It is Zhang's aim to create simple and intuitive designs with the clear aim of minimising the visual noise in daily life.
Every year, Chinese gourd growers discard a large number of 'defects' – produce that did not grow to human-perceived perfection. In the Ipū series, Zhang searches for a new way to celebrate the so-called fault. The adapted gourds are connected by weaving rattan to create a system of cylindrical sculptures which are finished with a wood preservative procedure that gives them a leather-like texture and allows the colour to evolve over time. 'A design system is like a collection of fonts that contain different characters and rules,' she says. It allows her series an infinite number of possibilities because new pieces can always be drawn from the designed systems.
Modern Shanghai's diversity of people, art and design all contribute to Zhang's creative exploration, yet she chose to settle on the outskirts of the city. A native of Inner Mongolia, she says, 'I want to be close to nature, and by staying away from downtown Shanghai I can enjoy the city's offerings while maintaining an objective perspective of an outsider to study and reflect on the inspiration I have acquired from the city.'
MMR works with a wide range of materials and crafts and Zhang is continually on the lookout for shops that are suitable for each project. She travels extensively across China; when making ceramics, she was stationed in Jingdezhen for months, and in Wuxi when working with rattan and gourds. Recently, she has been collaborating with the inheritors of the wet felting craft in her hometown to create a hillock-shaped sofa from local wool.
A version of this story appears in the April 2023 Global Interiors issue of Wallpaper*, available now in print, on the Wallpaper* app on Apple iOS, and to subscribers of Apple News +. Subscribe to Wallpaper* today
Yoko Choy is the China editor at Wallpaper* magazine, where she has contributed for over a decade. Her work has also been featured in numerous Chinese and international publications. As a creative and communications consultant, Yoko has worked with renowned institutions such as Art Basel and Beijing Design Week, as well as brands such as Hermès and Assouline. With dual bases in Hong Kong and Amsterdam, Yoko is an active participant in design awards judging panels and conferences, where she shares her mission of promoting cross-cultural exchange and translating insights from both the Eastern and Western worlds into a common creative language. Yoko is currently working on several exciting projects, including a sustainable lifestyle concept and a book on Chinese contemporary design.
With contributions from