Hong Kong art scene expands its reach
Beyond fairs, museums and galleries, Hong Kong's burgeoning art scene is influencing its bars, restaurants and hotels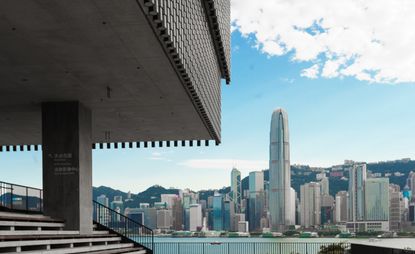 (Image credit: Press)
In partnership with the Hong Kong Tourism Board
'Hong Kong tries to escape nostalgia,' says leading curator Johnson Chang. 'It is this relentless plunging into the future that has always made Hong Kong exciting.'
An original Hong Kong art trailblazer, Chang founded the Hanart Gallery with dealer and painter Harold Wong back in the late 1970s, focusing on traditional Chinese painting and calligraphy, before establishing Hanart TZ Gallery in a Kowloon basement back in 1983. Dealing in contemporary art from Hong Kong and Taiwan, Chang spearheaded the growth of the thriving local contemporary art scene.
Now enjoying a heady, kinetic mix of creativity and pop culture, gravitas and fun, local craft and fresh talent, architectural and curatorial excellence, the new Hong Kong is home to a growing portfolio of world-class cultural destinations staging major exhibitions and a colourful schedule of international festivals, along with cutting-edge street art.
Hong Kong's rise as one of the world's most thriving art markets and the new, go-to art hub of the Asia Pacific region is now on permanent show, thanks to a year-round schedule of events and annual fairs, such as Art Basel Hong Kong and Art Central, and the establishment of world-class cultural hubs across town, such as H Queen's, Tai Kwun, and PMQ, along with art hotels and art-themed drinking and dining venues.
With West Kowloon Cultural District's newly opened and spectacular M+ museum by Herzog & de Meuron providing a gateway to visitors looking for a wider arts-inspired experience all across the city, Hong Kong's array of independent galleries, bars, hotels, stores and restaurants makes this most future-facing, global city an essential destination. So, go ahead, plunge right in.
Galleries and art hubs to see in Hong Kong
Tai Kwun
A compound formerly comprising Hong Kong's Central Police Station, the Central Magistracy and Victoria Prison underwent revitalisation a few years ago and reopened in 2018 as Tai Kwun, a not-for-profit art and heritage space, designed by Herzog & de Meuron. The complex's mission is to foster cultural discourse in Hong Kong through heritage, contemporary art and performing arts. Don't miss the excellent library.
PMQ
Situated on the historic site of the old Hollywood Road Police Married Quarters, the PMQ is a mixed-use arts and design venue comprising exhibition spaces, studios, shops and offices for creative enterprises. The venue showcases a wide array of handcrafted products, including fashion and accessories, gifts, homeware, and small furniture pieces designed and made by the local arts community.
H Queen's
A thrill on so many levels, this shimmering 24-storey building – conceived as a translucent cloudy-white 'jewellery box' by architect William Lim – hosts world-class art galleries and much more. Come to explore the galleries – Pearl Lam, Pace, David Zwirner, Hauser & Wirth and more – but stay for fine dining, stores, and a wellness centre.
The Mills
A landmark revitalisation project, The Mills is an arts and shopping destination housed in the former Nan Fung textile mill. Now a 264,000 sq ft, self-contained oasis of inspiration for education and outreach, The Mills hosts a world-class non-profit art gallery and retail experiences.
Cattle Depot Artist Village
This converted red-brick slaughterhouse was one of the city's first art studio communities. Founded to accommodate creative talents from the short-lived but vibrant Oil Street art colony in North Point, Cattle Depot Artist Village was born in 2001 as an avant-garde complex with around 20 spaces occupied by a mix of painters and sculptors, video and multimedia creators and performers, theatre workshops and pop-up exhibition spaces. Visitors are welcome to wander around and watch Hong Kong creativity in action.
Blindspot Gallery
Founded in 2010, Blindspot Gallery focuses on contemporary photography and lens-based art. The venue's name references the notion of contemporary photography not always getting the attention it deserves in Hong Kong. The gallery now represents both emerging and established photographic artists from Hong Kong and beyond, including Anothermountain (aka Stanley Wong), Ken Kitano and Maleonn.
Stay in a Hong Kong art hotel
Tung Nam Lou art hotel
Once a restaurant, whose proprietor Lo Chi Ching became interested in collecting art, Tung Nam Lou has been reborn as a boutique hotel and decorated in a synthesis of Eastern and Western styles (British classicism meets Ming Dynasty porcelain). The location is an elegant, multitasking platform for art lovers, artists and designers, and includes an art shop, working space and an events hub showcasing a cultural blend of Hong Kong's colonial past and its contemporary art future.
Artful dining and drinking options
Sevva
The 25th-storey rooftop of a converted office building in Hong Kong's Central district is where gastronomic and art destination Sevva – owned by style maven Bonnae Gokson and designed by New York architects Tsao & McKown – offers a heady blend of old-school glamour, modern cuisine and dazzling contemporary design.
Art features in the Hallway gallery and throughout the space (spanning the likes of photographer Candida Höfer, fashion illustrator Gladys Perint Palmer, and artist Iván Navarro). Guests can choose from five drinking and dining spaces, including the Lounge, with a vertical garden; the sumptuous Sweets Corner, where cakes and pastries are displayed in glass cabinets like edible works of art; and the wraparound Terrace, which offers 360-degree views of the Hong Kong skyline and its nightly light show.
Ami and Wood Ear
A double billing of a French restaurant and a whisky bar helmed by chefs Nicolas Boutin and Eric Taluy, this snug and garden terrace brings the concept of 'fine bistronomie' – elevated yet approachable Parisian cuisine – to Hong Kong. The Wood Ear bar is a whisky lover's paradise, with more than 400 rare labels gathered from Scotland and Japan. Large-scale art photography adorns the restaurant's walls.
INFORMATION
For more information, visit the Hong Kong Tourism Board website
Receive our daily digest of inspiration, escapism and design stories from around the world direct to your inbox