China's Designew platform explores the design of errors
This collection of furniture and objects is the result of a new collaborative project led by designer Mario Tsai, exploring how mistakes can positively impact the creative process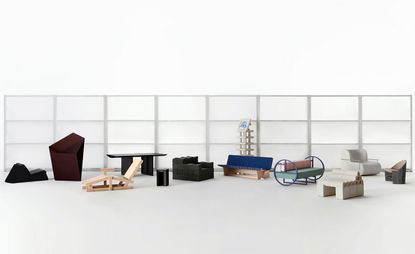 (Image credit: press)
Wallpaper* Newsletter
Receive our daily digest of inspiration, escapism and design stories from around the world direct to your inbox
Thank you for signing up to Wallpaper. You will receive a verification email shortly.
There was a problem. Please refresh the page and try again.
This year, for its third annual edition, Designew, a research and development platform in China for young designers and local manufacturers, invited the industry's most forward-thinking practitioners to explore the theme of Correct/Incorrect, which could be interpreted as 'Tolerating Errors'.
An error is defined as a deviation from an optimal state or the common standard of operation; either human mistakes erring from traditional standards or the inevitable material defects or imperfections in craftsmanship during manufacturing. 'Traditionally, designers strive to avoid mistakes and eliminate the possibility of error in design production. I hope that by reflecting and reconstructing the design and manufacturing processes, the negative connotation of "errors" will take on new meanings,' Designew's curator and participating designer Mario Tsai explains.
In design and manufacturing, 'roughness' stands in opposition to 'refinement'. In this project, roughness is no longer regarded as a 'mistake', says Tsai. 'I want to investigate the characteristics of "roughness" in an objective and rational manner; not only from the standpoint of material usage and production, but also in how to manifest its unique beauty.'
The guiding principle of the 'Rough' collection begins with the most fundamental functions and users' desires in mind. The bookshelf, for example, is a basic module composed of three standard sizes of wooden panels that can be easily built and extended; production marks and blemishes on the wood are kept for their individuality.
Turning errors into design
According to Li Le, a Hangzhou-based designer, 'the wisdom of "Tolerating Errors" lies in "tolerance"; confronting yourself and the external world with a tolerant attitude allows you to discover more possibilities from the negative attribution.' Beginning with the common assembly error of 'misalignment', Li discovered harmony with nature.
'Endless Wave' mimics the periodicity, symmetry and movement of the natural phenomena to create a wave-shaped modular superposition sofa system. The oversized 'building blocks' form an infinitely spliceable structure.
Shanghai-based Studio KAE's candid approach turns 'errors' into simple elegance. In printing, 'bleed' refers to printing that goes beyond the edge of the sheet where it will be trimmed. The same applies to furniture-making when hot-moulding pressed plywood is employed. By incorporating the 'bleed' in its collection 'Veneer Bleed', the studio has been able to add a 'signature' to mass-produced pieces by setting a higher tolerance rate for processing errors, allowing the mould to produce the same design with its different and unique 'error' as details.
The seat back is made by pressing multiple sets of veneer from a single mould simultaneously; the veneers are in different lengths and only partially glued, and the plywood sheet has an irregular tail end. 'It was difficult to persuade the workmen to keep the "defects" that the factory quality inspection standards would normally reject,' say co-founders Keren Wang and Zhekai Zhang. The result is far from 'perfect', but 'tolerable', given that Shanghai was under lockdown during the design development and prototype period.
A platform for global designers collaborating with Chinese manufacturers
This edition of Designew involved three international design studios in addition to 11 local ones, pairing up with seven local manufacturers to experiment on new concepts and production methods. The platform is welcoming overseas creatives for the first time. 'We appear to be estranged from the international community as a result of the pandemic. We hope that by inviting international designers to join the platform, we can continue the conversation and exchange,' says Tsai.
It is also the first time the Swiss studio Panter&Tourron have worked with a wood-making manufacturer in China. 'It was interesting to see how the variety and standards of woods we used differ in different countries and it was stimulating to rethink our design process to these different standards,' says studio co-founder Stefano Panterotto.
'Working alongside fellow Chinese colleagues gives us a sense of unity less linked to our geographical upbringing but more related to our shared cross-cultural references,' adds co-founder Alexis Tourron.
The worlds of collectible and mass-market design frequently employ a lavish amount of raw materials to achieve elemental and monolithic forms; however, this aesthetic runs counter to sustainable efforts that Panter&Tourron is committed to implementing in its work.
'Kit' is a collection of voluminous stained ash furniture that uses industry-standard panels and slats and standard bending and cuts to avoid heavy milling or material loss.
BCXSY from the Netherlands began the 'Reframe' collection with images that came to mind while thinking about traditional Chinese furniture. Boaz Cohen and Sayaka Yamamoto chose a recognisable round-shaped curio cabinet and transformed it into a sofa and side tables. The outlines of the cabinet are used on both ends of the sofa to create a playful image in which the people sitting on it appear as exhibits on the shelf.
The main challenge for Designew this year is that international designers have been unable to visit China and have had to work with the factories virtually. 'A bit more creative exchange and trial and error in the process may have taken the project even a step further,' say the duo.
And Tsai agrees: 'Many ideas are unable to be realised due to a lack of understanding of the facilities and procedures. We attempted to help by acting as a bridge in the process. However, I hope that when travel restrictions are relaxed in the future, designers will join us here in person.'
The 14 collections were released last week at Shenzhen Creative Week (25 – 28 July 2022), in an exhibition designed by Studio 10. 'We have been debating whether the market's overemphasis on "sophistication" and "precision" would result in an excessive amount of irreversible and unnecessary waste,' says Shi Zhou, Studio 10's founder.
The sleek space adopted the most common spatial typology in furniture warehouses by introducing a central passageway that connected the aisle-like individual showcases that were partitioned by standardised modular metal shelves on both sides. All materials were recycled or reused when the curtain closed.
INFORMATION
Receive our daily digest of inspiration, escapism and design stories from around the world direct to your inbox
Yoko Choy is the China editor at Wallpaper* magazine, where she has contributed for over a decade. Her work has also been featured in numerous Chinese and international publications. As a creative and communications consultant, Yoko has worked with renowned institutions such as Art Basel and Beijing Design Week, as well as brands such as Hermès and Assouline. With dual bases in Hong Kong and Amsterdam, Yoko is an active participant in design awards judging panels and conferences, where she shares her mission of promoting cross-cultural exchange and translating insights from both the Eastern and Western worlds into a common creative language. Yoko is currently working on several exciting projects, including a sustainable lifestyle concept and a book on Chinese contemporary design.