Giuseppe Arezzi's multifunctional designs combine a modern approach with his Sicilian roots
From his native Sicily, designer Giuseppe Arezzi creates well-considered projects defined by his lively, subtle and witty approach to design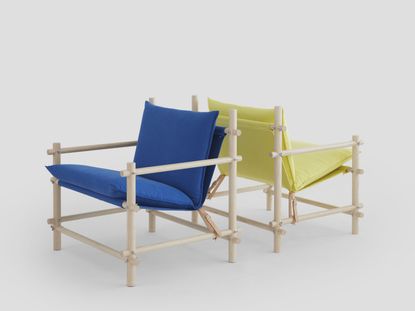 (Image credit: Natale Leontini)
Giuseppe Arezzi has been surrounded by design since he was a child, having grown up with what he calls 'the myth of design'. In the 1970s, his grandfather opened the first furniture store in Ragusa, the Sicilian town known for its baroque buildings. This store, which sold the best Italian design, from Cassina to B&B Italia, from Flos to Driade, was Arezzi's introduction to the creative world.
'I have always used design objects and furniture,' he says. For him, it's always been natural to eat with a cutlery set by Achille Castiglioni or to sleep on a bed by Vico Magistretti, and he read his first books illuminated by a 'Costanza' lamp by Paolo Rizzatto on his bedside table. He used to flip through the design magazines that his parents brought home and was always curious to learn. So after his high-school graduation, he decided to transform his passion into a job.
Arezzi's upbringing surrounded by design has fine-tuned his attitude towards the discipline. Once he turned 18, he moved to Milan to study interior design at the Politecnico. There, he learned from Michele De Lucchi and Andrea Branzi, first as their student and then as their assistant. 'They both taught me to look at design with the eyes of an anthropologist and a sociologist, teaching me that design is a method which has to produce not only goods and objects but especially great content,' he says. 'Since the beginning, I wanted to be able to express my creative freedom, so in 2012 I designed the "Manico" armchair, which still perfectly expresses my conceptual approach to design.' The chair is now part of the Vitra Design Museum's permanent collection.
Arezzi has always been surrounded by beauty and driven by a passion for new, personal discoveries: after his master's graduation, alongside the development of some personal projects, he started working for some design studios in Milan. 'Then I met Margherita Ratti, who immediately believed in me,' he says. Today, her Paris-based brand It's Great Design is the editor of all of Arezzi's latest projects.
'Many of my works come from combining several functions, and I like to define them as truly hybrid pieces,' he notes. 'For instance, the "Binomio" project, which I developed during my residency at the Italian Cultural Institute, in Paris, is a bench, a coat rack, a desk, a bookcase or also a domestic kneeler for praying.'
After many years in Milan, Arezzi returned to his hometown, Ragusa, in the southernmost province in Italy. The influence of its rural culture – seen in everything from the landscape to locally made objects, the architecture and the food – extends to Arezzi's design. 'Purity, simplicity and artisanal know-how, expertly handed down from generation to generation, is [what] helps me to build my own native, authentic and unique language,' reflects Arezzi. 'My design wants to translate what I have experienced into forms that are accessible to all, far from "Sicilian Folklore". Multifunctionality and transformability are the main features I look for in my projects. I'm also interested in objects that are less designed, which are pure enough to be always contemporary and far from trends or nostalgic references. Last but not least, I look for quality and durability, which I can achieve thanks to a team of craftsmen I work with on a daily basis.'
Among his latest projects is ElasetesalE (meaning: 'and thirst is increasing'), a site-specific installation designed for the small hotel N'orma, in Chiaramonte Gulfi in the Hyblaean countryside. 'The clients asked me to reuse some old bottomless green glass bottles they bought several years earlier,' explains Arezzi. 'I immediately decided to use the bottles in relation to water to expose the complex problems of global warming and of increasing drought. This installation is a huge fountain designed with a perpetual motion system that doesn't waste water. The water flows inside a long line of bottles, one inside the other, with the whole resting horizontally on slim iron trestles, and then flows into a funnel on the ground, which collects it and pushes it back into the circuit, without dispersion.'
Meanwhile, his next project is in the heart of Ragusa. 'I am working on a multifunctional tableware collection exclusively designed for the two Michelin-starred restaurant Il Duomo, led by chef Ciccio Sultano. The project is a series of containers for different uses, which we are producing in collaboration with local artisans using materials only available in this Sicilian area. The project aims to be an ode to the super-local, and will be presented in spring 2023, alongside a new menu.'
giuseppearezzi.com (opens in new tab)
Maria Cristina Didero is an independent design curator, consultant and author, who has contributed to many publications over the years; she is currently Milan editor of Wallpaper* . Didero has consulted for companies such as Vitra, Fritz Hansen, Lexus, Fendi, Louis Vuitton, Valextra among others. Based in Milan, she works internationally, curating exhibitions for institutions: some of her most recent projects include Nendo: The Space in Between and The Conversation Show at the Holon Design Museum, Israel; FUN HOUSE by Snarkitecture at National Building Museum, Washington D.C.; SuperDesign a project about Italian radical design, NY; Vegan Design, or the Art of Reduction by Erez Nevi and The Fish and The Crowd by Carlo Massoud, Milan. In April 2022 she curated a Mathieu Lehanneur exhibition at the Triennale in Milan called The Inventory of Life, while in July she debuted a project at the MK&G in Hamburg titled Ask Me if I Believe in the Future, alongside a series of ongoing collaborations. She was appointed 2022 Curatorial Director of Design Miami/. She is currently preparing two projects for Milan Design Week 2023.