Photographer Takashi Homma on Bach, punk and working with 'no preparation'
'Through the lens' is our monthly series that throws the spotlight on photographers who are Wallpaper* contributors. Here we explore Takashi Homma's vision further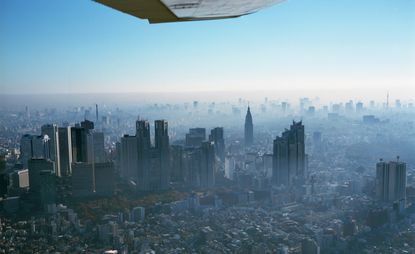 (Image credit: Takashi Homma - Photography)
Working with Takashi Homma is a refreshing reminder of what it's like to let photographs speak for themselves. One of the leaders in his field, the Japanese photographer has built an impressive career on a straightforward, understated vision. Homma received the 1998 Kimura Ihei Award for his formative series Tokyo Suburbia, has published multiple photography books, and has staged solo shows across three museums in Japan. He was born and raised in Tokyo, and his more personal work observes urban life, documenting stories that are narrated through the city's inhabitants and environment.
For Wallpaper's March 2022 issue, we paired Homma with rising star Japanese artist Kazuhito Kawai, whose work seeks out the 'ugly beauty' in ceramic art. Homma captured Kawai in his Kasama studio where the artist was applying the finishing touches to a new series of kaleidoscopic creations for an exhibition at Steve Turner Gallery, LA.
Wallpaper*: Describe your style and processW*: Tell us how you brought your way of working to this shoot with Kazuhito KawaiW*: What do you think is the most interesting thing happening within photography now?
Takashi Homma: To create fashion and architectural photography from a documentary perspective.
TH: I went to his studio and shot what attracted me at the time. There was no preparation.
TH: Exchanging only data, rather than physical prints, and to be a photographer who doesn't shoot.
W*: What's on your radar?W*: What's next for you this year?
TH: Music. From Bach to punk, grunge, ambient. Every kind of music.
TH: I think that after the pandemic is over, people will start moving again and something new will happen, I hope.
Sophie is currently Photography Editor at Wallpaper*. Sophie joined the team following the completion of her photography degree in 2018, and works with Photography Director Holly Hay, where she shoots, commissions, produces, and writes on photography. Alongside this, she continues her art practice as a photographer, for which she was recently nominated for the Foam Paul Huf Award. And in recognition of her work to date, Sophie was nominated by the British Journal of Photography for the Futures photography platform in 2021.
With contributions from