Kazuhito Kawai's quest for ugly beauty in ceramic art
Ahead of a show at Steve Turner Gallery, LA, Japanese ceramic artist Kazuhito Kawai discusses the origins of his deliberately deformed kaleidoscopic creations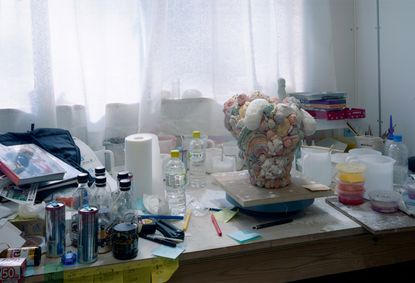 (Image credit: Photographer: Takashi Homma)
The polychromatic clay vessels of Japanese artist Kazuhito Kawai are quite spectacular, the cascade of small, amorphous, textured forms like lava erupting from a volcano. Kawai's path to ceramic art was far from linear. Born in Kasama, in Ibaraki prefecture, Japan, he studied at London's Chelsea College of Art and Design, graduating with a degree in fine art in 2007. That year, disillusioned with his future as an artist, he returned to Japan with a sense of failure and spent several years in Tokyo. He recalls, 'Having stepped away from art, I worked as a salaryman [a Japanese term for white-collar employees that has pejorative connotations, describing men who reluctantly keep on with their boring routine]. But then I applied for a ceramics course at a local college with the aim of making a living as a trained artisan. And the course was free of charge!' says Kawai with a smile, adding that Kasama, though not as sophisticated as Arita or Mashiko, is a popular pottery region specialising in the production of tableware for daily use.
The course offered Kawai something more than vocational training. Once enrolled, he found his voice. 'I was totally absorbed in building something with my hands. I felt so connected with fine porcelain clay, which I can easily shape into whatever I want,' he says. 'I only use a potter's wheel to make the bases of vessels, whose surfaces I reshape afterwards. The details you see are not added separately, but are an extension of the base itself. To obtain a softer, almost moist appearance, the oven is set at about 1,200°C, a lower temperature than is used to fire functional tableware.' Kawai gives texture to the clay using tools not conventionally used in ceramic-making, such as needles, tea strainers and mesh food covers. 'The feeling of not fitting in always urges me to create,' he says. 'I was not destined for making regular pottery, and my hands opted to deform vessels into something non-functional.'
Kawai is reluctant to define his work as art, which reflects an ambivalence shared by his generation. Born in 1984, he identifies as part of Japan's 'lost generation', which came of age in a time of economic collapse and never quite shook off this disadvantage. Longing for a sense of community, Kawai turned to J-pop and fashion. 'As a high school student in a provincial town, I was obsessed with fashion magazines. Digging through designers' inspirations, I discovered many art subjects, and I was particularly transported by Raf Simons' book The Fourth Sex, which showed me the art of adolescence,' says the artist, a self-professed fan of the 1990s. He is also passionate about the conceptual fashion of Rei Kawakubo and John Galliano, but says he prefers to keep a certain distance from his heroes, and doesn't try to meet them. The designer with whom he best identifies is Masayuki Ino, who won the LVMH prize in 2018 for his clothing brand Doublet. 'When I see his humorous approach to our generation's animation or movie heroes, I realise with relief that inspiration can be from something silly, not necessarily from sophisticated art!' he enthuses.
Kawai often brings wry humour to his vessels. He mentions Donatella, one of his pieces that straddle the border between the beautiful and the grotesque. 'On my first visit to Art Basel Miami Beach, I was so astonished by the number of women with similar faces, obviously the result of plastic surgery. They were almost invariably carrying teacup-size doggies in their Chanel bags. It reminded me of the plastic faces I've seen in some magazines. Their aesthetic standard is skewed. I found them so creepy that I wanted to see more and more. I'd say that my curiosity got the better of my fear.' Kawai's quest for ugly beauty in his daily life also inspired a yellow piece called Liposomal Vitamin C. 'Influenced by top model Ai Tominaga, I took this vitamin C supplement. When the powder is spread over water, it creates surface patterns that are too gross to forget.' It comes as no surprise that he has been inspired by the work of Paul McCarthy, and also credits Sterling Ruby for informing his fervour for accumulation and bursting colours. Another contemporary artist who liberated Kawai from his lost-generation complex was Tracey Emin. Kawai was so impressed by her 1998 video Riding for a Fall, in which she dons a cowboy hat and rides a horse in circles on a beach in an exercise of narcissism, that he borrowed the title for his latest solo show at the Sokyo Lisbon Gallery last autumn.
There is a psychological aspect to his inspiration, as we see in the 2018 work Hitomi Yaida, named after a J-pop singer. 'Yaida was criticised for copying the already popular musician Ringo Shiina. Meanwhile, my work is often compared to that of Takuro Kuwata, a Japanese ceramic artist who is much more established than I. So I said to myself, why don't I take it as a theme? There I transferred the Kawai vs Kuwata relationship into that of Yaida vs Shiina. This practice allowed me to recognise myself clearly. In my work, the trace of fingers is so visible on the clay.'
When I meet him, Kawai is gearing up for a solo show at the Steve Turner Gallery in LA. Among his new work is a dystopian black vessel with nails emerging from inside, named after Machida, near Tokyo. Most Japanese people know its name without having a precise idea of its atmosphere. 'Machida is a big city, but it has nothing particular. It's a place of decline. I wanted to interpret the destruction that can happen in this kind of anonymous city.' As references, Kawai cites Harmony Korine's 1997 film Gummo, set in an Ohio town ravaged by a tornado, and Larry Clark's book Tulsa, known for its candid portrayal of adolescence in the photographer's hometown.
The more names he drops, and the more references he tags in his Instagram posts, the more intriguing his works appear. You can research everything, just like Kawai himself dove behind the scenes in fashion design before the age of social media. The eternal lost-generation artist invites us to surf on his references.
INFORMATION
'I Gotta Feeling' is on 12 February – 12 March at Steve Turner Gallery, LA, steveturner.la (opens in new tab), @kazuhitokawai (opens in new tab).
With thanks to the Japanese National Tourism Organization, japan.travel (opens in new tab)
A version of this article is featured in the March 2022 issue of Wallpaper*, on newsstands now and available to subscribers (opens in new tab)
Minako Norimatsu is a Japanese journalist and consultant based in Paris. Extremely curious about everything creative, her field ranges from fashion to art, dance, hospitality and travel. She has interviewed many Japanese fashion designers and artists for Wallpaper*, as well as non-Japanese creatives whose inspirations are drawn from Japan.