Photographer Stefanie Moshammer: 'The harder the times, the better the art'
Go behind the lens of Austrian photographer Stefanie Moshammer, who was selected for this year's Wallpaper* New Generation Prize at the 35th Hyères International Festival of Fashion and Photography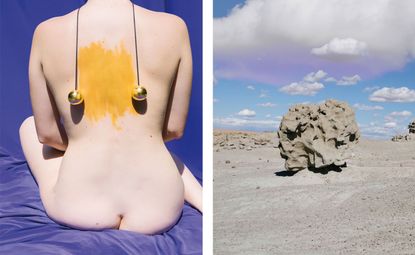 (Image credit: Stefanie Moshammer)
Every year Wallpaper* selects an outstanding photographer from Hyères International festival of fashion and photography to collaborate with on a fashion story. From the ten finalists of the festival's 35th edition, we chose Austrian artist Stefanie Moshammer based on her personal series Grandmother Said it's Okay, a project that explores family, memory and ritual.

For our March 2021 Style Issue, Moshammer photographed an invigorating Fendi special in the snow covered Fendels. Here, Wallpaper* photography director Holly Hay talks to Moshammer about the realities of shooting in unusual circumstances, how to successfully manoeuvre between genres and her thoughts on the future.
Wallpaper*: We have worked together on stories for Wallpaper* before: a trip story to Ljubljana and a portrait of Pierre Yovanovitch, but this is the first fashion story. Your practice explores the idea of dress up with a strong emphasis on character, colour and place. Was fashion always something you imagined to be part of what you create?
Stefanie Moshammer: Fashion wasn't really something I imagined being part of at the beginning. Even though I went to fashion school, I didn't want to focus on fashion afterwards and I was more driven by other art forms. Nowadays my practice feels like a conglomeration of many different disciplines that I've worked with over the years. I'm in love with clothing and textiles and have an appreciation for the work of designers. However, fashion is a broad field. There is one side of the fashion industry I can't relate to at all and that I question a lot. Fashion exists throughout different cultures and groups, where clothing gives glimpses into people's identities and traditions. Visually this is more interesting to me. Overall clothes are social objects with biographies. For me, as a photographer, it becomes an interesting task when you have the freedom to express your visual language while including fashion.
W*: For the audience, this story shows a model unfazed by metres of snow, effortlessly exploring while wearing Fendi's SS21 collection. It's so refreshing to see joyful images outside, in nature. What was the reality of shooting in these conditions?
SM: Generally, I try to avoid shooting in the studio. I prefer a location that already contains a certain character or story. We shot the Fendi SS21 collection in the snowscape of Tyrol. I'm not sure I have ever seen so much snow before. While this was amazing for the images, it was challenging for the whole team. Emily, our model, was very brave and didn't complain once, despite wearing Spring/Summer clothes at temperatures below freezing.
W*: Your work moves fluidly through documentary and conceptual genres. What's the starting point for a project? And how does the editorial process differ from how you approach personal work?
SM: Working on a personal project means devoting more time to the process; you give yourself time to rethink, reflect, change, or even fail. It also comes with more insecurities because usually, one opens up about oneself while putting out a personal project. Also, the result doesn't necessarily need to be printed and can exist in many layers. The work can be developed as an exhibition, a book, a performance or whatever fits the subject. In my opinion, the outcome of a personal project has another significance and weight. However, when it comes down to it, both commissioned and personal work are simply about translating an idea in a meaningful and visually interesting way.
W* In times like this when the world feels shut and our freedom compromised, the creative community seems to rise up with resilience and even better, newer ideas. We would love to hear what's interesting to you in the field of photography right now
SM: It feels like we always need a crisis to understand what's important to us. The harder the times, the better the art. So far it has been crazy to see how much the digital space has taken over. Of course, this already was in process before, but the pandemic accelerated and intensified the process. Furthermore, I love the concept of recycling your work and delving into your archives. For example, creating new work through existing images, or using them in another context or edited to a new subject matter. This makes even more sense now, when travelling is limited and we are all stuck in front of our computers.
W*: What's next? Tell us your plans for 2021 and beyond.
SM: Currently, I'm based in Mexico for the month. Then pandemic permitting, I'll be in Shanghai in the late summer for an artist residency at the Swatch Art Peace Hotel, staying there for three months. I've been in Shanghai before and I find it very interesting so I'm excited to experience it more deeply. At the moment I'm finishing two projects, one of them includes a small clothing collection with a Viennese fashion brand. Generally, my base is between Vienna and Paris, though I'll be in Paris more over the next year.
INFORMATION
stefaniemoshammer.com
Holly Hay is the Photography Director at Wallpaper* Magazine having previously held titles as AnOther and GARAGE magazines. Holly is a regular lecturer at Central Saint Martins and London College of Fashion as well as working on photography direction for a number of luxury brands.
With contributions from