Sculptor Arnaldo Pomodoro transforms Fendi's Rome HQ into a theatre of myth and magic
Fendi's Roman HQ sets the scene for 'Il Grande Teatro delle Civiltà' a major show by Italian sculptor Arnaldo Pomodoro, who has also created a one-off edition of the house's iconic Peekaboo bag. Read more in the July 2023 Issue of Wallpaper*, on newsstands 8 June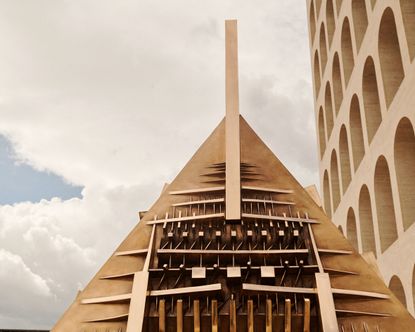 (Image credit: Paolo Di Lucente)
The word 'prolific' is often thrown around, but Arnaldo Pomodoro, who turns 97 this month, could outshine most artists when it comes to the scope and versatility of his creative output. He has exhibited on five continents, masterminded staggering environmental and architectural works, created set and costume designs for a panoply of theatrical works, and currently has more than 230 of his works on view in public collections and spaces around the globe.
Born in Montefeltro in 1926 and based in Milan since 1954, Pomodoro began his career as a restoration consultant in Pesaro while studying stage design and working
as a jeweller. In the following decades, he proved his creative versatility; as an artist, educator, documenter of global culture, and sculpture pioneer. He executed his first public commission in the early 1960s when he created a relief for the façade of Cologne's adult education centre on Josef-Haubrich-Hof.
Soon after, he shifted gears to create the sculptures for which he is best known: geometric spheres, discs, pyramids, cones, columns and cubes. Mostly rendered in burnished bronze, these early works are evocative of futuristic cities containing fossil-like bones of ancient civilisations, rupturing with the chaos of history, but perfectly contained. In 1966, he began experimenting with large-scale sculpture, creating Sfera Grande for the Montreal Expo. The piece now sits outside the Palazzo della Farnesina in Rome, the same city where the artist is currently on show at the Palazzo della Civiltà Italiana, the Roman HQ of luxury fashion house Fendi.
Pomodoro and Fendi first crossed paths in 2013 when the house established its Milan HQ at Via Solari 35, a vast industrial space that served as the Fondazione Arnaldo Pomodoro from 2005-2012. There, Fendi continues to host the immersive Ingresso nel Labirinto, one of Pomodoro's most significant works, and open to public view.
The decade-long partnership between Pomodoro and Fendi is now being made concrete in the exhibition 'Il Grande Teatro delle Civiltà', curated by Lorenzo Respi and Andrea Viliani, in collaboration with the Fondazione Arnaldo Pomodoro. It spans 70 years of the artist's practice, and illustrates his versatility at the intersection of fine art, performing arts and design.
'With Pomodoro, we share a veritable passion for creativity, natural materials,
and artisanal savoir-faire,' says Fendi CEO Serge Brunschwig. 'His signature sculptures are a constant reminder of his powerful contribution to the art history of the 20th and 21st century. Through the exhibition, we celebrate Pomodoro's work as a universal language and constant source of inspiration, thus reinforcing Fendi's bond with the Italian artistic heritage and cultural patrimony.'
But instead of Pomodoro's greatest hits, notably his hyper-polished bronze spheres erupting with angular shards, the exhibition sheds an alternative light on the artist's practice and, in turn, gets to its soul. Archaic, modern, or even fantastical, the tangled matrix of codes, signs and 'writings' in these sculptures nod to human interference in nature, creating instead something altogether more unworldly. The show emphasises the inner workings of Pomodoro's universe, which the curators describe as an 'exhibition within an exhibition', comprising drawings, photographs and documents, many never seen before. 'The exhibition is intended to be a great autobiographical theatre – real and of the mind, historical and imaginative at the same time,' say Respi and Viliani.
The exhibition begins outside, where Pomodoro has placed Forme del Mito (1983) – an ensemble of four sculptures originally created for artist Emilio Isgrò's theatrical performances inspired by Aeschylus' Orestes – at the Palazzo della Civiltà's four corners. The drama continues in the entrance hall with two examples of the artist's costume designs, made from robust copper-plated fibreglass fused with softer and more ephemeral materials like raffia and fabric: the first was created for Christopher Marlowe's Dido, Queen of Carthage (staged in Gibellina in 1986), the second for Igor Stravinsky's Oedipus Rex (performed in Siena in 1988). Pomodoro brings the legendary tales of Dido and Oedipus to life, drawing on ancient Greek iconography and traditional African and Asian craft techniques, as well as nodding to the building's current use as the HQ of one of the world's most prestigious fashion houses.
Further in, visitors find two works staged in counterpoint on the ground floor: Le Battaglie (1995), based on Paolo Uccello's Renaissance masterpiece, The Battle of San Romano, is a black sculpture embedded with an abstraction of angular forms, including teeth, arrows and spears, while Movimento in Piena Aria e Nel Profondo (1996-1997) is a monumental double-curved white sculpture resembling an otherworldly archaeological dig. Up on the palazzo's third floor, the cuttlefish shape of Osso di Seppia (2011-2021) nods to Pomodoro's earliest sculptures,
which would see the artist scratch marks into cuttlebone as casts for jewellery.

As part of the collaboration with Fendi, the house also invited Pomodoro to create
a one-off edition of its Peekaboo bag, which will be on display for the duration of the show. In 2019, to mark its tenth birthday, Fendi began inviting notable figures – among them, Tracey Emin, Zaha Hadid and Sabine Marcelis – to put their stamp on a blank version of the iconic bag. Pomodoro's take features shimmering bronze-coloured canvas with protruding barbs. 'I wanted to place the function of use of the bag in discussion and transform it into something mysterious and visionary,' says Pomodoro. 'A medieval shield? A mythological animal covered in sharp spines? An exotic flower with long pistils?'
Like his take on the Peekaboo, 'Il Grande Teatro delle Civiltà' is a testament to a career whose foundations are an unwavering commitment to a distinctive sculptural language. This is Pomodoro's theatre: excavating, preserving and reinterpreting what has already been or might have been, in an effort to map what might be ahead.
This article previews a feature in the July 2023 issue of Wallpaper*, on newsstands and available to subscribers from 8 June. Subscribe to Wallpaper* today
'Il Grande Teatro delle Civiltà' is on show until 1 October at the Palazzo della Civiltà
Italiana, Rome, arnaldopomodoro.it, fondazionearnaldopomodoro.it, fendi.com
Harriet Lloyd-Smith is the Arts Editor of Wallpaper*, responsible for the art pages across digital and print, including profiles, exhibition reviews, and contemporary art collaborations. She started at Wallpaper* in 2017 and has written for leading contemporary art publications, auction houses and arts charities, and lectured on review writing and art journalism. When she's not writing about art, she's making her own.