High wire act: how a one-woman cultural exchange is connecting Europe and China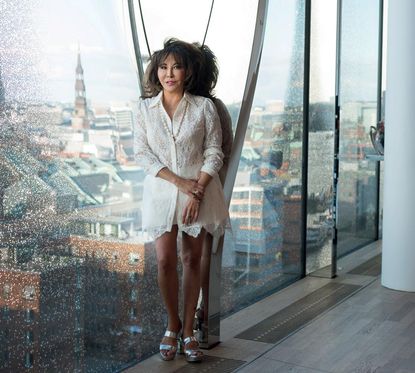 (Image credit: Albrecht Fuchs)
Wallpaper* Newsletter
Receive our daily digest of inspiration, escapism and design stories from around the world direct to your inbox
Thank you for signing up to Wallpaper. You will receive a verification email shortly.
There was a problem. Please refresh the page and try again.
With its eclectic programme of opera, art, architecture and design, the London-based KT Wong Foundation has been bridging the creative landscapes of Britain and China since 2007, and established itself as a cultural force. According to its founder, Lady Linda Wong Davies, the initial objective was simple. 'I just wanted to show that China's culture is more than terracotta warriors and Ming vases,' she says.
Ten years on, with countless exhibitions and performances under her belt, Davies shows no sign of slowing down. 'When we started I was ignorant, but I was younger and fearless. I went out and made it happen.'
Dedicated to Davies' father, the Chinese-Malaysian businessman Dato Wong Kee Tat, the Foundation celebrates China's dynamic cultural scene, despite the fact that Davies was born in Singapore, grew up in Malaysia and studied in California.
What drew her back to her homeland? 'There's so much going on there, it makes my head swim. It's fantastic that the rest of the world is paying more attention now to what's happening with the arts in China today, rather than just its history,' she tells me. 'It's endlessly surprising, and impossible to stereotype.'
The KT Wong Foundation is characterised by its distinctive approach to cultural exchange. Instead of simply touring projects around each country – like 'museum artefacts', as Davies puts it – it invites artistic players from either country to collaborate, encouraging cross-fertilisation. Charming, passionate and erudite, it's clear that Davies is the ideal facilitator for these partnerships: she's a cultural renegade, with the intelligence and impartiality of a diplomat.
'There's part of me, and I think it works almost subconsciously now, that is constantly looking for stories that both cultures will understand. I'm always seeking that common ground, a key that will unlock the door between two countries and allow a freer flow of communication. That's the greatest challenge, but it's also the most exciting.'
The Foundation made headlines back in 2009 with a pioneering production of Handel's Semele, directed by Chinese artist Zhang Huan. It was the first time a baroque opera had been staged in China, and gave the role of director to a visual artist with no experience in the performing arts and little knowledge of English. This experiment in bringing together Chinese visual art and western music earned rave reviews and has since been shown on three continents. Its interdisciplinary approach has now become the Foundation's hallmark.
'We were really the first to do that, and now it's happening everywhere.' What is the magic ingredient an artist brings to the world of opera? 'I've always wanted to take opera out of the conventional, straitjacketed constraints of how it should be produced. You can still get the story, the drama; it's just told in a very different and visual way. That's what makes it relevant for a new audience.'
In the next six months alone, Davies is staging three events at the 20th Beijing Music Festival alongside frequent collaborator (and the festival's artistic director) Long Yu, working with London's Young Vic on a revival of Aeschylus' The Suppliant Women, and supporting the newly opened Zeitz Museum of Contemporary Art Africa, designed by Heatherwick Studio. Her connection with South Africa is longstanding – she has had a home in Cape Town for more than two decades, and earlier this year commissioned a musical soundscape by local composer Neo Muyanga for the South African Pavilion at the Venice Biennale. So does she have her eye on Africa's rapidly evolving arts scene too?
'China has invested so much in Africa, so I'm working to see what can happen from that association, beyond economics. There's so many exciting things happening all across the continent.' She pauses. 'The most important thing is not to repeat ourselves. Once we've shown that something can be done, we want to let the others get on with it.' If the Foundation's first ten years have taught us anything, it's to expect the unexpected – and that Davies will be on the frontline of these seismic cultural shifts.
Star collaborators
Ole Scheeren: The German architect joined forces with the Foundation for the floating Archipelago Cinema for the 2012 Venice Biennale.
Lang Lang: Classical musician Lang was introduced to Wallpaper* by Davies and subsequently became our Guest Editor in 2012 (see W*163).
Daniel Barenboim: The maestro of the West-Eastern Divan Orchestra turned to Davies when sponsorship for its first China tour fell through.
Oliver Mears: Opera director Mears took the reins of Noye's Fludde, a Benjamin Britten opera sponsored by the Foundation, which premiered in Belfast and travelled to Beijing, Shanghai and the UK.
Robert Carsen: Davies has supported opera legend Carsen's work all over the world, bringing his production of A Midsummer Night's Dream to China and Der Rosenkavalier to the UK.
William Kentridge: Artist Kentridge's 2016 production of Alban Berg's Lulu at the English National Opera was supported by the Foundation. Davies also hints at 'something quite big' to come next year.
As originally featured in the November 2017 issue of Wallpaper* (W*224)
INFORMATION
For more information, visit the KT Wong Foundation website
Receive our daily digest of inspiration, escapism and design stories from around the world direct to your inbox