Hong Kong through artists' eyes
Hong Kong's buzzing art and design scene, explored through the eyes of two creatives drawn to practise in the city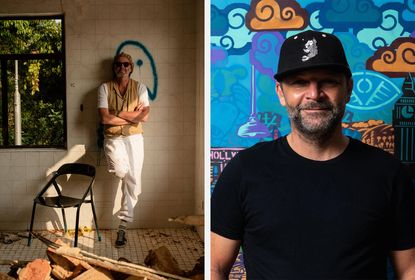 (Image credit: Amanda Kho)
In partnership with the Hong Kong Tourism Board (opens in new tab)
Hong Kong is in a state of constant industrial redesign and thrilling artistic transformation. New galleries, stores and street art projects are popping up in the neighbourhoods of West Kowloon, Sham Shui Po and Sheung Wan, building a thriving community of both young talent and established artists.

Buzzing, creatively synergetic clusters of independent start-ups – artisanal businesses specialising in everything from coffee and clothes to jewellery, furniture and baking – punctuate the urban labyrinths of Mong Kok and Sai Ying Pun.

And, as old buildings are repurposed into hip exhibition and studio spaces – such as the Cattle Depot Artist Village in Ma Tau Kok, Kowloon, a former slaughterhouse – traditional and contemporary design is showcased both in world-class galleries and intriguing creative hubs.

Hong Kong's reputation as an international force in art and design will be underlined by the reinstatement of a busy events schedule, including Art Basel Hong Kong and the new Digital Art Fair.

Meanwhile, local creativity continues to flourish. Old Town Central offers experimental performances inside a converted late-Victorian depot, and the walls on Ki Ling Lane and Chung Ching Street present a heady swirl of continually updated, multi-coloured street art.

It all adds up to an intriguing art and design scene, recognised locally as well as abroad. Here, two international creatives drawn to practise in Hong Kong reflect on what attracted them to the city and continues to thrill and inspire them.
Michael Young, industrial designer
UK-born, Hong Kong-based industrial designer Michael Young set up his studio in the city in 2006. While he specialises in product, furniture and interior design from his studio in Sheung Wan, his practice transcends the very notion of design by harnessing innovative manufacturing skills to create what he calls 'industrial art'.

'I work with sophisticated brands that pride themselves with the best technology,' he explains. 'When you collaborate with industries of such high standards, people who operate with pride, skill and technique, the work becomes a kind of an art form.'

The city itself is an inspiration. 'Hong Kong's diversity of colours, textures, its future-facing architecture and landscapes – it's a constant stimulation,' he says.

Though a Hong Kong resident, Young still observes the city from the perspective of an outsider. 'Initially, I studied a lot of old Chinese architectural structures, which had a big influence on the mathematics we use with the computer work on our more decorative pieces,' he says.
Another early obsession was to explore the ancient art of zhezhi, Chinese paper folding. 'I saw a simple toy made out of this beautiful craft, which was never really exploited in the arts arena. My objective was to take [zhezhi] out of Asia and present it as a local craft.' Young used the traditional technique to make larger art objects – clocks, tables and lighting – that caused a minor sensation at the time. 'Paper folding remains very close to my heart,' he adds.

Currently planning to launch his own Hong Kong-based brand, Young has found a home for his creativity. The city, he says, offers a dynamic that a designer can 'connect to, and dance around with'.

For instance, working with interior designer Alexi Robinson, Young helped create furniture and lighting designs for a fashionable Hong Kong Central restaurant, The Night Market, its ambiance referencing the lights, materials and colours of street-food culture. Eating out in Hong Kong, says Young, is both satisfying and creatively inspiring. 'No one can do outdoor seafood like they do in Hong Kong. It's just something that is ingrained in the heart and soul of the city.'
Szabotage, street artist
Credit: Derry Ainsworth for Apre Artnet
'As a creative person, moving to Hong Kong felt hugely inspiring,' says London-born street artist Gustav Szabo, aka Szabotage. 'Urban art has found its way into the core of the contemporary scene in the city – there are so many fresh ideas and new discoveries within Hong Kong's culture and urban environment. The city energises me.'

When Szabotage first arrived in Hong Kong, in 2013, the urban art scene was just emerging, enabling a newfound creative freedom that he hadn't experienced in the UK. It has since evolved into a complex interdisciplinary form of expression. 'Creatively, Hong Kong is an exciting place to be,' says the artist. 'The opportunities have greatly improved since I arrived eight years ago, and there's been a boom in new art spaces, institutions, galleries and museums.'
In Hong Kong, Szabotage's vision takes a critical view of its immediate surroundings and often references the landscape of the city, exploring the relationship between local architecture and communities. 'When I paint on the streets in Hong Kong, I seem to make great connections with people. Live painting draws a lot of interest, and the art crosses many cultural and language barriers. It crosses many boundaries that my lack of Cantonese cannot.'

During his career, Szabotage has collaborated with brands including Louis Vuitton and Evisu, but remains best known for his Hong Kong site-specific street art. Inspired by his surroundings, the artist's now ubiquitous koi signature, for instance, was born on a wall back in 2013.
'The koi is a part of me, a symbol with which I strongly identify. The koi is jumping out of water, out of its comfort zone, from water to air. There's a sense of jubilation in its movement. The fish is slightly out of context in the urban environment, but it has a powerful and energetic life force, as demonstrated by its ability to swim upstream, against currents.' Szabotage says he can relate to all these challenges and emotions.
Click here to visit the Hong Kong Creates hub
INFORMATION
For more information, visit the Hong Kong Tourism Board (opens in new tab)