Art Basel Hong Kong 2023: can the city's art scene bounce back?
Art Basel Hong Kong 2023 is about to kick off following years of restrictions. Catherine Shaw explores what we can expect in and around this year's fair (23-25 March 2023), and whether Hong Kong can bounce back to reclaim the title of 'Asia's art hub'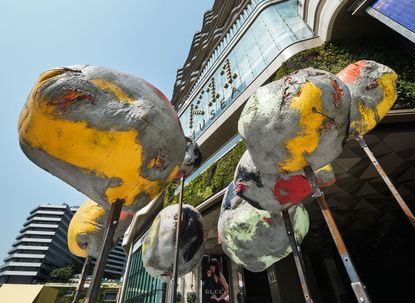 (Image credit: Courtesy of K11 Musea)
Art Basel Hong Kong 2023 will be a defining moment for Hong Kong as a regional cultural hub and the centre of Asia's luxury art market.
As Hong Kong emerges from some of the strictest Covid-19 restrictions in the world in time for the 2023 edition of Art Basel Hong Kong, the contemporary art trade appears to be thriving, revealing that the period of relative isolation has led to intense creativity and investment in the city's cultural landscape.
'In circumstances of obstruction we create in a much more intentional way,' notes Alexie Glass-Kantor, executive director of Artspace, Sydney, who curated Encounters, the section of Art Basel dedicated to large-scale works. Local artist Trevor Yeung's Mr Cuddles Under the Eave references Typhoon Mangkhut with uprooted money trees suspended from a grid. 'The work is about resilience. It feels representative of Hong Kong.' Encounters also extend beyond the Hong Kong Convention and Exhibition Centre with Gravity, a playful ten-metre King Tutankhamun inflatable sculpture by Los Angeles-based Awol Erizku causing a sensation at Pacific Place mall.
Art Basel Hong Kong 2023: what to expect
The fair, forced to scale down and add online viewing rooms in 2021 and 2022, has a strong showing for its 2023 edition, with 177 galleries, 33 of them local, supported by a well-curated Conversations programme, available online. Angelle Siyang-Le, Director, Art Basel Hong Kong stresses that for the first time, Art Basel is providing onsite space to local universities. 'Our show today has become a focal point for the city's arts community.'
Despite intense rivalry from Singapore's new Art SG, and Seoul where Frieze has launched a fair, Hong Kong's cultural landscape has undoubtedly been boosted by the M+ and Palace Museums in the West Kowloon Cultural District. M+'s 65 x 110m media façade displays Swiss video artist Pipilotti Rist's mesmerising site-specific work Hand Me Your Trust, which pays homage to Hong Kong's architectural heritage.
Art exhibitions to see during Art Basel Hong Kong 2023
In parallel to the Fair, Art Central has cutting-edge exhibitions of video and performance art, and an educational programme and the growing number of local and international art galleries show that, apart from its own art connoisseurs, Hong Kong remains the city of choice for mainland China collectors. Notably, international auction houses Christie's, Sotheby's and Phillips have all chosen to establish their Asian headquarters there.
'There is no other city in Asia that can truly rival Hong Kong for art and auctions, considering the city is a more flexible market and its strategic and convenient location in the centre of Asia,' says Asia chairman of Phillips, Jonathan Crockett, who recently opened a 50,000 sq ft exhibition space, saleroom, café, and VIP lounge.
This week's highlights across the city include K11 Musea's 'City As Studio', China's first major exhibition, graffiti and street art exhibition curated by Jeffrey Deitch with works by Jean-Michel Basquiat, Keith Haring and AIKO, and Urban Rocks, an immersive installation of twelve enigmatic stone sculptures inspired by Chinese scholar's rocks by Hong Kong-based French artist Polo Bourieau, at ArtisTree. Outdoor works include untitled: folly; baubles, an installation made by Phyllida Barlow (who sadly passed away last week) for the British Pavilion at the 57th Venice Biennale in 2017; and the ever-popular Hot Dog Bus by Austrian artist Erwin Wurm.
Duddells is showing 'The Drifters', a group exhibition featuring a wonderfully eclectic collection of pieces belonging to five Hong Kong-based collectors including Alan Lo and Evan Chow, and at H Queen's, a 24-storey hub of art galleries, architect William Lim has a solo exhibition of vibrant paintings titled 'Flowers Good Moon Round'.
Can Hong Kong reclaim the title of 'Asia's art hub'?
'The energy and excitement on the street is palpable,' says Lo, who recommends Jes Fan's sculptural work at Empty Gallery and Tai Kwun Contemporary's major exhibition of art exploring LGBTQ+ themes.
Henry Au Yeung of Grotto Fine Arts – the only gallery to represent solely Hong Kong artists, has a strong display at the fair, with Shum Kwan-yi's ink Forbidden Exercise on silk and Lee Bovey's colourful hand-cut paper illustrations standing out – says 'I think that Hong Kong has become much more interesting in that we now have a lot of different opinions and our society is becoming more complex. Kwan-yi is only 26 years old yet her works are incredibly insightful. They raise questions.' Other highlights include Gagosian, Pearl Lam and 10 Chancery Lane.
International art galleries have signalled a return to business as usual with choice pieces: David Zwirner's Central gallery presents 'Rirkrit Tiravanija: The Shop', and Axel Vervoordt Gallery Hong Kong's 'Topography of Body', is a solo exhibition by multidisciplinary conceptual artist Kimsooja's of indigo Indian block prints, and new clay and rice paper works. White Cube presents 'Deep Dive', British-Nigerian artist Tunji Adeniyi-Jones's delicate lithographs.
As Hong Kong returns to some kind of normalcy, art consultant Alison Pickett questions any assumption that the art scene closed down during the three-year hiatus. 'There is some misconception that the Hong Kong art scene doesn't exist except for one week out of 52 - during Art Basel Hong Kong and Art Central. But after the doors of the Convention Centre close, all of us Hong Kongers carry on as usual, working on projects and exhibitions, curating shows and collections, and creating beautiful art.'
Art Basel Hong Kong 2023 runs from 23-25 March at the Hong Kong Convention and Exhibition Centre. artbasel.com