Frieze Seoul 2022: all you need to know about the inaugural fair
SuhYoung Yun reports on a dynamic, emotional opening day of Frieze Seoul, and speaks to key figures about what the fair means for Korea's wider cultural scene, both locally and internationally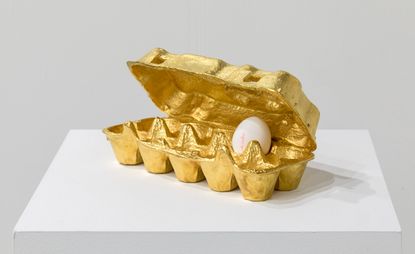 (Image credit: TBC)
Frieze's inaugural edition in Asia, Frieze Seoul opened on 2 September amid heated enthusiasm in South Korea's capital.
A 30-minute queue stretched along the walls of the entrance to the VIP opening, akin to the throngs of eager fans awaiting a BTS concert.
That was the level of enthusiasm felt at this international art fair held in Korea for the first time – a monumental event not just for Seoul, but South Korea and Asia. Frieze Seoul is the art organisation's fourth global location and first Asia venture, joining the Los Angeles, New York and London editions on the international art world calendar and is held alongside KIAF, operated by the Galleries Association of Korea.
'Seoul is a dynamic place with a sophisticated and inquisitive collector base and art world infrastructure,' said Patrick Lee, director of Frieze Seoul. 'The country boasts incredibly talented artists, world-class museums, corporate collections, non-profits, biennales and galleries which make it an ideal location for an art fair.'
More than 110 of the world's leading galleries from across 21 countries are participating in Frieze Seoul for the four-day event which will come to a close on Monday.
Among participating galleries, around 30 per cent are Asian and 15 are new to the fair, according to Lee. 'I'm so excited about the qualities of the galleries' work. They showcase the region at its best. I hope this is a platform to meet a new audience,' he said.
For Rachel Lehmann of Lehmann Maupin, it was an emotional experience. 'It's the first time after Covid that I'm meeting people from other parts of Asia so it's very uplifting and we're all emotional.'
'I always say wait for the second day to judge a fair, which is what you should do, but the reason why I say it's an excellent fair is that the level of curiosity of business, new collectors and questions and interests from museums are just overwhelming,' she said. 'Usually, I might be biting my tongue tomorrow, but I don't think so,' she added when asked about the gallery's sales. In fact, multiple gallerists from around the world testified that the first-day figures were already impressive.
As gallerist Thaddaeus Ropac explained, 'I think what is astonishing about Korea is you have a younger generation of collectors here than in Europe or the U.S. They are so eager to learn about art and live with art which I haven't seen so much. They want to know, they follow things, they go to exhibitions. I'm impressed I have to say.'
Ropac was especially impressed by K-Pop icon and BTS leader RM who visited his booth earlier in the day. 'I'm really amazed how educated and how much RM knows about art,' he says. 'K-pop artists themselves are so interested in contemporary art and I think this created a generation of new people interested in art and collecting. I'm astounded by this.'
It wasn't just Frieze Seoul that saw astonishing sales figures, Frieze Masters also fared astoundingly well. Jorn Gunther Rare Books from Switzerland, displaying antique publications dating back to the Medieval Ages, already sold two books in the five-digit figures in US dollars on the first day, which owner Jorn Gunther says, is something to celebrate with wine. 'We've never exhibited in Asia. We're bringing this material to Korea for the first time but you can see how crowded we are. It's amazing how young people are interested,' he says.
To Gunther's surprise, the crowd in Korea is younger – mostly in their thirties – than the crowd they usually have at fairs – mostly in their sixties. 'They're younger, but they have the money. That's quite interesting and something completely new,' Gunther explained.
This is the first time Frieze Masters is held side by side in the same space with contemporary Frieze which could explain why Frieze Masters is seeing a much younger audience. 'This is the first fair in Asia and the first time we're bringing Frieze Masters out of London,' explained Nathan Clements-Gillespie, director of Frieze Masters. 'Every time I visit Korea, I'm always struck at how sophisticated and thoughtful the collectors and audience are. Collectors are very well-researched. They studied, they know what they're interested in, and yet always keep an open mind.'
The neighbourhood of Samcheong-dong, which has a slew of internationally renowned galleries along its main street, was brightly lit until late on Friday with galleries holding exhibitions, parties, and talks. While Art Sonje held a talk event with renowned art curator and critic Hans Ulrich Obrist, Gallery Hyundai was packed with art insiders partying in the courtyard. Late-night openings took place in two of the most important gallery districts – Thursday in Hannam-dong, a cosmopolitan neighbourhood just above the river, and on Friday in Samcheong-dong, a relatively traditional neighbourhood in the north.
Other side events during the Frieze period include Frieze Film which features the work of ten local and diasporic Korean artists in two locations near Gyeongbokgung Palace – Together Together and Magjib. A joint talks program is also expected to take place over the weekend in association with KIAF Seoul at COEX.
INFORMATION
Frieze Seoul runs until 5 September at COEX, Seoul. frieze.com (opens in new tab)