Jeppe Hein's carte blanche for Ruinart invites mindful participation
Danish artist Jeppe Hein's carte blanche project for champagne house Ruinart invites visitors to embrace the moment through words and drawings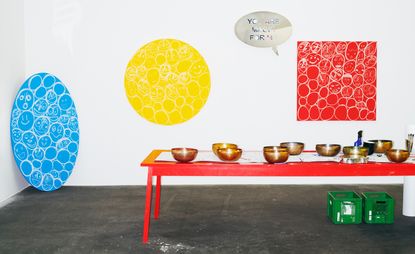 (Image credit: press)
The art fair can be an overwhelming place. The pace is often too frenetic, the architecture too clinical, the camera flashes too frequent, and the crowd too mercenary to allow for proper contemplation of the works on view. 'Everything is about buying, selling and consuming rapidly,' says Jeppe Hein. The Berlin-based Danish artist has reasons to be sceptical about the format: following a burnout in 2009, when he was 35, he slowed down his life and shifted his practice to champion the virtues of mindfulness. Diverse though Hein's output may be – spanning outdoor mirror labyrinths, shiny, colourful balloons that hang from ceilings, museum benches in surreptitious motion, and the global art action 'Breathe with Me' (which invites participants to record their breaths as ultramarine downward brushstrokes on a common canvas) – it all emphasises the importance of embracing the moment.
This makes Hein's carte blanche commission from champagne house Ruinart to create installations for a year's worth of art fairs and industry events both surprising and fitting. Surprising, because it's hard to foster mindfulness amid an embarrassment of riches, but fitting, as few artists are better qualified to take on such a challenge. Titled 'Right Here, Right Now', this is not so much a solo show as a collaborative art project, inviting participants to engage with their senses and tap into their latent creativity.
At the heart of 'Right Here, Right Now' is a large mirror with a cavity, where the participant is asked to place an open palm. They receive three items relating to Ruinart, one after the other. Firstly, there's a drop of scented oil, its fragrance developed with chef de cave Frédéric Panaiotis to evoke a vineyard: hints of earth, grape flowers and honey. A powerful emotional trigger that transports them away from artificial bustle and into natural serenity.
Then there's a single golden raisin, meant for a guided meditation exercise. Upon scanning a QR code, the participant can access a voice recording that guides them to place the raisin on their tongue, move it around and feel its form, then gently chew on it and meditate on its flavours until they experience an 'explosion' of sweetness. 'A lot of people who have tried this exercise say it's the best raisin they've ever tasted,' says Hein. 'Because we are mindful, because we're observing what's happening, we open our senses completely and realise we are right here, right now.'
The final and most important item is a lump of chalk. The material is of geographical relevance: the Champagne region lies on chalky land, whose existence enables the cultivation of champagne grapes. According to AOC (Appellation d'Origine Contrôlée) rules, the plants cannot be irrigated at certain times in the summer, so their survival depends on the chalk underneath, which excels at water retention. Chalk is also of particular significance to Ruinart, which maintains a centuries-old tradition of storing its beverage in its chalk quarries, known as the crayères.
RELATED STORY
More than its physical connotations, Hein is interested in chalk's artistic potential – he wants each participant at the installation to take their lump and draw on the wooden panels placed around the installation. Each panel is densely packed with circles (or bubbles, one might say, like a particularly effervescent champagne). The participant is invited to pick an empty circle as a basis to draw their own face, giving visual form to whatever emotions they are experiencing, be it delight, fear or frustration. Over the course of the day, entire wooden boards will be populated with faces, each telling a story about their creator and forming a patchwork of humanity.
Hein has decided on seven colours and seven shapes for the wooden panels. Earlier iterations of 'Right Here, Right Now' will draw from a more limited palette; this will grow over time, with the full range represented in the final iteration at Art Basel Miami Beach in December. He explains that it's a way of creating a sense of progression, and also encouraging repeat visits over the course of the year.
Also adorning the walls of the installation will be mirrored speech bubbles (a Hein signature), each bearing one of seven different maxims that will hopefully spark moments of epiphany: including 'Be aware of your small sensations', 'The answer is within you', 'You are magic for me', and, of course, 'Right here, right now'. The speech bubbles will be parallel to the walls and slightly higher than the wooden panels so participants won't see their own reflections. But the raised lettering slants downwards to reinforce the message that 'the text is for you', Hein says.
Compared to Ruinart's previous carte blanche commissions, which have included drawings, ceramic vessels and neon installations by David Shrigley, an ambitious installation of LEDs and 2,800 bottles by Vik Muniz, and camouflaged photographic portraits by Liu Bolin (W*235), this is a simple one. But Hein points out that simplicity is precisely the point: 'I've been making interactive artworks for 20 years and, over this time, I've come to understand people better and better. There was a time when I would have had smoke emerge from a bench when a person sat on it. But now the interactivity can be very subtle. Just a small switch that can trigger a big effect.
'Of course, you can't expect that everyone will participate,' he says. 'Some will dare to draw, others may just hold the chalk in their hand and think about it. But maybe they'll start to draw when they get home. Either way, I want to inspire people with something they're not used to, to try to open up their boundaries and hearts, to let them feel more freedom.
INFORMATION
'Right Here, Right Now' is at Palais de Tokyo, Paris, 1 – 3 April, and Palazzo Roca, Venice, 21 – 24 April, before appearing on the global art fair circuit, ruinart.com (opens in new tab), jeppehein.com (opens in new tab)
A version of this article appears in the April 2022 issue of Wallpaper*. Subscribe today (opens in new tab).
TF has been editor of Wallpaper* since December 2020. He is responsible for our monthly print magazine, planning, commissioning, editing and writing long-lead content across all our content pillars. He also plays a leading role in multi-channel editorial franchises, such as our annual Design Awards, Guest Editor takeovers and Next Generation series. He aims to create world-class, visually-driven content while championing diversity, international representation and social impact. TF joined Wallpaper* as an intern in January 2013, and served as its commissioning editor from 2017-20, winning a 30 under 30 New Talent Award from the Professional Publishers' Association. Born and raised in Hong Kong, he holds an undergraduate degree in history from Princeton University.