Nils-Udo and Ruinart's ode to biodiversity in rural Reims
For the latest project in Ruinart's 300th-anniversary countdown, land art pioneer Nils-Udo has unveiled HABITATS, a trio of ephemeral, organic nests that dapple the champagne maison's Reims vineyards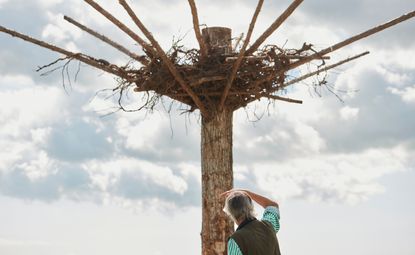 (Image credit: Romain Guittet )
'I was immediately inspired,' says German artist and land art pioneer Nils-Udo at the unveiling of his monumental new commission for Maison Ruinart, as he casts his gaze out to the grapevine-laden landscape in the Champagne region. The 85-year-old artist's ephemeral 'nests' – a trio of 3m-tall structures fanning out across the countryside – comprise vines and shoots removed from Ruinart's Taissy vineyard as part of the maison's efforts to diversify the natural ecosystem. 'These three pieces will remain here as long as possible, for many years, to enrich the biodiversity of this vineyard,' he says.
Born in 1937 in Lauf an der Pegnitz, Nils-Udo has been working in and with nature since the 1970s to create site-specific installations using organic materials. 'What interests me is the fact that things live, grow and die. I am surrounded by nature,' the artist once said. 'I insert myself into it, working to the rhythm of the seasons.' In recent years, the artist – who studied graphic arts in Nuremberg – has been creating paintings in tandem with his in-situ sculptures and photography.
'When I arrived at the Ruinart vineyards, I had no preconceived ideas. I always react to the new vegetation or topographies I discover. Natural phenomena attract and inspire me,' explains Nils-Udo. 'I have worked with the tides in the North Sea and sand dunes in Namibia. In Ireland, I took the peat used to build stone walls. In North America, while walking around a village, I collected feathers. This is what gave me the idea to make my first nest. In Reims, I found vine shoots and tree trunks to design these HABITATS.'
Visible from the road, the nests are perched on young pine branches sourced from regenerative work being undertaken in the Montbré forest overlooking the vineyard, where a tenth of black pines are being removed to help restore biodiversity. Nils-Udo has eschewed the use of nails or metal fixtures – his sculptures are firmly rooted in the earth, while the nests are bound with twine. 'The purity [of using natural materials] is at the very heart of my work,' he adds. 'My job is to find excuses that allow me to open my eyes to the reality of nature. I am a realist.'
It's a motif that the artist has returned to several times since creating his first nest in 1978: a colossal installation in the Lüneburg Heath, which the artist describes as his only self-portrait to date. Since then, he has imagined nests in all manner of sizes and materials, from bamboo nests in Japan to a winter nest made of snow in his native Bavaria and wicker nests in England. 'I am abolishing the border between art and life,' he says. To wit, the artist will memorialise his HABITATS as they change through the seasons, from winter sleep to the ripening of the grapes in the historic vineyard.
The champagne house has nurtured partnerships with artists since 1986, in previous years collaborating with the likes of Vik Muniz, David Shrigley, Jeppe Hein and Liu Bolin. 'We have a longstanding passion for art, which conveys an enlightened vision of the world and, in particular the connection between people and nature,' Ruinart president Frédéric Dufour said in a statement.
Each year until 2029, the maison will commission a new artistic or architectural project in Reims that highlights sustainable development and nature. The ten-year countdown to Ruinart's 300th anniversary launched in 2019 in the maison's chalk cellars with an immersive installation by French artist-duo Mouawad Laurier, bringing together artificial intelligence and the natural world. Last summer saw Berlin-based artist (and erstwhile Wallpaper* Guest Editor) Tomás Saraceno's Aerocene sculpture take flight above Maison Ruinart's headquarters.

Maison Ruinart has been vocal about its broader commitment to sustainability – designing, for example, a recyclable casing made entirely from pulped paper to replace its gift boxes. Like many other places in the world, the Champagne region has been impacted by climate change, including rising temperatures and increasingly extreme weather events such as hailstorms, which in turn have resulted in earlier harvests, starting in August instead of September.
At its 40-hectare vineyard in Taissy, a pilot agroforestry project supported by Reforest'Action and Naturagora is underway: some 12,000 trees and shrubs of primarily local species such as willow, hawthorn and beech have been planted since 2021. 'We want to regenerate the soil and bring back the fauna and flora by re-establishing ecological corridors,' says Ruinart cellar master Frédéric Panaïotis of the initiative, which has fragmented large single plots of grapes with hedges. Nils-Udo's sculptures, too, will provide a dwelling for indigenous wildlife, with the artist describing his works as 'an invitation for birds and insects to settle in and make their nest'.
INFORMATION
ruinart.com